Obstetrics and Gynecology Residency
Alissa R. Carver, MD, FACOG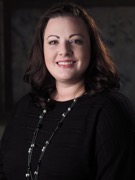 "In difficult pregnancies, complications involving mom and baby often lead to uncertainty and fear. It is my privilege to come alongside families amidst these challenges to provide counseling and formulate a plan of care that will see them through." - Dr. Alissa R. Carver.
Medical Background
Dr. Alissa R. Carver joined the Department of Obstetrics & Gynecology as a Maternal-Fetal Medicine specialist at the Medical Center, Navicent Health in August 2014. After receiving a bachelor's degree from Vanderbilt University, Dr. Carver attended the University of Alabama at Birmingham to complete her MD. She then went on to Residency in the Department of Obstetrics and Gynecology at the University North Carolina at Chapel Hill followed by a Fellowship in Maternal-Fetal Medicine at the University of Texas Medical Branch. Dr. Carver is certified by the American Board of Obstetrics and Gynecology.
Clinical Interest
As a Maternal-Fetal Medicine specialist, Dr. Carver's clinical interests include:
High-Risk Pregnancy Management and Consultations
Genetic Counseling and Testing
In-utero Procedures such as amniocentesis, amnioreduction, percutaneous cord blood sampling, intrauterine transfusion, and thoracoamniotic and vesicoamniotic shunts.
Surgical Procedures such as rescue cerclage and cesarean hysterectomy
Research Interest
Dr. Carver's basic science and clinical research experience includes work on:
Preeclampsia
Autism spectrum disorders
Hypoxic-ischemic encephalopathy
Atrium Health Navicent Infectious Diseases
Normal and preterm labor
Obesity
Prenatal Ultrasound
Resident Medical Education
Additional Information
Dr. Carver has received both teaching and research excellence awards. She serves as a reviewer for both the Obstetrics and Gynecology and American Journal of Obstetrics and Gynecology journals. She is a member ACOG, SMFM, AMFMM, AOA, ISUOG, Georgia Ob/Gyn Society, and Bibb County Medical Society.