Obstetrics and Gynecology Residency
About Macon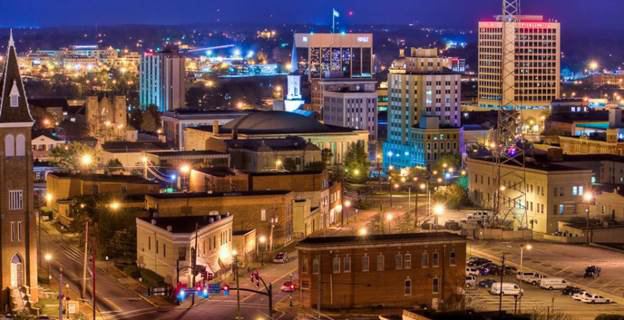 Located at the geographic center of Georgia where two Interstate highways (I-75 and I-16) intersect, Macon is easily accessible from other parts of the state and the southeast. The Middle Georgia Regional Airport, south of Macon, and Hartsfield International Airport in Atlanta provide a unique opportunity for transportation to the world. Atlanta, with its night life, entertainment, and major league sports, is a one-hour drive north of Macon (75 miles).
Savannah and Georgia's Golden Coast are three hours to the east, and the north Georgia mountain ranges, with winter skiing, are within a 3 hours drive. A little further are Florida's beaches and attractions to the south, Charleston to the east, and the mountains of Tennessee and North Carolina to the North.
Leisure
Culturally and recreationally, Macon covers all the bases...literally, when the Macon Peaches are playing at home. Our City Auditorium, Grand Opera House, Coliseum, Wesleyan College and Mercer University offer continuous opportunities to enjoy concerts, plays, shows and exhibits.
The Macon Symphony Orchestra is a vibrant regional orchestra, offering traditional concerts as well as outdoor " Pops" programs. Ballet, theater, and other concerts entertain Maconites and tourists alike.
The area boasts many interactive and educational museums like the with the Mark Smith Planetarium, the Hay House National Landmark and Museum, Cannonball House, Sydney Lanier Cottage, and more. The Museum of Arts and Sciences, with its new Children's Museum, hosts traveling collections as well as its own permanent exhibits. The Ocmulgee National Monument and Museum, located in the Ocmulgee Old Fields, is one of thefour most interesting archeological sites east of the Rocky Mountains.
For those seeking recreation, there are many options. The many lakes, rivers, and wooded areas make it easy to enjoy all types of outdoor activities. A wide range of recreational activities are available including tennis, minor league sports, hunting, fishing, and golf. For the boat enthusiast, there are four lakes (Lakes Tobesofkee, Juliette, Sinclair and Oconee) to provide endless hours of water sports. For those who prefer a good workout, the Macon Health Club and the Atrium Health Navicent Wellness Center offer indoor pools and tracks.
Each spring when the city's over 300,000 Yoshino cherry trees burst into bloom, Macon hosts its International Cherry Blossom Festival -- a top 100 event in the United States. The festival was founded in 1982, and it celebrates Macon as the Cherry Blossom Capital of the World. As the cherry blossom is considered a symbol of spirit, the Cherry Blossom Festival promotes the principles of "love, beauty and international friendship." In addition to the Cherry Blossom Festival, The Cherry Jubilee fall festival is held to celebrate Macon's music heritage.
Local Links of Interest