Atrium Health Navicent Wellness Center
Guest Passes & Directions
Guests
We invite members of our community to visit Atrium Health Navicent Wellness Center.
Local guests are allowed TWO complimentary guest passes per calendar year.
Out of town guests will be charged $10 per day. No guests are allowed at Employee Fitness.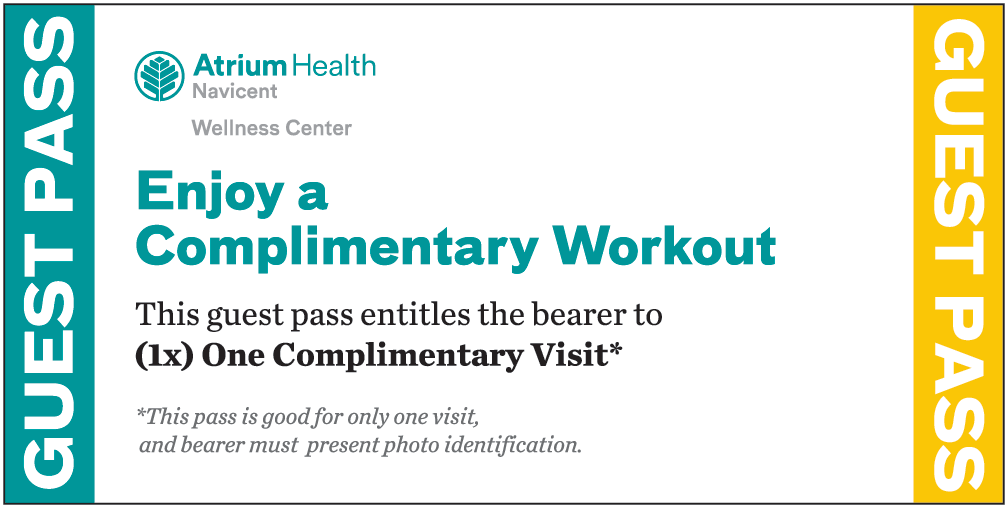 Limit 2 Free Visits Per Year
Print and cut out this free pass. (hold down ctrl and press p simultaneously)
Please click and print the Guest Form (below) - including emergency contact - and bring it with you to Atrium Health Navicent Wellness Center, Atrium Health Navicent.
Fitness Pass
Membership options for Children and Youth Under 18
Children and youth ages 10–17 are eligible for membership with signed parent/guardian consent, although exclusions may apply. A student ID or parent ID may be required. Fitness floor equipment may not be appropriate for these members.
These members are highly encouraged to complete an assessment and beginner's circuit with an exercise physiologist. Equipment usage and gym etiquette will be addressed.
AGES 10–15 must be supervised by a parent/guardian or adult member at all times.
AGES 16 and up are eligible for unsupervised visits after the initial sign up with parent or guardian.
AGES 10–17 are permitted to take some group fitness classes, although some classes may be inappropriate. Our exercise physiologist or group fitness supervisor can advise.
UNDER AGE 10 should be in Child's Play and are not eligible for membership unless they have been medically referred to begin an exercise program.
AGE 8–9 that have been medically referred, or fall under other special circumstances, are required to meet with an exercise physiologist at least one time ($55 for one hour or two 30-minute sessions) to ensure they have a deliberate, safe exercise program in place.
UNDER AGE 8 are not permitted in the fitness area at any time. No exceptions.
(Access will not be granted to members/parents/guardians with an outstanding balance.)
---
Directions
The Atrium Health Navicent Wellness Center
3797 Northside Drive
Macon, GA 31210
(478) 477-2300
WellnessServiceMacon@AtriumHealth.org
From I -75 South.
Take the Arkwright Road Exit 169. Turn Right onto Tom Hill Sr. Blvd. Turn Right onto Northside Drive. The Atrium Health Navicent Wellness Center will be on your right.