Atrium Health Navicent Women's Care
Prenatal Support
Prenatal breastfeeding classes are offered at no cost for pregnant women and their partners who are interested in breastfeeding their babies. This two hour class covers the benefits of breastfeeding, positions for breastfeeding, getting a good latch, pumping and special challenges.

Inpatient Support
Breastfeeding mothers will receive a visit from our lactation specialist. She will provide you with basic breastfeeding information, answering questions and assistance in getting baby to the breast if needed. Mothers may call Lactation Services directly for help during their hospital stay. All the nurses in the Family Birth Center have received breastfeeding education and can also assist breastfeeding mothers.

Support After Hospitalization
Our Breastfeeding Services offer a "Warmline" to take your calls or concerns about breastfeeding such as the use of medications while breastfeeding, pumping for return to work, milk supply issues and infant feeding problems. Call the Warmline seven days a week, 9am -6pm at 478-633-2771 or 800-228-2055.

Life Boutique of Central Georgia Home Care Services sells breast pumps and other breastfeeding supplies call for more information at 478 633-6250.
Atrium Health Navicent Family Birth Center at The Medical Center of Central Georgia has two RNs who are International Board Certified Lactation Consultants on staff to assist breastfeeding mothers. A breastfeeding specialist is available to help our breastfeeding mothers get off to a good start while in the hospital and after discharge.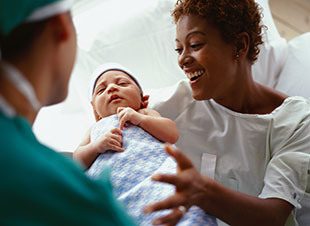 Select A Link Below to Visit:
Obstetrics Pre-Registration Online Form
Visit the Family Birth Center Web Nursery
To learn more about our specialized services at the Family Birth Center, click on the links below: