Trauma Program
Research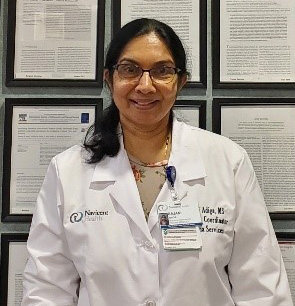 As the only Level I Trauma Center in central Georgia, Atrium Health Navicent is well-known for the life-saving care it provides to its patients. Ongoing research aimed at improving patient outcomes is a strong component of the program. Trauma Services now has its first trauma research coordinator, Rajani Adiga, MS. She has an extensive background in research and data management and is responsible for administration and operation of the research projects. Current projects include both institutional and multi-institutional studies.
VTE Prophylaxis for TBI Patients: Retrospective study evaluating the safety and efficiency of early DUT prophylaxis in patients with traumatic brain injuries.
Rib Plating: Prospective randomized trial comparing resorbable plates and metal plates for the surgical stabilization of rib fractures.
TEG Pattern Changes: Multi-center study to analyze whether Thromboelastography (TEG) parameter changes occur before, or at, the time of venous thromboembolism (VTE) diagnosis in the already at risk trauma patient population, therefore, allowing TEG pattern changes to provide predictive value for VTE risk escalation.
Heatlhcare Acquired Pressure Injuries (HAPI): Multidisciplinary collaboration to decrease the incidence of trauma patient heathcare aquired pressure injures.
Tourniquet Placement: Multi-institutional study to assess the current effectiveness of tourniquet placement in both a rural and urban trauma center.
COVID-19 Case Series: Case series of early outcomes with utilization of tissue plasminogen activator to combat COVID-19 associated respiratory distress syndrome.
VIRUS (international COVID study): Study site for the Society of Critical Care Medicine viral infection and respiratory illness universal study (VIRUS): COVDI-19 registry and validation of critical care data dictionary.
For information contact:
Rajani Adiga, MS
Email: RajaniAdiga@AtriumHealth.org
Phone: (478) 633-1199
Fax: (478) 633-6195
Trauma, Surgery and Critical Care Research Publications 2019–2021
A Allen, A Cauthen, P Dale, C Jean-Louis, A Lord, B Smith. Evaluating the Frequency of Upgrade to Malignancy Following Surgical Excision of High-Risk Breast Lesions and Ductal Carcinoma in Situ Identified by Core Needle Biopsy. Breast J. January 2019;25:103-106.
Z Wang, DW Ashley, L Kong, J Kang, DK Nakayama, PS Dale. Nuclear Factor-kB is Activated in Filter-Implanted Vena Cava. Cardiovasc Intervent Radiol. April 2019;42(4):601-607.
DB Christie 3rd, T Nowack, A Drahos, DW Ashley. Geriatric chest wall injury: is it time for a new sense of urgency? J Thorac Dis. May 2019;11(Suppl 8):S1029-S1033.
DW Ashley, A Drahos, MT Fitzgerald, DB Christie 3rd. Chest wall stabilization and rib plating in a 15-year old male adolescent after blunt thoracic trauma. J Thorac Dis. May 2019;11(Suppl 8):S1100-S1102.
A Drahos, MT Fitzgerald, DW Ashley, DB Christie 3rd. Chest wall stabilization with rib plating after cardiopulmonary resuscitation. J Thorac Dis. May 2019;11(Suppl 8):S1103-S1105.
DW Ashley, RF Mullins, CJ Dente, TJ Johns, LE Garlow, RS Medeiros, EV Atkins, G Solomon, D Abston, CH Ferdinand. How Much Green Does It Take to Go Orange? Determining the Cost Associated with Trauma Center Readiness. Journal of Trauma and Acute Care Surgery. May 2019;86(5):765-773.
LE Wells, B Smith, MD Honaker. Rate of Conversion to an Open Procedure is Reduced in Patients Undergoing Robotic Colorectal Surgery: A Single-Institution Experience. J Minim Access Surg. July 2019;31339114
T Nowack, DB Christie 3rd. Ultrasound in trauma resuscitation and critical care with hTEE guidance. J Trauma Acute Care Surg. July 2019;87(1):234-239.
LC Bridges, AB Christie, HH Awad, EJ Sigman, DB Christie, RJ Ackermann. Geriatric Trauma Screening Tool: Preinjury Functional Status Dictates Intensive Care Unit Discharge Disposition. Am Surg. August 2019;85(8):800-805.
AM Scott, MG Lashley, NB Drury, PS Dale. Comparison of Call-Back Rates Between Digital Mammography and Digital Breast Tomosynthesis. Am Surg. August 2019;85(8):855-857.
C Fancher, L Bridges, A Conforti. A Rare Case of Malignant Peri-Aortic Paraganglioma. Case Report. Am Surg. 2019 Aug. 1;85(8):e370-371.
RW Colbrunn, JE Dumpe, TF Nagle, JD Kolmodin, WK Barsoum, OM Saluan. Robotically Simulated Pivot Shift That Represents the Clinical Exam. J Orthop Res. December 2019;37(12):2601-2608.
S Gabriel, R Ackermann, S Gabriel, C Ackermann, L Swadener-Culpepper. Evaluation of a Nasoenteral Feeding Tube with Balloon to Facilitate Placement. Critical Care Nurse. Feb 2020;40(1):37-45.
A Sapp, A Drahos, M Lashley, A Christie, DB Christie. The Impact of Hemodynamic Transesophageal Echocardiography on Acute Kidney Injury Management and Use of Continuous Renal Replacement Therapy in Trauma. Am Surg. 2020 Mar 1;86(3):190-194.
AL Drahos, AM Scott, DW Ashley. Multimodal Analgesia and Decreased Opioid Use in Adult Trauma Patients. Am Surg. 2020 Aug;86(8):950-954. PMID: 32762466
H Nemec, H Atalah, M Kling, L Nichols, B Powers, DW Ashley. Does Human Amnion Membrane Prevent Post-Operative Abdominal Adhesions? Am Surg. 2020 Aug;86(8):1038-1042. PMID: 32731742
C Lee, M Honaker. Colorectal Cancer Presenting as a presacral Mass. Am Surg. 2020 Aug. DOI: 10.1177/0003134820949991.
T Nowack, C Nonnemacher, DB Christie. Video-Assisted Thoracoscopic Surgery as an Adjunct to Rib Fixation. Am Surg. 2020 Aug. 00(0):1-3. DOI: 10.1177/0003134820943642
W Wallace, DB Christie III. Early Operative Ligation in the Management of Bilateral Chylothoraces After Blunt Thoracic Injury. Am Surg. 2020 Aug. DOI: 10.1177/0003134820942148.
A Scott, P Dale, A. Conforti, J. Gibbs. Integration of a 31-Gene Expression Profile and Clinical Decision Making in the Treatment of Melanoma. Am Surg. 2020 Aug;86(11):1561-1564.
H Nemec, A Smith, DB Christie III. Giant Gastrointestinal Stromal Tumor of the Stomach. Am Surg. 2020 Jul. DOI: 10.1177/0003134820942137
H Nemec, DB Christie, A Montgomery, D Vaughn. The Wittmann Patch: Superior Closure for the Open Abdomen. Am Surg. 2020 Aug;86(8):981-984. DOI: 10.1177/0003134820942156 PMID: 32779473
A Sapp, T Nowack, DB Christie. Transdiaphragmatic Intercostal Hernia After Trauma: A Case Report, Literature Review, and Discussion of a Challenging Clinical Scenario. Am Surg. 2020 Oct;00(0):1-3. DOI: 10.1177/0003134820945273.
DB Christie, HM Nemec, AM Scott, JT Buchanan, CM Franklin, A Ahmed, MS Khan, CW Callender, EA James, AB Christie, DW Ashley. Early Outcomes with Utilization of Tissue Plasminogen Activator in COVID-19 Associated Respiratory Distress: A Series of Five Cases. J Trauma and Acute Care Surg. September 2020;89(3):448-452. PMID: 32427774
WA Wallace, DB Christie. Triple Traumatic Hernia. Am Surg. 2020 Aug;00(0):1-3. DOI:10.1177/0003134820945252
AME Ragauskas, AM Scott, DB Christie III, DM Vaughn, AB Christie, DW Ashley. Strategies for General Surgery Training Programs During the COVID-19 Pandemic. Am Surg. First Online. 2020 Nov;0(0):1-7. DOI: 10.1177/0003134820966271. PMID: 33135424
J Prins, E Van Lieshout, F Ali-Osman, … DB Christie III, T Nowack, et al. Outcome after surgical stabilization of rib fractures versus nonoperative treatment in patients with multiple rib fractures and moderate to severe traumatic brain injury (CWIS-TBI). J Trauma and Acute Care Surg. 2021 Mar. 1;90(3):492-500. PMID: 33093293
E Forney, N Stokes, D Ashley, A Montgomery, DB Christie III. Can Education and Enhanced Medical Director Oversight Improve Definitive Airway Control in the Prehospital Environment? Am Surg. 2021;87(1):159-161.
L Bridges, MD Honaker, BE Smith, A Montgomery. Insurance Status in Rectal Cancer is Associated with Age at Diagnosis and May Be Associated with Overall Survival. Am Surg. 2021;87(1):105-108.
J Ferenczy, H Nemec, M Ayoub. Traumatic Evisceration and Incarceration of Small Bowel Through Vaginal Cuff: A Rare Surgical Emergency. Am Surg. 2021;87(1):138-139.
FM Pieracci, MC Hernandez, B Kim, E Cantrell, Z Bauman, S Gardner, S Majercik, T White, S Dieffenbaugher, E Eriksson, M Barns, DB Christie, III, et al. Surgical Stabilization of Rib Fractures in Octogenarians and Beyond – What are the Outcomes? J Trauma Acute Care Surg. June 2021;90(6):1014-1021.
TJ Johns, J Fabico-Dulin, A Montgomery, JF Dulin, DW Ashley. Comprehensive Initiative to Decrease Trauma Venous Thromboembolism. J Trauma Nursing. July-Aug 2021:28(4):250-257.
DW Ashley, EE Pracht, MJ Tetzlaff-Bemiller, RS Medeiros, EV Atkins, and the Georgia Research Institute for Trauma Study Group. Needs Based Assessment of Trauma Systems 2, is it ready for primetime? A natural experiment testing its reliability. J Trauma Acute Care Surg Accepted
DW Ashley, AB Christie, A Montgomery, TJ Johns, R Adiga, MS Khan, DB Christie, III. Impact of preadmission aspirin and anticoagulation therapy on outcomes of patients hospitalized with COVID-19 infection. [Society of Critical Care Medicine] Submitted
EV Atkins, RS Medeiros, G Solomon, CJ Dente, DW Ashley. An Integrated Oversight and Funding Model for Measurable Statewide Trauma System Quality Outcomes. Submitted