General Surgery Residency
Training Sites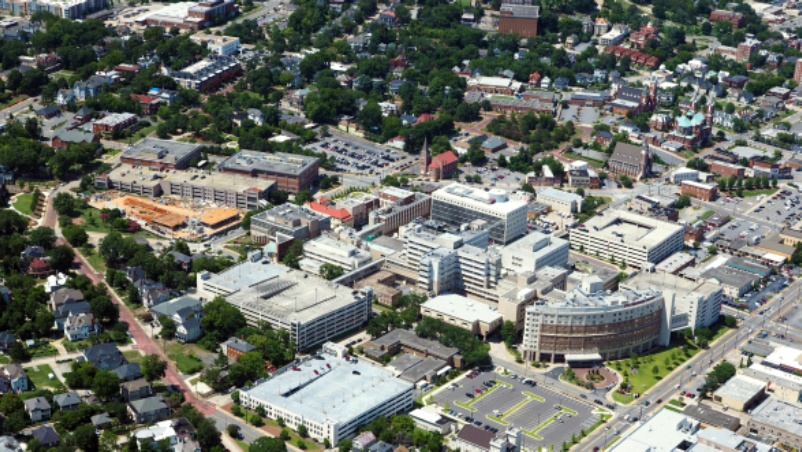 Atrium Health Navicent
Atrium Health Navicent (AHN) has a 100-year history of serving the central and South Georgia regions. At 637 beds, it is the second largest hospital in the state.AHN was ranked second in the state in this year's ranking by Newsweek and is the only top performer in central Georgia.Nationally, AHN ranked 110th in the entire U.S.Ten of Navicent's treatments for adult conditions were recognized, including:Cardiology; Diabetes & Endocrinology; Gastroenterology; Gynecology & Obstetrics; Memory Care & Geriatrics; Neurology & Neurosurgery; Pulmonology; Radiation Oncology; Traumatology; Orthopedics & spine surgery; and Urology.It is verified by the American College of Surgeons as a Level 1 Trauma Center, with more than 3,000 trauma admissions per year. AHN supports residency training programs in family practice, general surgery, internal medicine, obstetrics and gynecology and pediatrics. Specialty fellowships in surgical critical care, orthopedic traumatology, infectious disease, palliative care, and geriatrics are also available. AHN's graduate medical education programs have more than 100 trainees.
Atrium Health Navicent was incorporated on November 17, 1994, as a nonprofit corporation whose primary purpose is to coordinate AHN and other affiliated entities in their mission of providing a comprehensive continuum of high quality, reasonably priced healthcare services to the region.Atrium Health Navicent has 830 beds for medical, surgical, rehabilitation and hospice purposes.The health system includes Atrium Health Navicent, Beverly Knight Olson Children's Hospital, Baldwin and Peach, (both rural critical access hospitals), Rehabilitation Hospital, Pine Pointe (provides palliative and hospice care in homes and in its facility), Carlyle Place, (continuing care retirement community), and Navicent Health Foundation, the philanthropic arm of Atrium Health Navicent.
On February 8, 2018, it was announced that Atrium Health Navicent would merge with healthcare giant Atrium Health. "Atrium Health Navicent has a shared mission with Atrium Health to continuously improve healthcare in this region," said Dr. Ninfa M. Saunders, FACHE, president and CEO of Atrium Health Navicent."This is the first major partnership of its type in the Southeast region and ensures a Macon-based institution will continue to be the leading driver of healthcare in central Georgia and beyond, while continuing to elevate the care that is provided locally.This will also give us access to Atrium Health's wide array of award-winning, proven successes and best practices in healthcare delivery that we can deploy in our service areas.Our ability to provide high level services to improve the health of communities is only possible with support from our community, physicians, employees and partners.We are excited to find a partner that shares in our vision for the future of health."In December 2018, Atrium Health and Atrium Health Navicent signed a definitive agreement to finalize their strategic combination, which became effective January 1, 2019.
Atrium is one of the nation's leading and most innovative healthcare organizations.Atrium is a not-for-profit providing care across North and South Carolina.AHN will act as a regional hub of Atrium Health in Central and South Georgia.This strategic combination will not only improve access to services but will expand care and provide an economic benefit to our existing service areas as well as new communities.
Atrium Health Navicent will continue its role as a teaching hospital maintaining its partnerships with the Mercer University School of Medicine, Middle Georgia State University, Wesleyan College, Central Georgia Technical College, and Georgia College and State University.
Critical Care Experience
Ample opportunity for surgical residents to manage patients who may or may not require surgical intervention (pancreatitis, bleeding varices, septic shock, etc.) is provided. Four members of the surgical full-time faculty Dr. Ashley Jones, Dr. Dennis W. Ashley, Dr. Amy Christie, Dr. Benjamin Christie, and Dr. Eric Long are board certified in critical care and serve on the hospital committee that governs the critical care units. In concert with critical care specialists from the internal medicine and anesthesia faculties, daily rounds are conducted in the modern, well-equipped 87 bed intensive care units. Surgical residents care for patients admitted to these units as well as patients under the care of attending general and specialty surgeons. Additionally, three intensivists manage a six bed pediatric intensive care unit where patients are cared for by surgical residents under their direction. There is also a 35 bed neonatal intensive care unit.
Transplant Surgery Experience
Experience in transplant surgery is obtained through a one month rotation at the PGY-3 level at Piedmont Hospital in Atlanta, Georgia. The residents participate in 10-12 renal transplants and 2-3 liver transplants.
Rural Surgery Rotation
An important addition to the medical student and residency curricula started in rural surgery. PGY2 residents will have the option to participate in a one-month rotation in Cordele, GA. Residents will work at Crisp Regional and Taylor Regional Hospitals.