General Surgery Residency
Program Description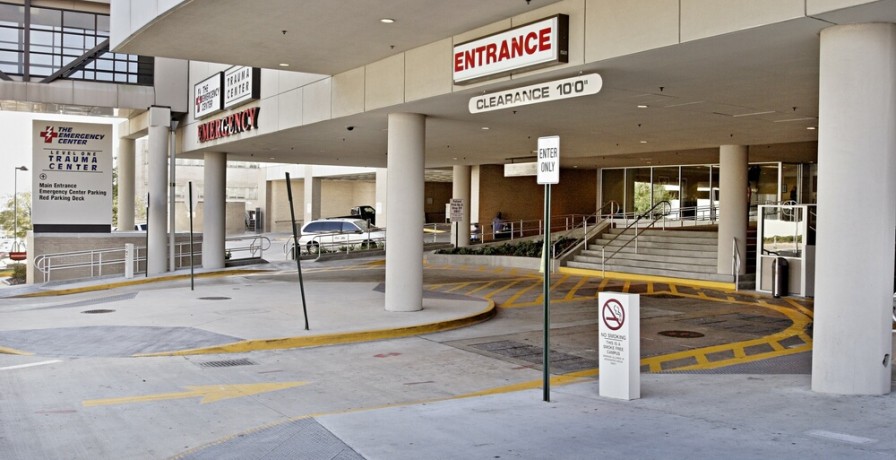 The resident training program is fully accredited by the Residency Review Committee (RRC) for Surgery under the auspices of the Accreditation Council for Graduate Medical Education (ACGME).
Didactics
We provide a comprehensive didactic program in resident education. We want to incorporate faculty lectures, resident-led discussions, and journal club over our primary education day, which is Tuesday. We meet at 7:30 a.m. to review both chapters from Sabiston as well as have a resident-led question-and-answer session to present board review questions on that particular chapter. We also use the SCORE curriculum to supplement our knowledge base as it offers articles, chapters, multimedia and questions. Third year residents attend the Advanced Trauma Operative Management (ATOM) course to provide basic training in operative trauma. By the end of the day, all residents have had a comprehensive, organized exposure to surgical conditions of the particular topic that will help lay a foundation for further study.
Mastery in General Surgery Program
The American College of Surgeons (ACS) developed a program for new surgeons who have completed residency and are entering into the practice of general surgery. The Mastery in General Surgery Program formerly known as the Transition to Practice Program supports the transition to independent practice in general surgery. Goals include:
Building autonomy, decision-making, and clinical skills
Developing experience in practice management, leadership, and quality improvement
Learning the business of medicine
Launching a career in general surgery
In July of 2013, Atrium Health Navicent, in conjunction with the Mercer University of Medicine, became only 1 of 11 programs in the nation to offer this program. We partnered with Dr. William Pannell and Dr. Vince Culpepper. Our program along with the University of Tennessee were the only two programs that had transition to practice associates that first year.
In 2019, Dr. Vince Culpepper transitioned out of the program with two new sites located in South Georgia to offer Junior Associate positions available for the 2019-2020 academic year.
Mercer/Navicent Hawkinsville Campus
Taylor Regional Hospital, Hawkinsville, Georgia
Dennis Ashley, MD, FACS
Program Chief
Robert C. Campbell, MD, Senior Associate, obtained his undergraduate degree from Emory University in Atlanta receiving his medical degree from the Mercer University School of Medicine. He went onto complete his residency at Memorial University Medical Center in Savannah, Georgia. He remains active in the United States Army Reserve with the rank of Colonel and commands the 3297th U.S. Army Hospital. He has a special interest in breast surgery and breast cancer prevention. He is affiliated with Taylor Regional Hospital.
Mercer/Navicent Albany Campus
Albany Surgical, Albany, Georgia
Dennis Ashley, MD, FACS
Program Chief
J. Price Corr, Jr., MD, FACS, Senior Associate, is a graduate of the University of Georgia and the Medical College of Georgia School of Medicine. He completed a residency in general surgery at the Medical College of Georgia and returned home to Albany, Georgia, to practice in 1982. He was a founding partner of Albany Surgical, P.C. in 1986 and is affiliated with Phoebe Putney Memorial Hospital.
For more information, go to: hfacs.org/education/program/masterygs
Organization of the Surgical Service
The Surgical Teaching Service is divided into teams, each led by a PGY-4 or PGY-5 resident under the direction of a full-time faculty member. The five chief residents alternate serving as administrative chief resident for three months. Assigned to each section are private attending surgeons in general surgery, cardiothoracic surgery, urology, plastic surgery and head and neck surgery. Six full time surgeons, one nurse practitioner and two residents manage the trauma service. In 2017, several more nurse practitioners were added to the trauma service.
A night float system exists for nightly inhouse call with a lower level (first or second year), mid-level (second or third year) and a chief (fourth or fifth year). Each resident is free of responsibilities at least one day in seven. The teaching program for surgical residents at Atrium Health Navicent includes patients admitted through the outpatient surgery clinic and the emergency room. Patients are assigned to a full-time surgical faculty member or to an attending surgeon who has a clinical faculty appointment at Mercer University School of Medicine. Residents assume a major role in teaching and supervising medical students in their eight week junior surgical clerkship.
Research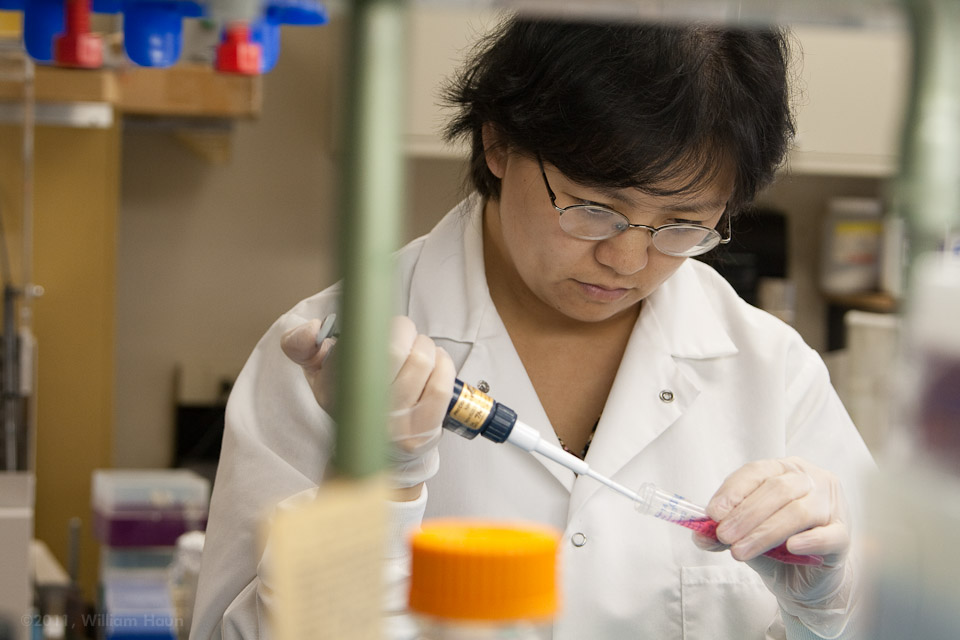 To help residents sustain their interest in surgical basic science, a research rotation will consist of two months during the residents' second year. In addition, the residents will be involved in a clinical research throughout their five years. Our goal is to provide depth to their education in problem-based learning and improvement, and to provide opportunities to contribute to the surgical literature.
Residency Training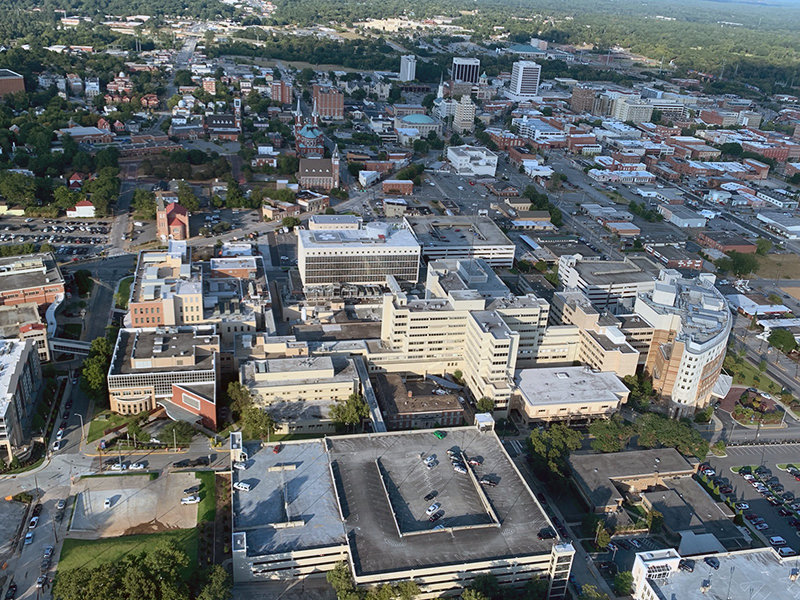 The resident training program is fully accredited by the Residency Review Committee (RRC) for Surgery under the auspices of the Accreditation Council for Graduate Medical Education (ACGME). At the time of the RRC visit in November 2010, a full five year approval was granted with no citations or concerns.
Throughout the five year training program, residents assume increasing clinical responsibilities. On completion of the program, residents will possess the core knowledge expected of all surgeons and will master the fundamentals of basic science as applied to clinical surgery.
Rotations address the areas that constitute the principal components of general surgery, specifically diseases of the head and neck, breast, skin and soft tissues, alimentary tract, abdomen, vascular systems and endocrine system. The program also generously covers the comprehensive management of trauma, emergency surgery and surgical critical care. Educational programs are supported by both our expanding surgical staff as well as an excellent group of private surgeons, all of whom are general surgeons and surgical subspecialists, and all of whom have clinical appointments in the department.
Each rotation is designed to assure that the trainee receives the required experience in all the surgical specialties including cardiothoracic surgery, pediatric surgery, plastic surgery, urology, gynecology, neurological surgery and orthopedics. Experience on the anesthesiology service is also obtained. Additionally, there is a vast experience in all phases of endoscopy. This includes esophagogastroduodenoscopy, colonoscopy, and bronchoscopy. A large number of laparoscopic and thoracoscopic procedures are performed by the surgery residents as well as operative choledochoscopy.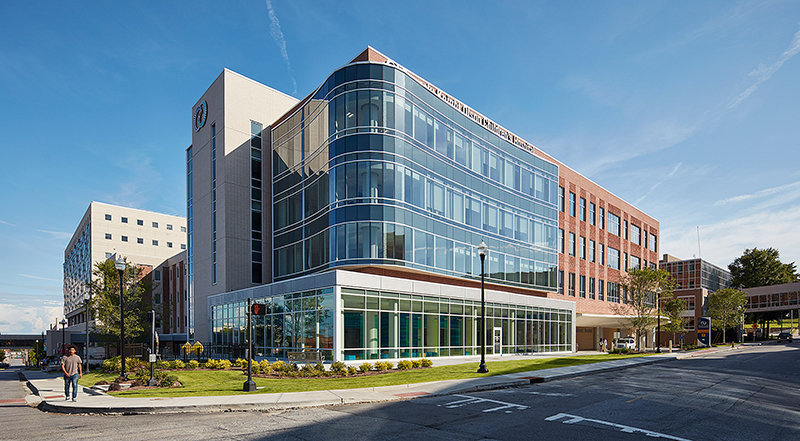 A broad and advanced experience in pediatric surgery is obtained at the Atrium Health Navicent under the direction of pediatric surgeons. The experience for residents includes all levels of pediatric surgical care, from routine hernias, appendectomies and pyloromyotomies to advanced procedures on newborn infants and pediatric surgical oncology. Like most other surgical subspecialties in the program there is no fellowship program in pediatric surgery so all of the "˜good' cases go to the resident on the service. Atrium Health Navicent Beverly Knight Olson Children's Hospital provides a full range of pediatric subspecialties, including a 12-bed pediatric intensive care unit, and a 35-bed neonatal intensive care unit.
Most of the cardiac surgery performed in this area is accomplished at Atrium Health Navicent under the aegis of attending cardiac surgeons. There is an abundant plastic surgery experience. Trauma surgery is emphasized, as Atrium Health Navicent is a Level I Trauma Center. A trauma registry is kept and approximately 250 trauma admissions are entered each month.
Transplant surgery is not performed at Atrium Health Navicent, so to allow residents to have hands-on experience in this sub-specialty; a rotation has been established at Piedmont Hospital in Atlanta. Each PGY-3 resident spends one month on the transplant service at that institution.