General Surgery Residency
Selection of Residents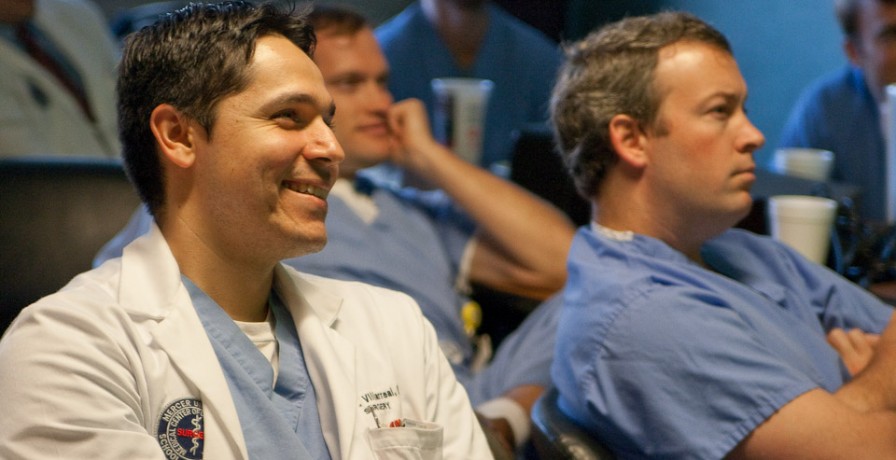 Residents are selected by the National Resident Matching Program (NRMP). The Electronic Residency Application Service (ERAS) Program began in 1999. This selection process consists of the following:
Submission of the ERAS Common Application Form (CAF) including medical school transcript, USMLE Step I and II scores, three letters of recommendation and the Dean's letter. We prefer that one of the three letters be from the chairman of the applicant's surgery department or his designee.
Applicant Requirements
Thank you for your interest in the Mercer University School of Medicine Residency in General Surgery. Our program accepts five categorical residents per year and we have no preliminary year positions.
In order to be considered, you must meet the following requirements:
We accept only applications through the ERAS program.
If you are not in your fourth year of medical school, you must be a recent medical school graduate having been graduated no more than one year.
We only accept applications from candidates who will graduate or have graduated from an LCME accredited medical school.
The deadline for receipt of your application is

November 30.
Mrs. Irma Miranda
Residency Coordinator, Residency in General Surgery
Atrium Health Navicent
MSC 140
77 Hemlock Street
Macon, Georgia 31201
(478) 633-8101
IrmaMiranda@AtriumHealth.org
Preliminary review of applications for completeness will be performed by the end of October. Applicants will be notified of any deficiencies. Potential candidates will be asked to come for an interview.
Interviews are conducted in October, November, December and January. Interviews are held in the departmental office at 7:00 A.M. Applicants are greeted by a departmental representative for an introductory visual presentation of the residency. Applicants attend Grand Rounds at 7:30 A.M. and interviews follow at 9:00 A.M. The interview day usually adjourns between 2:00 and 3:00 P.M.
Review of candidates by the Residency Selection Committee occurs the first week of February.
The final rank order list is submitted on or about February 15th.
Selected residents will be awarded contracts immediately after completion of the matching process.