Sandra E. Moore, MD
---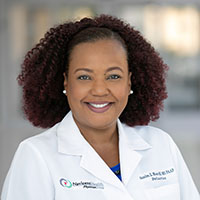 As the Designated Institutional Official, Dr. Moore coordinates, manages and supervises all graduate medical education programs at Atrium Health Navicent. Most recently, Dr. Moore served as an Associate Professor of Pediatrics and the Pediatric Residency Program Director at the Morehouse School of Medicine (MSM) in Atlanta, GA. She joined the department in 2002, immediately upon her completion of residency training, with the goal of serving 1 year as "Chief Resident" for the newly formed pediatric residency program. In 2006, she also became an active member of Atrium Health Navicent Children's Care Downtown Macon, a Facility of Atrium Health Navicent The Medical Centercare of Atlanta as they acquired Hughes Spalding hospital from Grady Memorial Hospital. Dr. Moore has served in multiple roles including: Assistant and Associate Residency Program Director at MSM, President of Children's HS medical staff (2012-2014), past member of the credentialing committing and Medical Executive Committee at Children's and current member of physician leadership council at Children's. She also serves on national organizations such ACGME Board of Appeals for Pediatrics and Association of Pediatric Program Director planning committee.
Under her leadership, she has increased her residency program's Board pass rate by 20 percentage points, developed / implemented both an evidence-based medicine and QI curriculum for all residents and improved the program's compliance on the annual Resident ACGME survey.
Dr. Moore graduated cum laude from the University of Maryland Baltimore County (UMBC) with a Bachelor of Science in Biochemistry and African American Studies. She received her Medical Degree from the University of Maryland Baltimore (UMAB) and completed her Pediatric Internship and Residency at the University of Maryland Medical Center. She completed her Master of Science in Clinical Research (MSCR) at MSM in 2007. She completed the APPD L.E.A.D. program in 2014.
Her professional and research interests include graduate medical education (GME) and obesity in pediatric and underserved populations. Her personal interest is understanding, incorporating and maintaining wellness in a busy lifestyle. She has written several journal articles, as well as authored a book on pediatric obesity in minority children. She has just been named as the Chairperson of the GMEC Wellness Committee.
In her free time, Dr. Moore enjoys walking, traveling and mentoring students.