Atrium Health Navicent Ophthalmology Macon
Our Physician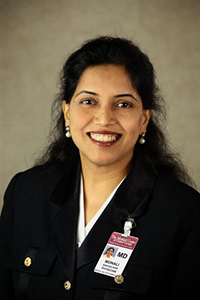 Dr. Monali Sakhalkar received her medical and postgraduate degree in Ophthalmology from Maharaja Sayajirao University, Vadodara, India. Intrigued and impressed with the advances in medical field in US, Dr. Sakhalkar came to US and did her formal training again at premier Institutions in US. She did a pre-residency fellowship in Cornea & External disease at University of Wisconsin, Madison. She interned at the Staten Island University Hospital, Staten Island and completed her Ophthalmology residency at Louisiana State University, Shreveport, serving as Chief Resident during her senior year. Dr. Sakhalkar's formal training culminated with the completion of a cornea fellowship at the University of Oklahoma's Dean McGee Eye Institute, through which she specialized in corneal external disease, complex cataract surgery and refractive surgery. Dr. Sakhalkar has published several articles geared towards eye care. She is Board Certified in Ophthalmology.
Dr. Sakhalkar worked as an Assistant Professor at the University of Florida, Gainesville & Jacksonville, where she routinely taught Ophthalmic surgeries including corneal transplants and trained Ophthalmology residents and fellows. Presently, she is a Clinical Associate Professor at the Mercer University School of Medicine and frequently gives lectures to Mercer Medicine and Family Practice residents.
She is a recipient of several awards, including Jacksonville's top Docs 2011 and "America's Top Ophthalmologists" from 2010 to 2016 by the Consumer's Research Council of America. She was also selected as Navicent Health's 2015 G.R.E.A.T. (Giving Recognition for Excellence, Advocacy and Teamwork) Ambassador, a program sponsored by the Georgia Hospital Association.
Dr. Sakhalkar is affiliated with a number of professional medical societies, some of which include: The American Academy of Ophthalmology (AAO), Association for Research in Vision and Ophthalmology (ARVO), Cornea Society, Bibb County Medical Society.
Dr. Sakhalkar resides in Macon with her husband, who is a pediatric hematologist-oncologist at Navicent Health.