Ventricular Assist Device
A ventricular assist device (VAD) is a mechanical pump that's used to support heart function and blood flow in people who have weakened hearts.
The device takes blood from a lower chamber of the heart and helps pump it to the body and vital organs, just as a healthy heart would.
Some VADs are intended for short term use, typically for patients recovering from heart attacks or heart surgery, while others are intended for long term use (months to years and in some cases for life), typically for patients suffering from congestive heart failure.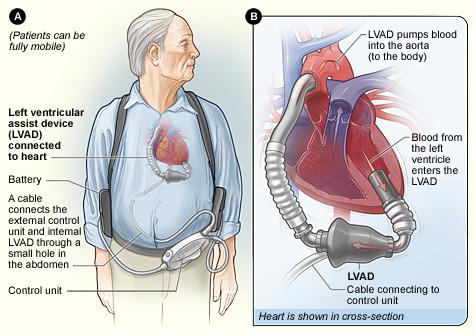 Alternative Names
VAD; RVAD; LVAD; BVAD; Right ventricular assist device; Left ventricular assist device; Biventricular assist device; Heart pump; Left ventricular assist system; LVAS; Implantable ventricular assist device
Description
A ventricular assist device has three parts:
A pump. The pump weighs 1 to 2 pounds. It is placed inside or outside of your belly.
An electronic controller. The controller is like a small computer that controls how the pump works.
Batteries. The batteries are carried outside your body. They are connected to the pump with a cable that goes into your belly
You will need general anesthesia when your VAD is implanted. This will make you unconscious and unable to feel pain during the procedure.
During surgery to implant the pump, the heart surgeon opens the middle of your chest with a surgical cut and then separates your breastbone. This allows the surgeon to reach your heart. Next, the surgeon will make space for the pump under your skin and tissue in the upper part of your belly wall. Then, the surgeon will place the pump in this space.
A tube will connect the pump to your heart. Another tube will connect the pump to your aorta or one of your other major arteries. Another tube will be passed through your skin to connect the pump to the controller and batteries.
The VAD will take blood from your left ventricle through the tube that leads to the pump. Then the device will pump the blood back out to one of your arteries and through your body.
Surgery usually lasts 4 to 6 hours.
History
The first Left Ventricular Assist Device (LVAD) system was created by Domingo Liotta at Baylor College of Medicine in Houston in 1962.
6,000 people have received VADs in the United States and more than 8,000 people have received HeartMate II VAD's since 2005.
Risks
Risks for this surgery are:
Blood clots in the legs that may travel to the lungs
Blood clots that form in the device
Breathing problems
Heart attack or stroke
Allergic reactions to the anesthesia medicines used during surgery
Infections
References
Mcmurray JJV, Pfeffer MA. Heart failure: management and prognosis. In: Goldman L, Schafer AI, eds. Cecil Medicine . 24th ed. Philadelphia, PA: Saunders Elsevier; 2011:chap 59.
Mehra MR, Griffith BP. Assisted circulation in the treatment of heart failure. In: Bonow RO, Mann DL, Zipes DP, Libby P, eds. Braunwald'sHeart Disease: A Textbook of Cardiovascular Medicine . 9th ed. Philadelphia, Pa:Saunders; 2011:chap 32.
Famous people with VAD's:
Former Vice President Dick Cheney
Gerald Menditto, 66, has been passionate about running the Cyclone rollercoaster at Coney Island for 35 years.
One unique person receiving the device is 30-year-old Michael Dixon of St. Peters. After battling the heart infection myocarditis, Dixon was implanted with a ventricular assist device to keep his failing heart beating.