Community Outreach
Speakers Bureau
Speakers can be provided on a variety of topics related to end-of-life care. Presentations are offered free of charge and can be tailored to meet the specific needs of your group.

Topics include:
Hospice Philosophy
Care and Services
Insurance Coverage
Advanced Directives/Living Wills
Ethics
End-of-Life Issues
Comfort Care
Being a Caregiver
Hospice House of Central Georgia Campaign (no solicitation involved)
To schedule a speaker or to inquire about options, please email Mike Manley or call at 478-633-5677.
Coping with Loss -- Dove Bereavement Services
Grief is a journey that does not have to be taken by alone. If you are on this journey, or know someone who is, we are here to help by providing compassionate care and understanding. Grief is difficult, but to go though it without help and understanding support is unnecessary.

Individual Bereavement Counseling
Bereavement counseling is a core service we provide to our families and community.

Skyler Bear Project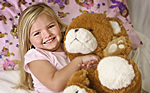 Skyler Bear is a cute cuddly teddy bear with a warm, soft, friendly feel. The story of how he and his friends deal with the loss of his grandpa assists children in understanding and expressing feelings of sadness and grief. Skyler comes with a storybook and CD. For more information, please email Mike Manley or call at 478-633-5677.

Grief Support Group for Adults
Meetings are held at Atrium Health Navicent Hospice Atrium Health Navicent Hospice Pine Pointe located at 6261 Peake Road, Macon, Georgia.  For more information please contact Christine Rice, Bereavement Coordinator at 478-633-6515 or Mike Manley at 478-633-5677.