Atrium Health Navicent Neurosciences Care
Neurosurgery Treatment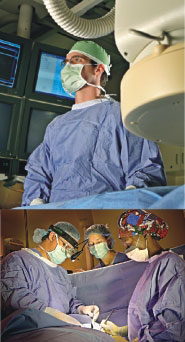 Minimally Invasive Back and Spine Surgery
Encompassing the full scope of spinal services at Neuro Center, we bring together the expertise of specialists in neurosurgery, orthopaedic surgery and medical spine, as well as manipulation and interventional pain management.
Our experts and specialists excel in the diagnosis and treatment of spinal disorders, including the following:
Chiari Malformation
Scoliosis
Spinal Stenosis
Spinal Tumors
Often, spine surgeries are performed using minimally invasive procedures such as endoscopic surgery, saving the patient from a longer hospital stay. Our state-of-the-art Atrium Health Navicent Surgery Macon, a Facility of Atrium Health Navicent The Medical Center is available for many of these procedures.
Brain Tumor Treatment
Brain tumor treatment at Neuro Center involves neurology and neurosurgery, as well as radiation oncology. Utilizing radiosurgical technology and expert treatment from highly skilled staff ensures a greater success rate for our patients.