Atrium Health Navicent Neurosciences Care
Hospital Care Treatment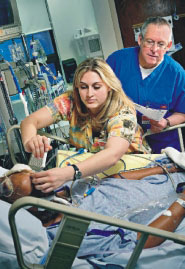 World Class Neurosciences
Atrium Health Navicent Neurosciences Care treats disorders of the nervous system. This includes diseases of the brain, spinal cord, nerves, and muscles such as strokes, epilepsy (seizures), headaches, Alzheimer's disease, multiple sclerosis, Parkinson's disease, and various forms of pain.
Neuro Center is dedicated to providing world class care to our patients, their families, and the communities in Central Georgia. The staff of Neuro Center remains committed to the concept of teamwork with the physicians and families involved in the care of every patient.
Neuro Intensive Care
Neuro Center has one of the largest and most diverse neurosurgical ICUs in the state. The NICU delivers post-operative care for patients who have undergone more serious cerebrovascular and endovascular neurosurgical procedures, traumatic brain injury, epilepsy surgery and congenital neurosurgery. Because of the clinical expertise of the NICU staff, patients all across Central Georgia can receive world class neuro care without leaving the area.