Atrium Health Navicent Peach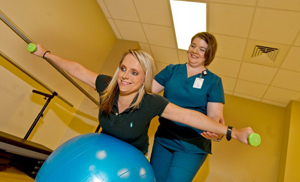 Rehab Services (Physical, Occupational, and Speech Therapy) is helpful in restoring, maintaining, and promoting overall fitness, health, and optimal quality of life. Rehab helps improve impairments, functional limitations, and progression of impairment, disability, changes in physical function, and health status resulting from injury, disease, or other causes.

The Rehab department of Atrium Health Navicent Peach is staffed by caring, professional, experienced and qualified licensed personnel to fulfill your needs. Staff members attend continuing education courses regularly to offer our patients the latest and most effective treatment approach to specific injuries. Therapists are required to pass a national examination and be licensed by the state in which they practice. Physical therapy can be provided by a qualified PT or PTA.
Our therapists use heat, cold, ultrasound or electrical stimulation along with exercise, activities, and soft tissue mobilization to help patients recover from injury or illness. Rehab focuses on getting people back on their feet.
Conditions treated but not limited to are:
Back and Neck Pain/Whiplash
Arthritis and Osteoporosis
Sports/Work Related Injuries
Total Joint Replacements & Arthroscopies
Muscle Pain, Strains, and Sprains
Rotator Cuff Repairs
Carpal Tunnel
CVA/MS/Parkinsons
Pediatric Developmental Delays
Fractures
Amputations
Impaired Posture
Spinal Cord Injury/Traumatic Brain Injury
Balance Disorder
The Rehab department of Atrium Health Navicent Peach offers one on one care.