Atrium Health Navicent Peach

"If you have your health, you have everything. If you lose your health, you lose everything."

You've likely heard that expression but did you realize this is also true on a larger scale? Communities with good access to health care grow strong and communities that lose local health care lose their ability to prosper. Health care service is as much a cornerstone of the local economy as industry, schools and retail businesses.

The economic impact of The M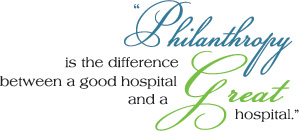 edical Center of Peach County totals millions of dollars each year. This revenue provides vital economic growth and stability from the direct creation of jobs, indirect support of local services and through hospital employee spending on local goods.

The world of medicine is ever changing and Atrium Health Navicent Peach continues to grow by developing new services, implementing new technologies and keeping abreast of the latest research to ensure you and your family have the best medical care possible. It's not just our commitmen ...  it's our promise. But we can't do it without you.

As we embark on an exciting new era in the 60 year history of this storied hospital, we need your support more than ever. As the hospital and its network of physicians and ancillary services continue to focus on providing high-caliber services to residents of Peach and surrounding counties, your support through volunteerism or charitable gifts is vital to helping us stretch our resources. Our Volunteers contribute thousands of hours each year, helping our patients and their families with a warm and caring spirit, while providing a multitude of services with little cost to the hospital.   

And charitable gifts from our community help everywhere -- from the purchase of the latest in medical equipment technology, to providing additional resources for ongoing programs to assist our patients and their families in their time of need.

You can also support your hospital by using the many services we offer. Our current facility is state-of-the-art in many ways and you can get many of the same services here in Byron that you will find elsewhere in larger hospitals. And the new hospital will bring a new level of care to area residents.

In your hands lies the future of Atrium Health Navicent Peach. And your support not only benefits the hospital, it also helps assure the continued growth and success of our communities.

You may not need us right now, but right now we need you.