Family Medicine Residency
Director's Message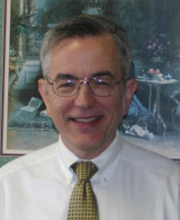 Richard J. Ackermann, MD, CMD
Director, Division of Geriatrics
Director, HPM Fellowship
Professor of Family Medicine, MUSM
CAQ in Hospice & Palliative Medicine
Phone: (478) 633-5556
Email: ackermann.richard@navicenthealth.org
Welcome to Atrium Health Navicent The Medical Center Hospice & Palliative Medicine Fellowship webpage. I've been a faculty member in the Family Medicine Residency here for over 20 years. In 2011, I was thrilled to become the founding director of the Hospice & Palliative Medicine Fellowship Program. Our program is evidence-based. You will have ample time to read from recent, relevant HPM medical literature and provide comprehensive palliative care in a variety of settings, including the hospital, patients' homes, and inpatient hospice settings.
Our faculty and facilities are fantastic. Through this fellowship program, you will learn the science and art of palliative medicine while working in state-of-the-art facilities. We have the only comprehensive Inpatient Palliative Care Service in Georgia and our inpatient hospice, Atrium Health Navicent Hospice Pine Pointe, is a beautiful, well-equipped facility that opened in 2010.
The fellowship program begins July 1 each year and is open to graduates from a variety of residency backgrounds. Whether you are a new graduate or seasoned in practice, you are welcome to apply.
Feel free to contact me at anytime. We look forward to your application and interview.