Family Medicine Residency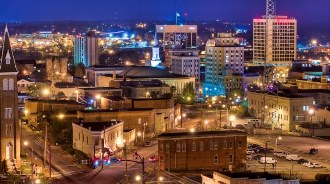 Nicknamed the "Heart of Georgia", Macon is located near the geographic center of Georgia. Macon has several institutions of higher education, medical facilities, as well as numerous museums, landmarks, and tourism sites. The city is home to Mercer University, Middle Georgia State College, Wesleyan College, as well as Atrium Health Navicent The Medical Center. Atrium Health Navicent The Medical Center, a part of Central Georgia Health System, is the second-largest hospital in Georgia serving a medical catchment area close to one million. The Medical Center and overall Central Georgia Health System makes Macon a great place for medical professionals.
Cost of living in Macon is very modest and quite below the national average. Macon has a subtropical climate - summer months are hot, spring & fall months are long & pleasant, and winters are relatively mild.
Macon is home to various museums and major attractions. Macon is also home to many Southern Historic Landmarks including the Hay House, the Cannonball House, and the Woodruff House. Annual Events and Festivals in Macon include the Georgia State Fair and the Cherry Blossom Festival. The Cherry Blossom Festival is an annual spring festival that acts as a window to Middle Georgia area that draws thousands each year to Macon with its venues, locations, entertainment, arts & crafts, shows, services, and, of course, its beautiful cherry blossoms.
Approximately 85 miles south of Atlanta, Macon is easily accessible via multiple interstates (I-75 & I-16) and other state routes. The Middle Georgia Regional Airport & Atlanta Hartsfield Jackson International Airport provide convenient transportation gateway to the world. Macon also provides close proximity (2-3 hours) to beaches of Florida, Georgia & Carolinas as well as mountain ranges of Tennessee, Carolinas, & Georgia.
Macon Links