Atrium Health Navicent Family Birth Center
Since 1995, over 50,000 babies have been born in the Family Birth Center. When it comes to your special delivery, it is important to us to provide you a team that includes the expertise of obstetricians, nurses, lactation consultants, educators, and other health care professionals. We want to ensure that Mom and baby receive family-centered maternity care they deserve. Atrium Health Navicent Family Birth Center is one of five regional Perinatal Centers in the state of Georgia and should your baby need special care, The Beverly Olson Children's Hospital has a dedicated Neonatal Intensive Care Unit.
Atrium Health Navicent Family Birth Center consists of 4 private OB assessment rooms, 12 private Perinatal Rooms for High Risk obstetrics, 10 private Birthing Suites, 26 private Postpartum, 3 operating rooms, and 4 recovery rooms. All rooms are specially designed and equipped with state of the art technology to accommodate through all stages of delivery. Here at the Family Birth Center you will enjoy the following services:
Spacious labor & delivery suites
Family-friendly & family-centered environment
Flexible birth plans
24 hours a day, 7 days a week onsite Anesthesia
Highly trained & experienced staff specializing in low & high risk deliveries
Accommodations for waterbirths
Breastfeeding services
Infant security system
Web Nursery and Newborn Photography – Bella Baby Photography
During your stay with us, we want to ensure that you have a comfortable visit in a warm and welcoming environment. Atrium Health Navicent Family Birth Center's room amenities include:
Private bathroom
Comfortable sofa that converts to a sleeping space
Wireless Internet access
Flatscreen TV with cable
Phone
Personalized information is provided for you which includes the names and numbers of your care-team.
---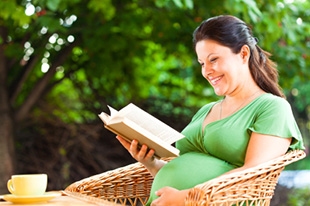 Childbirth Classes

Our childbirth classes will help you understand what to expect during childbirth and help you prepare for your new baby. Classes include:
Preparing for Childbirth
Breastfeeding Basics
Understanding Infant and Child Safety
Description/Register for classes
---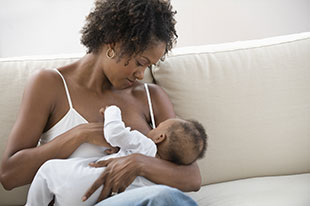 Breast Feeding Services
Register for breastfeeding classes
Atrium Health Navicent Family Birth Center has Lactation Consultants on staff to assist breastfeeding mothers. A breastfeeding specialist is available to help our breastfeeding mothers get off to a good start while in the hospital and after discharge.
Prenatal Support
Prenatal breastfeeding classes are offered at no cost for pregnant women and their partners who are interested in breastfeeding their babies. This two hour class covers the benefits of breastfeeding, positions for breastfeeding, getting a good latch, pumping and special challenges.
Inpatient Support
Breastfeeding mothers will receive a visit from our lactation specialist. She will provide you with basic breastfeeding information, answering questions and assistance in getting baby to the breast if needed. Mothers may call Lactation Services directly for help during their hospital stay. All the nurses in the Family Birth Center have received breastfeeding education and can also assist breastfeeding mothers.
Support After Hospitalization
Our Breastfeeding Services offer a Warmline to take your calls or concerns about breastfeeding such as the use of medications while breastfeeding, pumping for return to work, milk supply issues and infant feeding problems. Call the Warmline seven days a week, 9am -6pm at 478-633-2771 or 800-228-2055.
---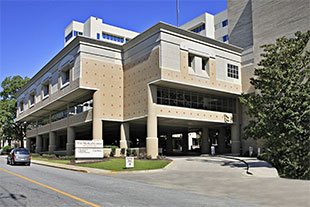 Family Birth Center Tours
Led by registered nurses, our maternity classes help you feel better prepared for pregnancy, childbirth and caring for a newborn. You can even schedule a birth center tour before your baby is born so you know what you expect during delivery.
Register Online
---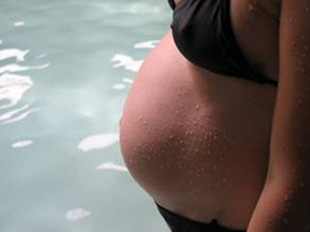 Hydrotherapy
Today there are a number of choices for a mother to consider when giving birth. One of the choices is hydrotherapy. Atrium Health Navicent Family Birth Center can accommodate hydrotherapy per mom's birth plan.
Why Choose Hydrotherapy?
For some, water may help women during childbirth by providing a soothing environment for the mom during labor. Here are some reasons why some women consider hydrotherapy as an option:
Some women find water helps them relax during labor.
By being relaxed, this may help decrease stress hormones and allow a more functional progression of labor and for some, less pain.
Some women find that the weightlessness caused by water buoyancy helps with repositioning, comfort and muscle support.
The buoyant effect of water may lessen muscle tension and promote relaxation.
When a woman in labor relaxes, breathing becomes easier which may provide optimal oxygenation for both mother and baby.
Laboring in water may help pelvic floor tissue to relax and may decrease the need for an episiotomy.
At the Family Birth Center, birth is a special milestone. We want to offer options to best suite our patients. Contact your doctor for more information about hydrotherapy and if it is the right decision for you and your family.
---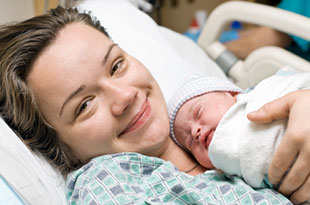 Labor and Delivery
The anticipation of your new baby is an exciting time for you and your family. Atrium Health Navicent Family Birth Center wants to provide you the birthing experience that is to be celebrated and remembered. Labor and Delivery nurses and staff are here to guide and assist you during the birthing process. To ensure that you have everything you need during your stay at the Family Birth Center, here is a checklist of the items you will need in preparing for your hospital visit:
Items for Mom
Nightgown and bathrobe
Slippers
Bra and nursing bra
Breast pads
Socks
Underwear
Hair bands
Toiletries: toothbrush, toothpaste, hair brush, lip balm, lotion, & deodorant
Comfortable and loose fitting clothing to wear home
List of contacts to announce birth to friends and family
Items for Baby
Going home outfit for baby
Receiving blanket
Warm clothing to wear home/heavy bunting or blanket (if cold weather)
Baby socks
Baby hat
Baby car seat
A car seat is required by law and should be properly installed in your car before you go to the hospital.
Other Helpful Items for Your Visit
Hospital admissions papers
Birthing Plan
Pediatrician's name and contact information
Other Important Items
Money for parking
Camera
Books or magazine
---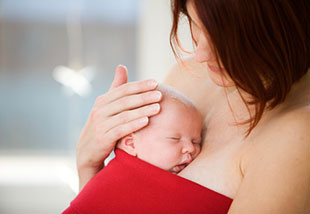 The Magic Hour
What is the Magic Hour
The first hour after your baby's birth is ideally reserved for the baby and parents to get to know each other. Visitors do not participate in this special hour.
During the first hour of life, a healthy baby shows a high level of alertness and an ability to interact with parents. The baby recognizes the parent's voices and smell. This time is ideal for the baby to be introduced to the parents with snuggling, breastfeeding, and as much uninterrupted time as possible. This special time calms the baby after birth and enhances the bonding of parents with their baby.
Did you know?
Babies have an amazing ability to interact with their parents: They can distinguish touch, smells, tastes, sounds and sights right away
Breastfed babies will nurse better when placed skin-to-skin on the mother immediately following birth
A mother's body can maintain her baby's temperature more effectively than blankets and warmers
What is so special about the "Magic Hour"?
Immediately following delivery, a "magic hour" happens in which parents, their infants and a significant other spend time getting to know each other. During this period, the nurse will dry your infant and place the baby skin-to-skin on your chest, allowing for the most intimate and tender contact with your child. Research shows us that early contact between mothers and infants promotes more positive relationships between the two of you.
After delivery, babies are very alert. These awe-filled moments provide the best opportunity for you and your baby to begin building a relationship together. Babies have the ability to look directly into their parents' eyes and respond to their voices. During this quiet alert phase, baby will make the first attempts to interact with you and the new world. A newly born baby placed skin-to-skin on your chest feels the familiar and comforting rhythm of your heartbeat. This intimate contact also allows your baby to see the shape of your face and begin to recognize your familiar taste and smell.
Because babies see clearly for about eight to 12 inches, placing your baby on the chest of the mother is perfect for parents to naturally touch, hold and cradle their newborn babies. This gentle touch triggers a variety of physiological and emotional responses. Touching baby also promotes a healthy immune system for the newborn. This very personal and private time will nurture these loving and unique feelings.
Why is skin-to-skin contact so good?
Skin-to-skin provides the best possible temperature regulation for a newborn. Babies who get cold can have problems with breathing, feeding and maintaining proper blood sugar levels. Research also shows us that babies who spend the first 90 minutes with their mothers skin-to-skin cry less than those who are dried, wrapped and placed in a bassinet! This intimate contact also helps babies breastfeed.
---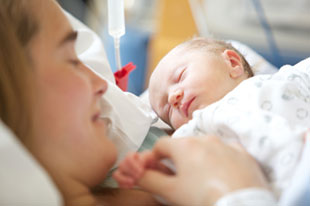 Mother-Baby Unit
Atrium Health Navicent Family Birth Center is designed for family-centered care. Offering private rooms, the Family Birth Center Mother-Baby Unit provides postpartum care for new mothers and their babies. We provide the following services
Nursing care for vaginal or cesarean delivery patients
Couplet Care or "Rooming In" with baby in Mother's Room
Lactation services to assist mothers that choose to breastfeed.
Private obstetricians, physician residents, and nurse practitioners
A Family Nourishment Center is offered on each unit for patient and family convenience
Flu and Tdap vaccinations available for Moms
Hepatitis B vaccine available for infants
Professional Photography Services with online photo nursery. Great for extended families to view photos of your new arrival.
The Postpartum Staff provides nursing care for Vaginal and Cesarean Section deliveries. Individualized care and education is a focus during the remainder of your stay after you have had your baby. Mothers may keep the baby in the room, but the newborn nursery is available for short term infant care. Moms with complications such as Diabetes, Postpartum Hemorrhage, Hypertension and or pre-existing Medical or Surgical conditions may also be cared for on the Postpartum Units.
---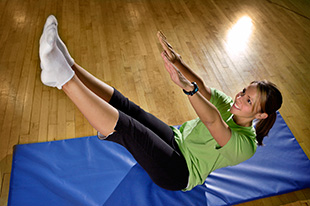 Postpartum
Exercise might be the last thing on your mind after you give birth, but it's worthwhile. In fact, exercise after pregnancy might be one of the best things you can do for yourself. Starting a moderate exercise program during the postpartum months is beneficial in various ways. Regular exercise improves cardiovascular fitness and restores muscle strength and tone. It helps you to sleep better at night and boost your energy level. A brisk walk does wonders for depression or anxiety. Exercise helps to suppress your appetite for sweets and junk food and increases your appetite for natural, nourishing foods. Always ask your doctor or midwife before starting an exercise program.
---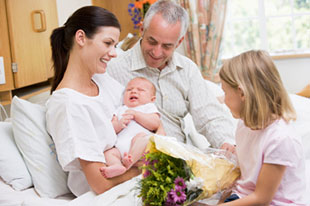 Visiting Guidelines
We welcome and encourage family and friends to visit you during this joyous occasion. We also want to ensure that mom and baby receive proper rest and recovery. Current hospital COVID Safe Policies will apply.
Visitation hours and policies are as follows:
Visitation Hours: 8am-9pm