Vizient Southern States announces 2019 Brilliance Award Winners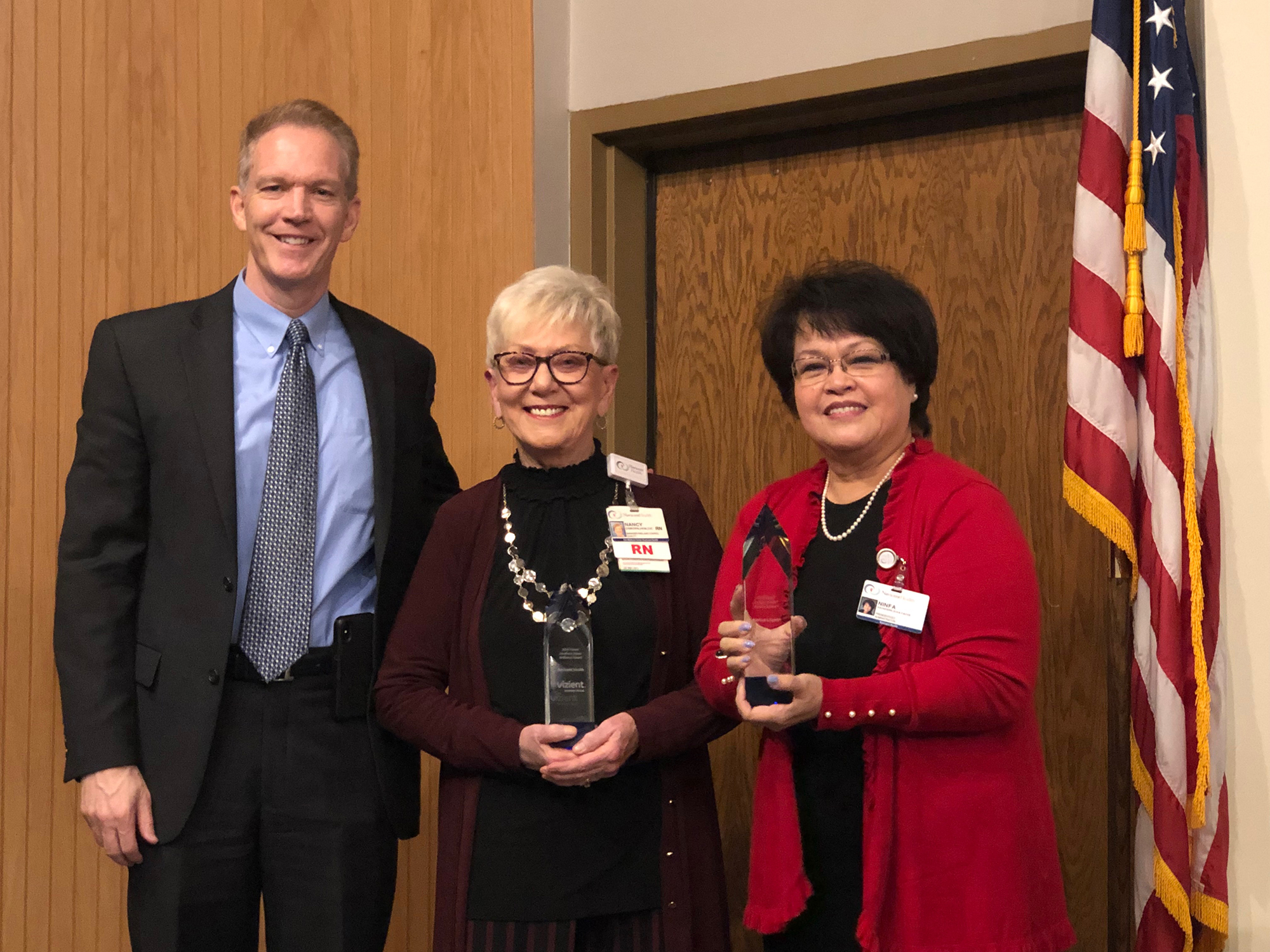 Award Presented to Atrium Health Navicent Friday, November 8
Four Vizient Southern States' members, including Atrium Health Navicent, were selected from among 583 submissions to presented posters and lead Power Huddles at the 2019 Vizient Connections Education Summit, held in Las Vegas in September.
Because it is quite an honor to be selected, Vizient Southern States is recognizing each member with regional Brilliance Awards. Vizient presented two awards to Atrium Health Navicent in Macon, Ga. on Friday, November 8.
Nancy Osborn, Infection Prevention Manager for The Medical Center, Navicent Health, was awarded for her presentation "Innovative Hand Hygiene Technology Drives Down Hospital-Associated Infections" while Sonya Floyd, Infection Preventionist with The Medical Center, Navicent Health, was awarded for her presentation "Tackling, Intercepting and Holding our Gains in Ventilator Associated Events."
"The Brilliance Awards are a way for us to honor our members that have successfully made improvements in their organizations. We appreciate all that you do to provide high quality care to your communities," said Bill Senneff, president and CEO of Vizient Southern States.
Other members who will be recognized with Brilliance Awards include Floyd Medical Center (Rome, Ga.), Ochsner Health System (New Orleans) and WellStar Health System (Marietta, Ga.).
Each Brilliance Award winner project was selected from a total of 583 submitted abstracts and had to meet criteria in the areas of Background, Intervention Detail, and Outcomes and Impact in one or more of the following categories:
· Leading your organization
· Engaging your workforce
· Coordinating care
· Preventing harm
· Managing systems
· Fostering innovation
· Service line optimization
· Pharmacy strategies for quality, safety and cost enhancement
· Clinical supply integration
About Vizient Southern States
Vizient Southern States is a membership alliance for not-for-profit health care providers that exists to ensure its members deliver cost-effective care by connecting them with the knowledge, solutions and expertise that accelerate performance.
About Atrium Health Navicent
Atrium Health Navicent, the leading provider of healthcare in central and south Georgia, is committed to its mission of elevating health and wellbeing through compassionate care. Providing more than 1,000 beds and offering care in 53 specialties at more than 50 facilities throughout the region, Atrium Health Navicent provides care for healthcare consumers' through an academic medical center; community, pediatric and rehabilitation hospitals; urgent care centers; physician practices; diagnostic centers; home health; hospice and palliative care; and a life plan community. Atrium Health Navicent is dedicated enhancing health and wellness for individuals throughout the region through nationally-recognized quality care, community health initiatives and collaborative partnerships. For more information, please visit www.navicenthealth.org.
---
---
Top Related News
Atrium Health Navicent Hosts Free Family Fun Day
9/21/23
Read More
Join Atrium Health Navicent in Observing Childhood Cancer Awareness Month
9/20/23
Read More
Join Atrium Health Navicent in Raising Awareness about Gynecological Cancers
9/14/23
Read More