The Medical Center, Navicent Health Leads State in Innovative Pacemaker Implant Procedure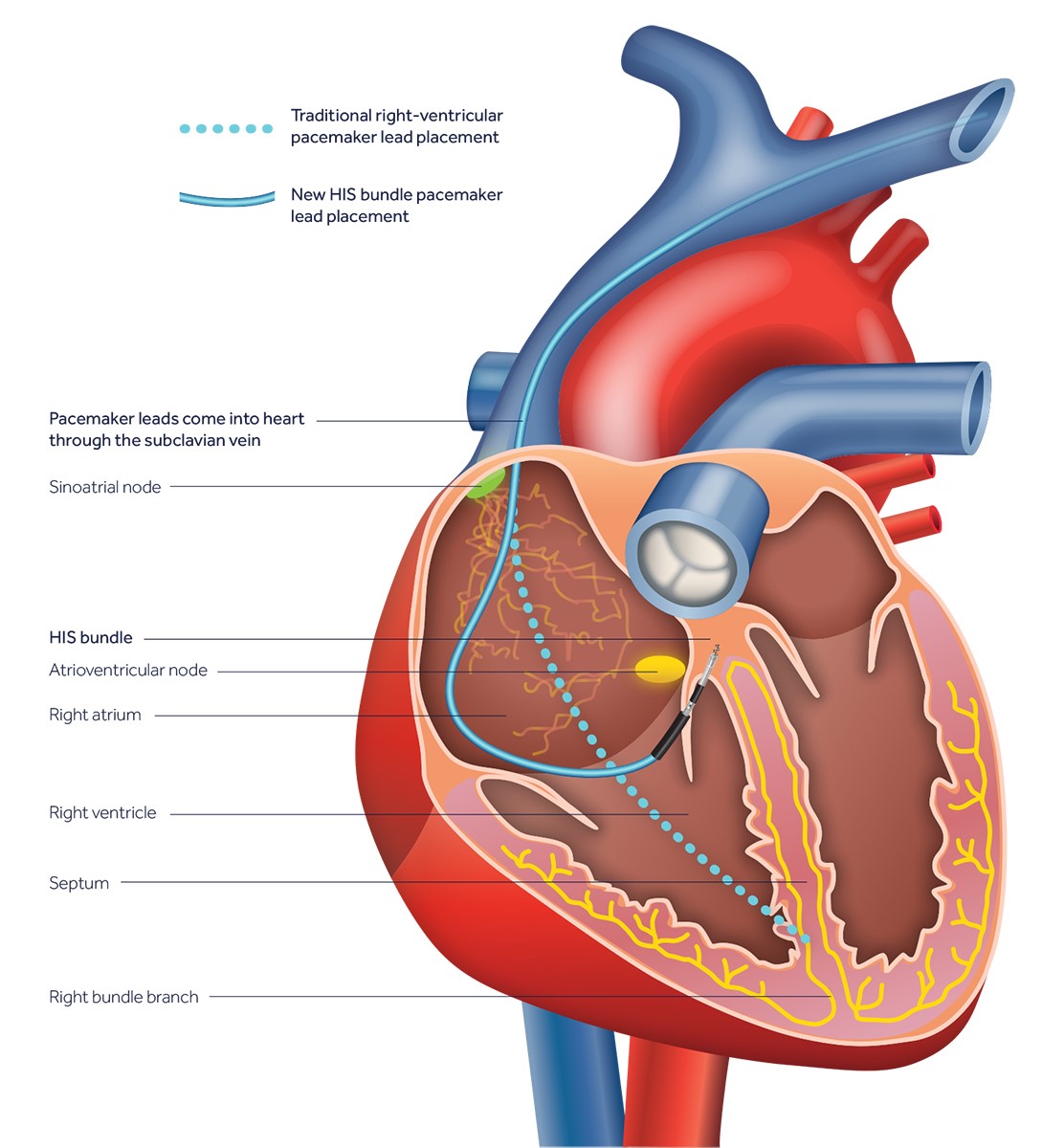 Procedure Utilizes Heart's Natural Conduction System to Restore Rhythm
The Medical Center, Navicent Health (MCNH) is again leading the way in innovative heart care, becoming the first hospital in the region to perform His-bundle pacing (HBP) procedures.
Traditionally, pacemakers are implanted with a lead (wire) positioned to deliver the electrical impulses to the heart's right ventricle to regulate a slow or irregular heart rhythm. However, MCNH's Felix Sogade, MD is one of a growing number of physicians to use an emerging technique, in which a specialized pacemaker lead is positioned in a different location - at or near the bundle of His, utilizing the heart's natural His-Purkinje conduction system to restore the heart's normal rhythm. The His bundle is a collection of conduction fibers in the heart that naturally transmits electrical impulses from the atrioventricular node to the ventricles.
"There is increasing awareness that, for certain patients, pacing the heart in a manner that mimics the heart's natural electrical conduction pattern is preferable to the older ways that we have traditionally done in the past," said Dr. Sogade.
Dr. Sogade is currently implanting three to five pacemakers per month using HBP technique.
The pacemaker is implanted by utilizing a new delivery catheter designed specifically for His-bundle pacing, the Medtronic SelectSiteTM C304-HIS deflectable catheter system, that was recently approved by the U.S. Food and Drug Administration (FDA). Dr. Sogade also utilizes the Medtronic SelectSecure""¢ MRI SureScan""¢ Model 3830 cardiac pacing lead, the only lead approved in the U.S. for His-bundle pacing.
"We are encouraged by the results we've seen in patients using His-bundle pacing. It is a promising procedure with a growing body of clinical evidence. Atrium Health Navicent continues to lead the industry in innovative care for heart patients, and we congratulate Dr. Sogade and our cardiac team for their success," said Tom Oliver, MD, Chief Medical Officer for MCNH.
About Atrium Health Navicent
Atrium Health Navicent, the leading provider of healthcare in central and south Georgia, is committed to its mission of elevating health and wellbeing through compassionate care. Providing more than 1,000 beds and offering care in 53 specialties at more than 50 facilities throughout the region, Atrium Health Navicent provides care for healthcare consumers' through an academic medical center; community, pediatric and rehabilitation hospitals; urgent care centers; physician practices; diagnostic centers; home health; hospice and palliative care; and a life plan community. Atrium Health Navicent is dedicated enhancing health and wellness for individuals throughout the region through nationally-recognized quality care, community health initiatives and collaborative partnerships. For more information, please visit www.navicenthealth.org.
---
---
Top Related News
Register Now for the 31st Annual Reindeer Run
11/27/23
Read More
Atrium Health Navicent Offers Tips to Help You Deck the Halls with Safety in Mind
11/25/23
Read More
Atrium Health Navicent's Dr. Dennis Ashley Receives 2023 Research Award
11/22/23
Read More