Project SEARCH Student Wins Georgia Department of Education's Award of Excellence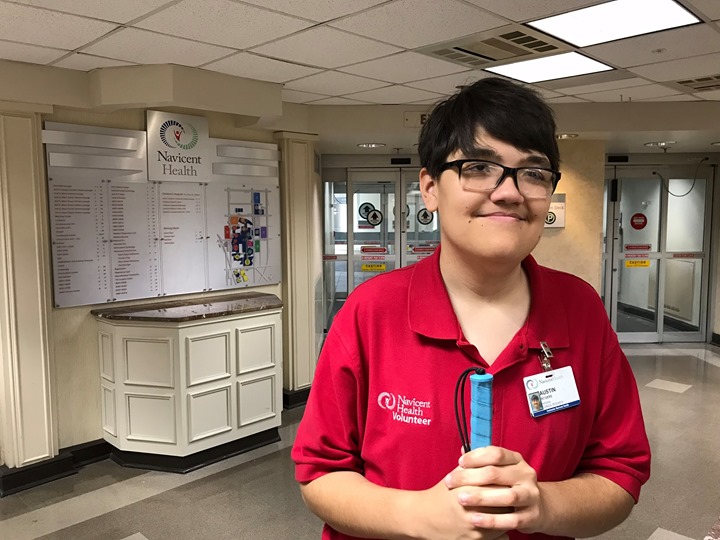 Austin Rogers Recognized for Outstanding Academic Performance, Extracurricular Involvement
Georgia Academy for the Blind (GAB) high school senior Austin Rogers - an intern with The Medical Center, Navicent Health's (MCNH's) Project SEARCH program - has been honored with the Georgia Department of Education's Award of Excellence. The annual award honors a Georgia high school senior with disabilities who has demonstrated outstanding academic success and extracurricular involvement.
Rogers, who serves as a greeter and wayfinder for visitors at MCNH, was selected to compete for the award by a team of educators at GAB. Rogers has maintained a 4.0 grade point average during his senior year, while interning at MCNH and volunteering within the community to raise awareness of visual impairments
.
"Austin entered GAB as a first grade student and has participated in various extracurricular activities at GAB throughout his tenure. This year, Austin has represented GAB at off-campus speaking engagements, presenting at Downtown Rotary and Atrium Health Navicent's Autism conference, and competing in the Braille Challenge Competition. Austin also volunteers his time to foster community awareness of visual impairment. He is a wonderful person, a joy to be around, and we are so proud that he has been honored with this statewide award," said Mary Keith, Teaching and Learning Innovative Programs Coordinator with GAB.
Rogers will graduate from Project SEARCH in a small ceremony at MCNH on May 16, and will receiving his high school diploma from GAB on May 17. Rogers plans to work with the Macon Bacon baseball organization as a greeter this season, and hopes to obtain future employment in the customer service field.
"Austin immediately makes a connection with everyone he encounters, our employees and patients and visitors alike. He gives a cheery good morning or good afternoon. He's making a huge difference in the lives of the teammates and visitors here - they are huge fans of Austin's and express what a difference he has made. He is very enthusiastic about learning and is just caring to everyone he encounters," said Darrell Palmer, Customer Service and Guest Relations Manager for MCNH.
Atrium Health Navicent has partnered with GAB since 2017 to bring the international Project SEARCH to Macon-Bibb County, creating the world's first Project SEARCH program to assist students with visual impairment. Through this program, GAB students are able to gain real-world employment experience by interning with various departments at MCNH. Students who participate in the program are high school seniors who plan to enter the workforce following graduation. The program required each student to obtain transportation from GAB to MCNH in order to "interview" for positions within MCNH departments. The students are then "selected" and receive "job offers" for those departments.
"The goal of this program is to allow these graduating students to gain independence and real world experience. They are responsible for managing their time, obtaining transportation, reporting to work and completing their job duties in a satisfactory manner. This program provides real world experience that will allow them to build their resumes and obtain employment following their graduation this spring. We are so pleased to partner with Atrium Health Navicent to prepare our students as they transfer from our school to society," said Keith.
Rogers began his internship in MCNH's Create Café, where he quickly became known among visitors and staff for his warm and inviting demeanor and outstanding work ethic. Because of these qualities, he was "transferred" to the hospital's main information desk to greet visitors and help them find their way to the various departments of the hospital.
"Atrium Health Navicent is pleased to work with the Georgia Academy for the Blind to provide this program. Our goal as an organization is to increase health and wellness for individuals throughout the communities we serve. By providing these students with real-world work experience, we are assisting them as they become productive members of society, armed with independence and the skills needed to thrive," said Dr. Ninfa M. Saunders, President and CEO of Atrium Health Navicent.
Project SEARCH is an international program founded in 1996 that provides individuals with developmental disabilities the opportunity to work in entry-level positions. Project SEARCH's primary objective is to secure competitive employment for people with disabilities. For more information, please visit http://www.projectsearch.us/.
About Atrium Health Navicent
Atrium Health Navicent, the leading provider of healthcare in central and south Georgia, is committed to its mission of elevating health and wellbeing through compassionate care. Providing more than 1,000 beds and offering care in 53 specialties at more than 50 facilities throughout the region, Atrium Health Navicent provides care for healthcare consumers' through an academic medical center; community, pediatric and rehabilitation hospitals; urgent care centers; physician practices; diagnostic centers; home health; hospice and palliative care; and a life plan community. Atrium Health Navicent is dedicated enhancing health and wellness for individuals throughout the region through nationally-recognized quality care, community health initiatives and collaborative partnerships. For more information, please visit www.navicenthealth.org.
---
---
Top Related News
Atrium Health Navicent Hosts Free Family Fun Day
9/21/23
Read More
Join Atrium Health Navicent in Observing Childhood Cancer Awareness Month
9/20/23
Read More
Join Atrium Health Navicent in Raising Awareness about Gynecological Cancers
9/14/23
Read More