Pine Pointe, Navicent Health Named a 2020 Hospice Honors Recipient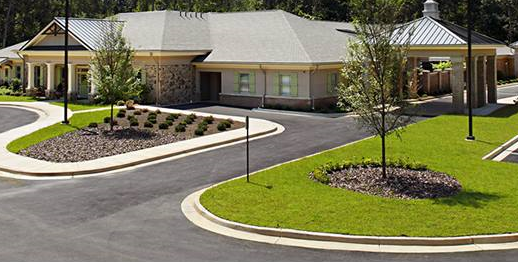 Recognition Based on High Patient Satisfaction Survey Scores
Pine Pointe, Atrium Health Navicent has been named a 2020 Hospice Honors recipient by HEALTHCAREfirst, a leading provider of billing and coding services, CAHPS surveys and advanced analytics. Hospice Honors is a prestigious program that recognizes hospices providing the highest level of quality care, as measured from the loved one's point of view.
"We are excited to recognize the 2020 Hospice Honors recipients for their hard work and dedication to providing exceptional care. I congratulate Pine Pointe, Atrium Health Navicent on its success in achieving this highest of honors," said Misty Skinner, Executive Vice President of Services at HEALTHCAREfirst.
Award criteria were based on Hospice CAHPS survey results for an evaluation period of October 2018 through September 2019. Award recipients were identified by evaluating performance on a set of 24 quality indicator measures. Performance scores were aggregated from all completed surveys and were compared on a question- by-question basis to a National Performance Score calculated from all hospices contained in the HEALTHCAREfirst's Hospice CAHPS database. Hospice Honors recipients include those hospices scoring above the HEALTHCAREfirst National Performance Score on 20 of the evaluated questions.
Elbert McQueen, Senior Vice President of Post-Acute Services, Atrium Health Navicent credits this achievement to the fact that Pine Point, Atrium Health Navicent teammates daily demonstrate Atrium Health Navicent's core values of integrity, respect, ownership, and caring.
"Many of our teammates have long tenures of service, and they view caring for patients at the end of life and their loved ones as a true calling, not simply a job. It is a personal honor work closely with director Cindy Hill and her wonderful team at Pine Pointe, Atrium Health Navicent," said McQueen.
Pine Pointe, Atrium Health Navicent provides hospice and palliative care to central Georgians, whether in the home or in its state-of-the-art 15-bed facility on Peake Road in Macon, complete with private rooms, beautiful gardens and family areas.
Please visit HEALTHCAREfirst's website at www.healthcarefirst.com to learn more about HEALTHCAREfirst's Hospice CAHPS survey program as well as the Hospice Honors awards.
About Atrium Health Navicent
Atrium Health Navicent, the leading provider of healthcare in central and south Georgia, is committed to its mission of elevating health and wellbeing through compassionate care. Providing more than 1,000 beds and offering care in 53 specialties at more than 50 facilities throughout the region, Atrium Health Navicent provides care for healthcare consumers' through an academic medical center; community, pediatric and rehabilitation hospitals; urgent care centers; physician practices; diagnostic centers; home health; hospice and palliative care; and a life plan community. Atrium Health Navicent is dedicated enhancing health and wellness for individuals throughout the region through nationally-recognized quality care, community health initiatives and collaborative partnerships. For more information, please visit www.navicenthealth.org.
About HEALTHCAREfirst
HEALTHCAREfirst enables home health and hospice providers to streamline and optimize their business through cloud-based software solutions and services. Thousands of agencies use HEALTHCAREfirst's CAHPS surveys, billing, coding and OASIS review, and advanced analytics services to streamline business efficiencies, simplify CMS compliance, expedite reimbursement and improve patient care. HEALTHCAREfirst is a wholly owned subsidiary of ResMed (NYSE: RMD, ASX: RMD). Visit www.healthcarefirst.com or and follow @HEALTHCAREfirst on Twitter
---
---
Top Related News
Register Now for the 31st Annual Reindeer Run
11/27/23
Read More
Atrium Health Navicent Offers Tips to Help You Deck the Halls with Safety in Mind
11/25/23
Read More
Atrium Health Navicent's Dr. Dennis Ashley Receives 2023 Research Award
11/22/23
Read More