Pine Pointe, Navicent Health Named 2018 Hospice Honors Recipient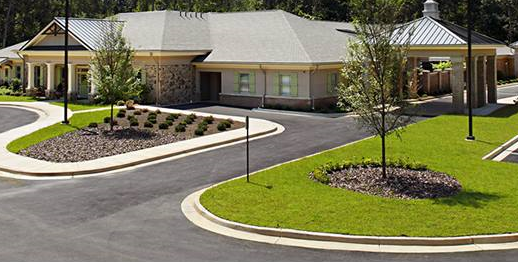 Central Georgia Hospice Recognized for Excellent Patient, Caregiver Satisfaction
HEALTHCAREfirst, a leading provider of hospice consumer assessment of healthcare providers and systems (CAHPS) surveys, has recognized Pine Pointe, Atrium Health Navicent as a 2018 Hospice Honors recipient. Hospice Honors is a prestigious program that recognizes hospices providing the best patient and caregiver experience.
Award criteria were based on Hospice CAHPS survey results for an evaluation period of October 2016 through September 2017. Award recipients were identified by evaluating performance on a set of 24 quality indicator measures. Performance scores were aggregated from all completed surveys and were compared on a question-by-question basis to a National Performance Score calculated from all partnering hospices contained in the HEALTHCAREfirst's Hospice CAHPS database.
Hospice Honors recipients include those hospices - like Pine Pointe, Atrium Health Navicent - who scored above the HEALTHCAREfirst National Performance Score on 20 of 24 evaluated questions.
"Our staff is committed to serving and caring for the terminally ill, as well as their loved ones. Our staff continually strive to ensure they are meeting the needs of our patients and families, and we applaud them for their efforts," said Cindy Hill, RN, BSN, Director of Pine Pointe, Atrium Health Navicent.
The not-for-profit Pine Pointe, Atrium Health Navicent was established in 1982 and provides hospice and palliative care services for the terminally ill in the comfort of their own homes, or in their state-of-the-art 15-bed inpatient facility on Peake Road in Macon. Pine Pointe, Atrium Health Navicent serves patients and their loved ones throughout the region, including those in Baldwin, Bibb, Bleckley, Crawford, Houston, Jones, Lamar, Monroe, Peach, Taylor, Twiggs, Upson and Wilkinson Counties.
For more information on HEALTHCAREfirst's Hospice CAHPS survey program and the Hospice Honors awards, please visit www.healthcarefirst.com/hospice-honors/.
About HEALTHCAREfirst
HEALTHCAREfirst provides web-based technologies and services to improve business and clinical operations for over four thousand home health and hospice providers across the United States. Based in Springfield, MO and one of the fastest growing providers of its kind, the company provides agency and clinical management software, outsourced revenue cycle management services (billing, coding and OASIS Review), CAHPS surveys, and advanced analytics, in any combination. HEALTHCAREfirst's breadth of solutions offers agencies a single source to improve patient care, create operational efficiencies, increase profitability, and simplify CMS compliance. With HEALTHCAREfirst, agencies can focus on patients instead of paperwork. For more information, please call 800.841.6095 or visit the company's website at www.healthcarefirst.com.
About Atrium Health Navicent
Atrium Health Navicent was incorporated on November 17, 1994, as a nonprofit corporation whose primary purpose is to coordinate The Medical Center, Navicent Health and other affiliated entities in their mission of providing a comprehensive continuum of high quality, reasonably priced healthcare services to the region. Atrium Health Navicent has 970 beds for medical, surgical, rehabilitation and hospice purposes. The health system includes The Medical Center, Navicent Health, a nationally recognized tertiary teaching hospital; Atrium Health Navicent Beverly Knight Olson Children's Hospital, the region's only dedicated pediatric hospital; Atrium Health Navicent Baldwin and Medical Center of Peach County, Atrium Health Navicent, both rural hospitals; Rehabilitation Hospital, Atrium Health Navicent, the region's oldest and most experienced rehabilitation provider; Pine Pointe, Atrium Health Navicent, which provides palliative and hospice care in homes and in its facility; Carlyle Place, Atrium Health Navicent, the area's first continuing care retirement community; Navicent Health Foundation, the philanthropic arm of Atrium Health Navicent; as well as diagnostic and home care services. For more information, please visit www.navicenthealth.org.
---
---
Top Related News
Atrium Health Navicent Continues Program to Help Georgians Start Careers in Health Care
9/28/23
Read More
Atrium Health Navicent to Provide Ambulance Service to Baldwin County
9/27/23
Read More
Atrium Health Navicent Physicians Urge Families to Prioritize Healthy Habits to Fight Childhood Obesity
9/26/23
Read More