Navicent Health to Utilize Atrium Health's Carolinas MED-1 Mobile Hospital Unit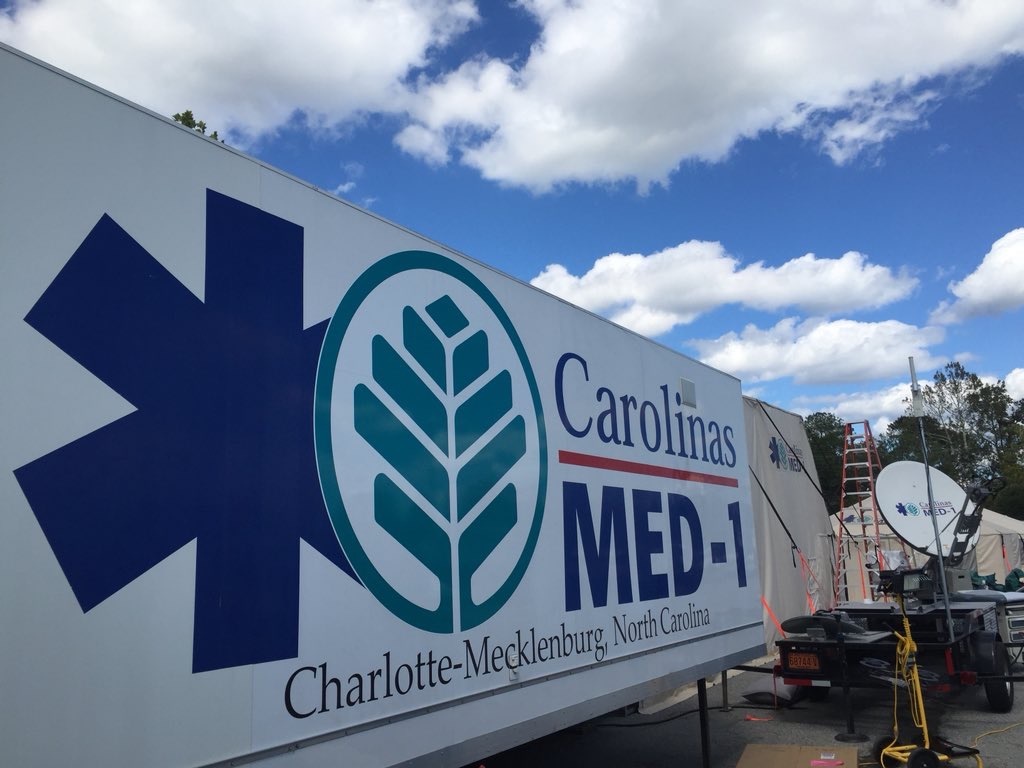 One-of-a-kind mobile hospital unit to provide additional emergency department capabilities at The Medical Center, Navicent Health
Atrium Health Navicent today announced it is working with Atrium Health to bring their Carolinas MED-1 mobile hospital unit to Macon. The one-of-a-kind unit will provide the Emergency Center at The Medical Center, Navicent Health (MCNH) additional support to help with currently high Emergency Center volume, and also to proactively address anticipated additional volume during the winter months.
Atrium Health's Carolinas MED-1 is a 14-bed mobile hospital unit that is customized to meet the specific needs of each of its missions. The mobile hospital is fully equipped to manage the variety of illnesses and injuries that traditionally present at MCNH's Emergency Center. The unit offers nearly a thousand square feet of additional care space for MCNH's Emergency Center to utilize, which is expected to expedite patients' access to high quality care and decrease Emergency Center wait times. Patients treated in the mobile unit will receive the same level of high quality care currently provided in MCNH's Emergency Center, and like the Emergency Center, the mobile unit is equipped for diagnostic testing including X-ray and ultrasound.
Atrium Health's Carolinas MED-1 is scheduled to arrive at MCNH on Monday evening, November 5.
Atrium Health Navicent and Atrium Health staff will work closely together to set up and equip the unit on Tuesday, November 6.
"We're excited to host Atrium Health's Carolinas MED-1 in order to expand our emergency center's capabilities to better serve our community as we currently experience high patient volumes and also prepare in advance for what has historically been a busy time of year. This is one example of how our proposed strategic combination with Atrium Health will help improve our service to the community," said Dr. Ninfa M. Saunders, FACHE, President and CEO of Atrium Health Navicent.
Patients presenting at MCNH's Emergency Center for care will register at 770 Pine Street as usual. Patients will be triaged as they normally are, and directed to MED-1 for care if appropriate. Atrium Health Navicent will transport patients to the unit, which will be located on New Street between Pine and Forsyth Streets, in a special transport vehicle. MED-1 will be fully staffed with Atrium Health Navicent physicians and care providers, and will be staffed based on patient demand.
MED-1, which has been in service since 2005, is deployed across the country an average of 50-70 days per year and serves as a support unit when healthcare providers require additional infrastructure. The MED-1 unit is used to support medical facilities during busy periods, renovations and community events and was deployed to Grady Health System in Atlanta in 2017 to assist with increased patient volumes there. It has also supported hospitals during times of natural disaster, including Hurricane Katrina in New Orleans, Hurricane Matthew in Lumberton, N.C., and recently Hurricane Florence in Burgaw, N.C., where it served as the only operational medical facility in a 50-mile radius.
An end date for Atrium Health Navicent's utilization of MED-1 will be determined at a later time based on emergency center volume.
About Atrium Health Navicent
Atrium Health Navicent was incorporated on November 17, 1994, as a nonprofit corporation whose primary purpose is to coordinate The Medical Center, Navicent Health and other affiliated entities in their mission of providing a comprehensive continuum of high quality, reasonably priced healthcare services to the region. Atrium Health Navicent has 970 beds for medical, surgical, rehabilitation and hospice purposes. The health system includes The Medical Center, Navicent Health, a nationally recognized tertiary teaching hospital; Atrium Health Navicent Beverly Knight Olson Children's Hospital, the region's only dedicated pediatric hospital; Atrium Health Navicent Baldwin and Medical Center of Peach County, Atrium Health Navicent, both rural hospitals; Rehabilitation Hospital, Atrium Health Navicent, the region's oldest and most experienced rehabilitation provider; Pine Pointe, Atrium Health Navicent, which provides palliative and hospice care in homes and in its facility; Carlyle Place, Atrium Health Navicent, the area's first continuing care retirement community; Navicent Health Foundation, the philanthropic arm of Atrium Health Navicent; as well as diagnostic and home care services. For more information, please visit www.navicenthealth.org.
About Atrium Health
Atrium Health, previously Carolinas HealthCare System, one of the nation's leading and most innovative healthcare organizations, provides a full spectrum of healthcare and wellness programs throughout the Southeast region. Its diverse network of care locations includes academic medical centers, hospitals, freestanding emergency departments, physician practices, surgical and rehabilitation centers, home health agencies, nursing homes and behavioral health centers, as well as hospice and palliative care services. Atrium Health works to enhance the overall health and well-being of its communities through high-quality patient care, education and research programs, and numerous collaborative partnerships and initiatives.
---
---
Top Related News
Atrium Health Navicent Hosts Free Family Fun Day
9/21/23
Read More
Join Atrium Health Navicent in Observing Childhood Cancer Awareness Month
9/20/23
Read More
Join Atrium Health Navicent in Raising Awareness about Gynecological Cancers
9/14/23
Read More