Navicent Health's Tim Slocum on hand to accept Georgia Association of Healthcare Executives Chapter Excellence Award
The Georgia Association of Healthcare Executives (GAHE) is proud to be a winner of the American College of Healthcare Executives (ACHE) Award of Chapter Excellence, one of seven ACHE local chapters (78 chapters nationally) to receive this award this year. In addition, GAHE received the Award of Sustained Performance for the third year in a row.
Each year ACHE recognizes its local chapters with awards for meeting or exceeding performance measures to help ensure the delivery of high-quality services to members at the local level, acknowledging outstanding chapter accomplishments in the areas of member satisfaction, education & networking performance, membership growth and advancement of eligible members. Congratulations to all our officers and committee leaders, working for the benefit of all our chapter members.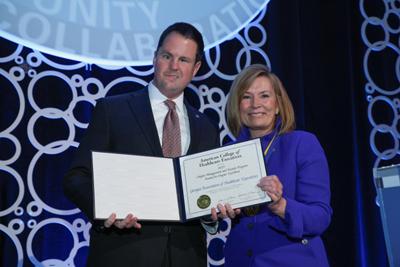 Receiving the award at ACHE Congress in Chicago were 2018 GAHE President Tim Slocum, Vice President of System Support and Facility Support Services at Atrium Health Navicent as well as ACHE Chair Heather Rohan, FACHE.
About Atrium Health Navicent
Atrium Health Navicent, the leading provider of healthcare in central and south Georgia, is committed to its mission of elevating health and wellbeing through compassionate care. Providing more than 1,000 beds and offering care in 53 specialties at more than 50 facilities throughout the region, Atrium Health Navicent provides care for healthcare consumers' through an academic medical center; community, pediatric and rehabilitation hospitals; urgent care centers; physician practices; diagnostic centers; home health; hospice and palliative care; and a life plan community. Atrium Health Navicent is dedicated enhancing health and wellness for individuals throughout the region through nationally-recognized quality care, community health initiatives and collaborative partnerships. For more information, please visit www.navicenthealth.org.
---
---
Top Related News
Atrium Health Navicent Continues Program to Help Georgians Start Careers in Health Care
9/28/23
Read More
Atrium Health Navicent to Provide Ambulance Service to Baldwin County
9/27/23
Read More
Atrium Health Navicent Physicians Urge Families to Prioritize Healthy Habits to Fight Childhood Obesity
9/26/23
Read More