Navicent Health's First Tax Day Baby Wins $1,529 College Savings Contribution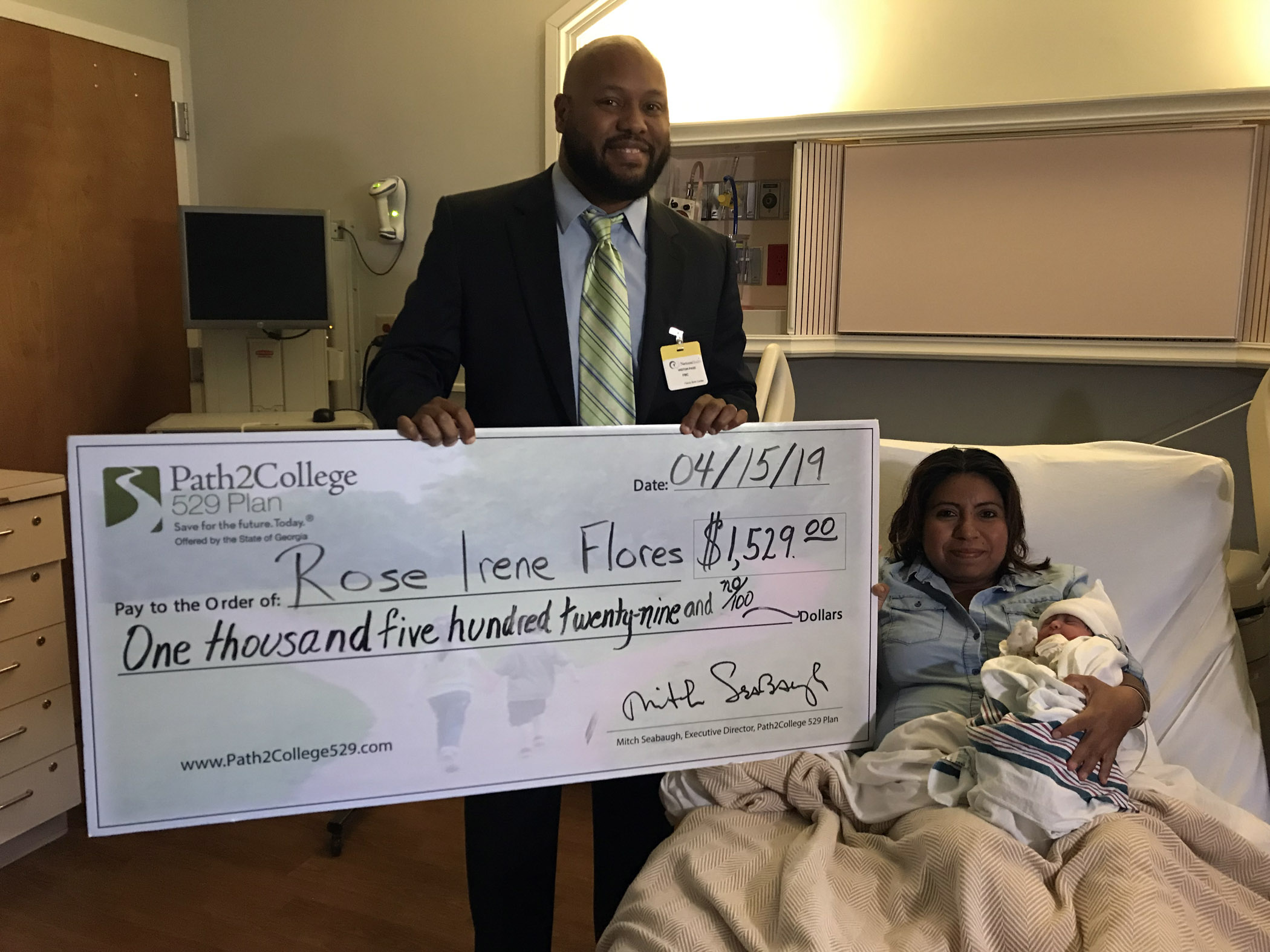 One Georgia Baby Born in 2019 to also Win $5,529 College Savings Contribution
Tax Day isn't something that most think to celebrate, but for Victor and Felipa Rodriguez Garcia of McIntyre, Ga. the day came with two reasons""the birth of their 6 lb., 8.6 oz. baby girl this morning at 1:27 a.m., and a college savings contribution for baby Rose, who was the first baby born at Atrium Health Navicent on April 15""Tax Day.
"We are very happy and very glad, very thankful to receive this scholarship," said Felipa Rodriguez Garcia, baby Rose's mother. Felipa also said her family feels very blessed to have a baby girl. Baby Rose has two older brothers at home.
This is the fourth year that Navicent and the Path2College 529 Plan have partnered to recognize "Tax Day" babies in an effort to raise awareness about the importance of saving for college and financial planning.
"It is such a pleasure to welcome little Rose into the world by investing in her education. I personally believe that education is vital to an individual's success. As an organization, Atrium Health Navicent participates in numerous initiatives to promotes the education and continued learning of our employees as well as those within the communities we serve. We are pleased to partner with Path2College to navigate Rose towards a path to success," said Dr. Ninfa M. Saunders, President and CEO of Atrium Health Navicent.
In addition to recognizing the first Tax Day baby at Atrium Health Navicent, the Path2Collge 529 Plan also kicked-off its 2019 Newborn Sweepstakes, which will award one baby born in Georgia this year a $5,529 college savings contribution. The Path2College 529 Plan will also award $1,529 to the hospital where the Newborn Sweepstakes winner is born.
"Last year, we reached out to more than 132,000 families who celebrated the birth of a child in Georgia to inform them about the state's college savings plan and the opportunity it provides to save for future education expenses," said Caylee Noggle, Interim President of the Georgia Student Finance Commission, which partners with the Office of the State Treasurer to administer the Path2College 529 Plan for the state of Georgia. "If we inspire even a small number of these families to begin saving early, then we have helped create a more solid financial and educational foundation for those children. And, of course, the Newborn Sweepstakes is a great way to jumpstart that savings. We hope all new parents and grandparents will take a moment to enter and to find out more about the advantages of saving for college."
Parents, grandparents and guardians of Georgia babies born in 2019 may go to www.Path2College529.com until April 14, 2020, for official rules, prize details and to enter for a chance to win the 2019 Newborn Sweepstakes. Entrants must be legal residents or taxpayers to Georgia and at least 18 years of age to enter. No purchase necessary. Void where prohibited. Sponsored by the Path2College 529 Plan.
For more information about the Path2College 529 Plan or to open a college savings account, please visit www.Path2College529.com or call (877) 424-4377.
To learn more about the Path2College 529 Plan, its investment objectives, tax benefits, risks, and costs please see the Disclosure Booklet at path2college529.com. Read it carefully. Investments in the Plan are neither insured nor guaranteed and there is the risk of investment loss. Check with your home state to learn if it offers tax or other benefits such as financial aid, scholarship funds or protection from creditors only available for investing in its own 529 plan. Consult your legal or tax professional for tax advice, including the impact of the new federal tax changes. If the funds aren't used for qualified higher education expenses, a 10% penalty tax on earnings (as well as federal and state income taxes) may apply.
TIAA-CREF Individual & Institutional Services, LLC, Member FINRA and SIPC, distributor and underwriter for the Path2College 529 Plan.
---
---
Top Related News
Holly Jolly Shoppe Donations Now Being Accepted to Benefit Patients at Atrium Health Navicent Beverly Knight Olson Children's Hospital
12/7/23
Read More
Atrium Health Declares Respiratory Virus Season, Visitor Restrictions
12/6/23
Read More
Atrium Health Navicent Physicians Offer Tips for Toy and Gift Safety
12/4/23
Read More