Navicent Health, Regional Partners Host Conference to End Human Trafficking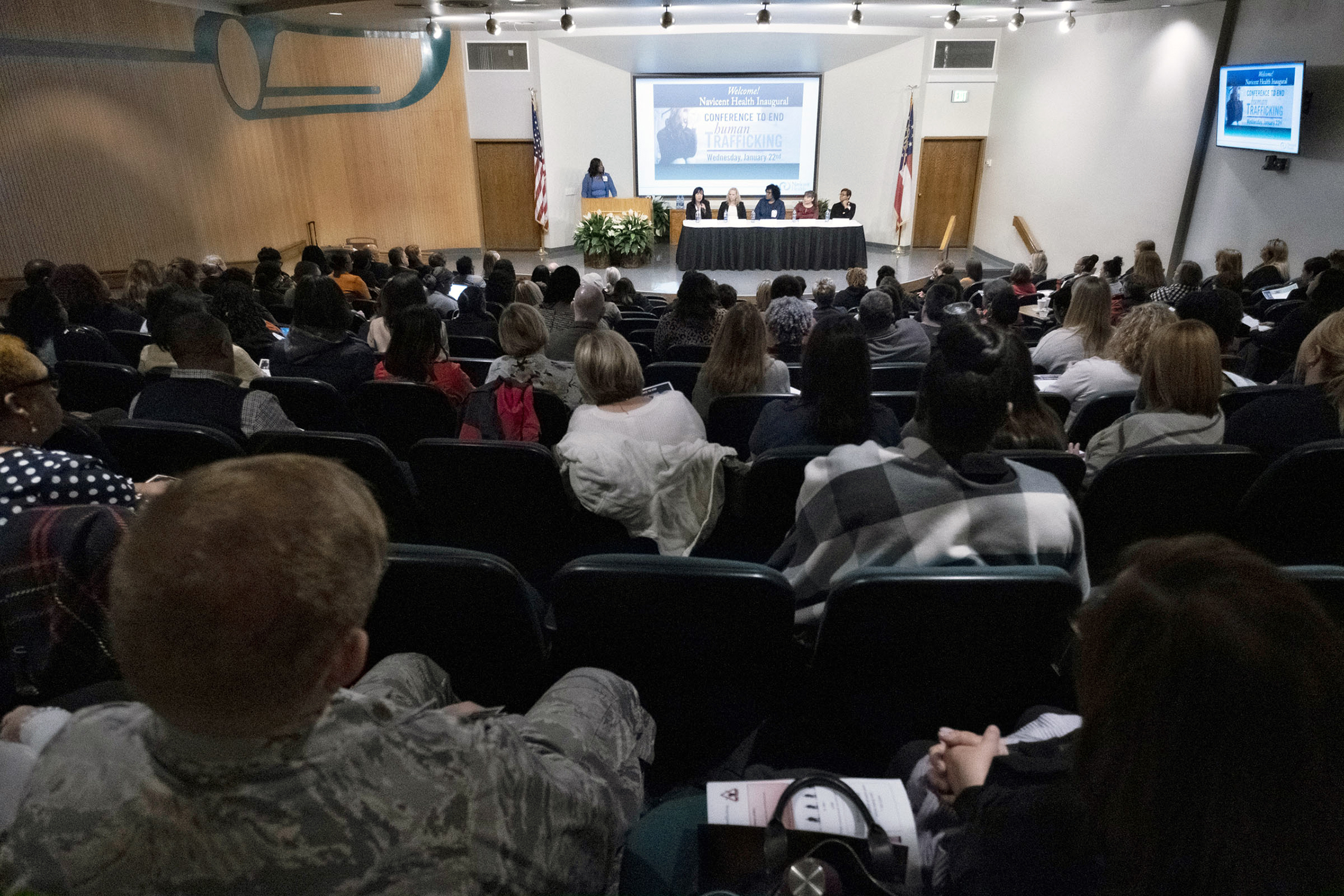 Community Partners Address Collaborative Regional Solutions
Human trafficking is a is a modern-day form of slavery and a nationwide public health and civil rights crisis. Its victims and survivors are everywhere, with communities in central Georgia being no exception. With this in mind, Atrium Health Navicent joined with regional partners, including nonprofit organizations and government agencies, to host the Conference to End Human Trafficking on Wednesday, January 22.
"People may be trafficked for labor or for sex, and the victims are not always international. Trafficking occurs domestically too, right here where we live. Traffickers target the vulnerable, and exploit them through force, fraud and coercion. Anyone can become a victim of trafficking, regardless of their age, gender, sexual orientation, race or socioeconomic status. That is why we must be the voice for those who are often in plain sight, yet unseen," said Dr. Ninfa M. Saunders, President and CEO of Atrium Health Navicent.
According to an Urban.org report, "Estimating the Size and Structure of the Underground Commercial Sex Economy in Eight Major US Cities," the average age of entry into the commercial sex market is 12-14 years old, with one-third of this group being young males, and 91 percent of victims in Georgia enrolled in school at the time of their exploitation. Approximately 400 girls are commercially sexually exploited in Georgia each month.
Although the State of Georgia recently received an "A" grade from Shared Hope International for the strength of its laws to combat sex trafficking, those who are exploited face many barriers in reporting what has happened to them, from language barriers to fear of their traffickers.
"We must all seek to prevent human trafficking before it can occur, by improving awareness and education, and promoting safe, healthy, and supportive environments," said the Hon. Robert A.B. Reichert, Mayor of Macon-Bibb County. "It isn't enough, though, to merely denounce it as an assault on human dignity. We must actively work together to prevent and end trafficking and exploitation."
At Wednesday's conference, healthcare providers joined with elected officials, law enforcement, community educators and nonprofit leaders to discuss the measures necessary to address and reduce instances of trafficking in Georgia.
Representatives of Atrium Health presented methods to optimize healthcare design in an effort to recognize and assist trafficking victims. Camila Wright Zolfaghari, JD, LLM and Executive Director of Street Grace, presented the keynote.
The following organizations partnered with Atrium Health Navicent to host the Conference to End Human Trafficking: Atrium Health, Macon-Bibb County, Bibb County Sheriff's Office, Crisis Line & Safe House, District Attorney's Office - Macon Judicial Circuit, FBI (local office), GA Cares, Mercer University's Traffick Jam, Middle Georgia ALERT, Out of Darkness, Street Grace and WellCare.
About Atrium Health Navicent
Atrium Health Navicent, the leading provider of healthcare in central and south Georgia, is committed to its mission of elevating health and wellbeing through compassionate care. Providing more than 1,000 beds and offering care in 53 specialties at more than 50 facilities throughout the region, Atrium Health Navicent provides care for healthcare consumers' through an academic medical center; community, pediatric and rehabilitation hospitals; urgent care centers; physician practices; diagnostic centers; home health; hospice and palliative care; and a life plan community. Atrium Health Navicent is dedicated enhancing health and wellness for individuals throughout the region through nationally-recognized quality care, community health initiatives and collaborative partnerships. For more information, please visit www.navicenthealth.org.
---
---
Top Related News
Atrium Health Navicent Continues Program to Help Georgians Start Careers in Health Care
9/28/23
Read More
Atrium Health Navicent to Provide Ambulance Service to Baldwin County
9/27/23
Read More
Atrium Health Navicent Physicians Urge Families to Prioritize Healthy Habits to Fight Childhood Obesity
9/26/23
Read More