Navicent Health Recognized for Excellence by State's Leading Organization for Non-Profit Hospitals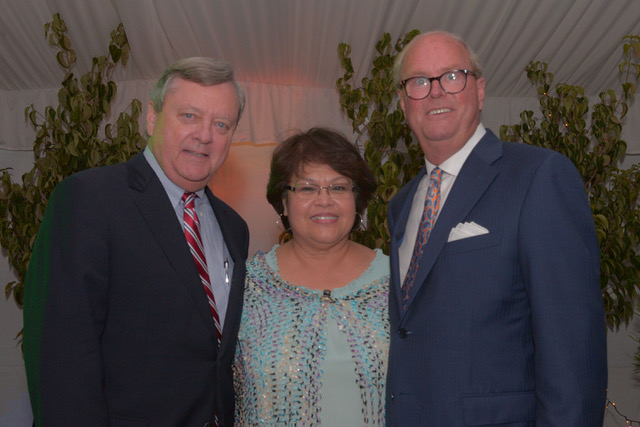 Dr. Ninfa Saunders Also Welcomed as New Board Chair
The Georgia Alliance of Community Hospitals recognized Atrium Health Navicent as Large Hospital of the Year during its 34th annual conference last week. The event also marked the beginning of president and CEO Dr. Ninfa M. Saunders' term as chair of the statewide organization. She succeeds Jerry Fulks, president of WellStar West Georgia Medical Center.
"Atrium Health Navicent has played a critical role not only in the lives of its patients but also the health of the community and region it serves for over 120 years," said Monty Veazey, president of the Georgia Alliance of Community Hospitals. "They deserve this recognition not only for all they have done in the past, but for what they continue to do to ensure the health and wellness of people throughout the region."
The annual Hospital of the Year award recognizes the impact a hospital has had both on individual patients and the overall quality of life in the community it serves. Atrium Health Navicent was recognized specifically for its proactive approach to addressing disparities in outcomes for patients with issues such as cardiovascular disease and COPD as well as the new MedLaw Program created in partnership with Georgia Legal Services and Mercer University. This innovative program assists patients and their families with non-medical issues that create barriers to health.
Recognized by CEO Connection as one of 2017's most influential women and named the Georgia Alliance of Community Hospitals' CEO of the year in 2014, Dr. Ninfa Saunders assumes the role of chair at a critical time for non-profit hospitals across the state as they face the uncertainty of changes to federal health care law.
"It has never been more important for our non-profit hospitals to work together to advocate for laws and policies that will allow us to continue to provide quality care to our patients and support both the physical and economic health of our communities," said Dr. Saunders. "I am honored to have the opportunity to serve in this capacity for the Georgia Alliance of Community Hospitals and look forward to working with my peers from across the state and with elected leaders at the state and federal level to ensure access and affordability for all Georgians."
Other awards presented during the conference included Northside Hospital Cherokee as Small Hospital of the year, Don McKenna, president and CEO of St. Mary's Health Care System, as CEO of the Year, and Lt. Governor Casey Cagle as Legislator of the Year in recognition of his long history of support for the state's non-profit hospitals.
---
---
Top Related News
Atrium Health Navicent Hosts Free Family Fun Day
9/21/23
Read More
Join Atrium Health Navicent in Observing Childhood Cancer Awareness Month
9/20/23
Read More
Join Atrium Health Navicent in Raising Awareness about Gynecological Cancers
9/14/23
Read More