Navicent Health Physician Honored with First Chris Hendry Excellence in Medicine Award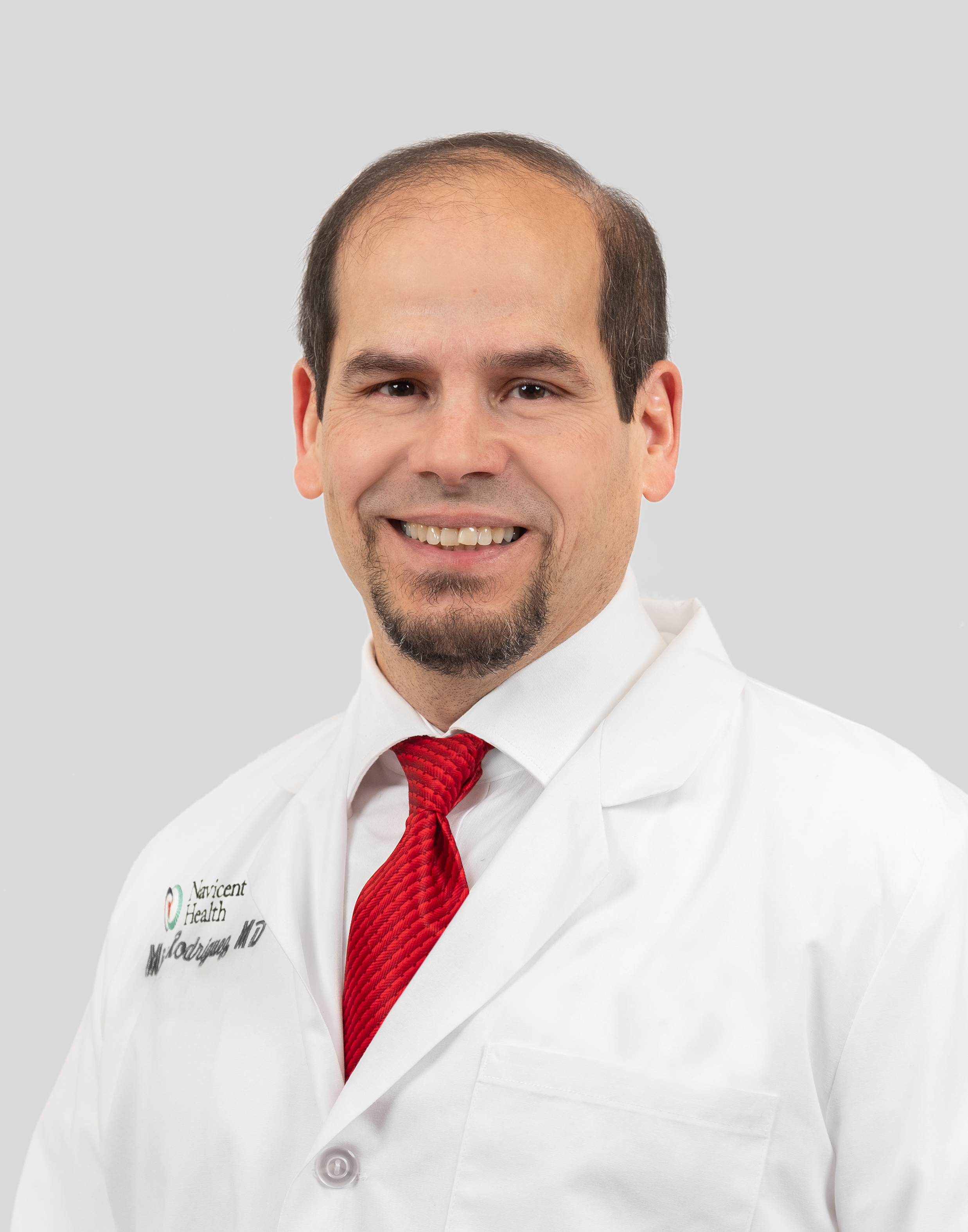 Award Memorializes the Continued Impact of Late Physician
Atrium Health Navicent, in honor of its former Chief Medical Executive Christopher Hendry, M.D., has established the "Chris Hendry Excellence in Medicine Award" to recognize a Atrium Health Navicent staff physician who exhibits the qualities that Dr. Hendry lived out daily. The inaugural award has been presented to Mitch Rodriguez, M.D., neonatologist and business development director at Atrium Health Navicent Beverly Knight Olson Children's Hospital.
"We suffered a great loss this year with the passing of Dr. Chris Hendry. He was a friend to all, a mentor to many, a thorn when that was needed, a balm when that was needed. I can think of no better exemplar for what I wanted to honor in a physician," said Bob Lane, M.D., medical chief of staff for Atrium Health Navicent.
The Chris Hendry Excellence in Medicine Award will be presented biennially by the chief of staff to an active member of the medical staff who exemplifies the qualities that made Dr. Hendry unique and valued by all who knew him, including integrity, fairness, kindness and patient focus.
"Dr. Hendry's patient focused, process driven, deeply caring work ethic changed healthcare delivery at Atrium Health Navicent. His accessibility, approachability, affability and his wonderful sense of humor made him a joy to work with and work for," said Dr. Lane.
Dr. Rodriguez has been selected as the first recipient of the "Chris Hendry Excellence in Medicine Award" for exhibiting these qualities. Dr. Rodriguez is well known for his excellent clinical care and talent as an administrative leader, as well as his devotion to his fragile neonatal patients and their families. In addition, Dr. Rodriguez is a well-respected mentor who develops others to be better clinicians and leaders, a trait that mirrors that of Dr. Hendry.
"Chris Hendry was my friend and my mentor. In addition, he was an individual for whom physicians had the utmost respect. His ability and willingness to understand a situation and work towards positive solutions was unique. To be considered for and awarded the first Chris Hendry Excellence in Medicine Award is truly humbling and an honor. I will continue to strive to achieve in my daily life and practice the essence of this award," said Dr. Rodriguez.
Dr. Hendry, a well-respected community physician and beloved Atrium Health Navicent executive, passed away unexpectedly in June 2018. He is survived by his wife and two children, and many colleagues on whom he still has an impact.
About Atrium Health Navicent
Atrium Health Navicent, the leading provider of healthcare in central and south Georgia, is committed to its mission of elevating health and wellbeing through compassionate care. Providing more than 1,000 beds and offering care in 53 specialties at more than 50 facilities throughout the region, Atrium Health Navicent provides care for healthcare consumers' through an academic medical center; community, pediatric and rehabilitation hospitals; urgent care centers; physician practices; diagnostic centers; home health; hospice and palliative care; and a life plan community. Atrium Health Navicent is dedicated enhancing health and wellness for individuals throughout the region through nationally-recognized quality care, community health initiatives and collaborative partnerships. For more information, please visit www.navicenthealth.org.
---
---
Top Related News
Atrium Health Navicent Beverly Knight Olson Children's Hospital Opens New Pediatric Behavioral Health Unit
11/30/23
Read More
Register Now for the 31st Annual Reindeer Run
11/27/23
Read More
Atrium Health Navicent Offers Tips to Help You Deck the Halls with Safety in Mind
11/25/23
Read More