Navicent Health Partners with Georgia Academy for the Blind for Project SEARCH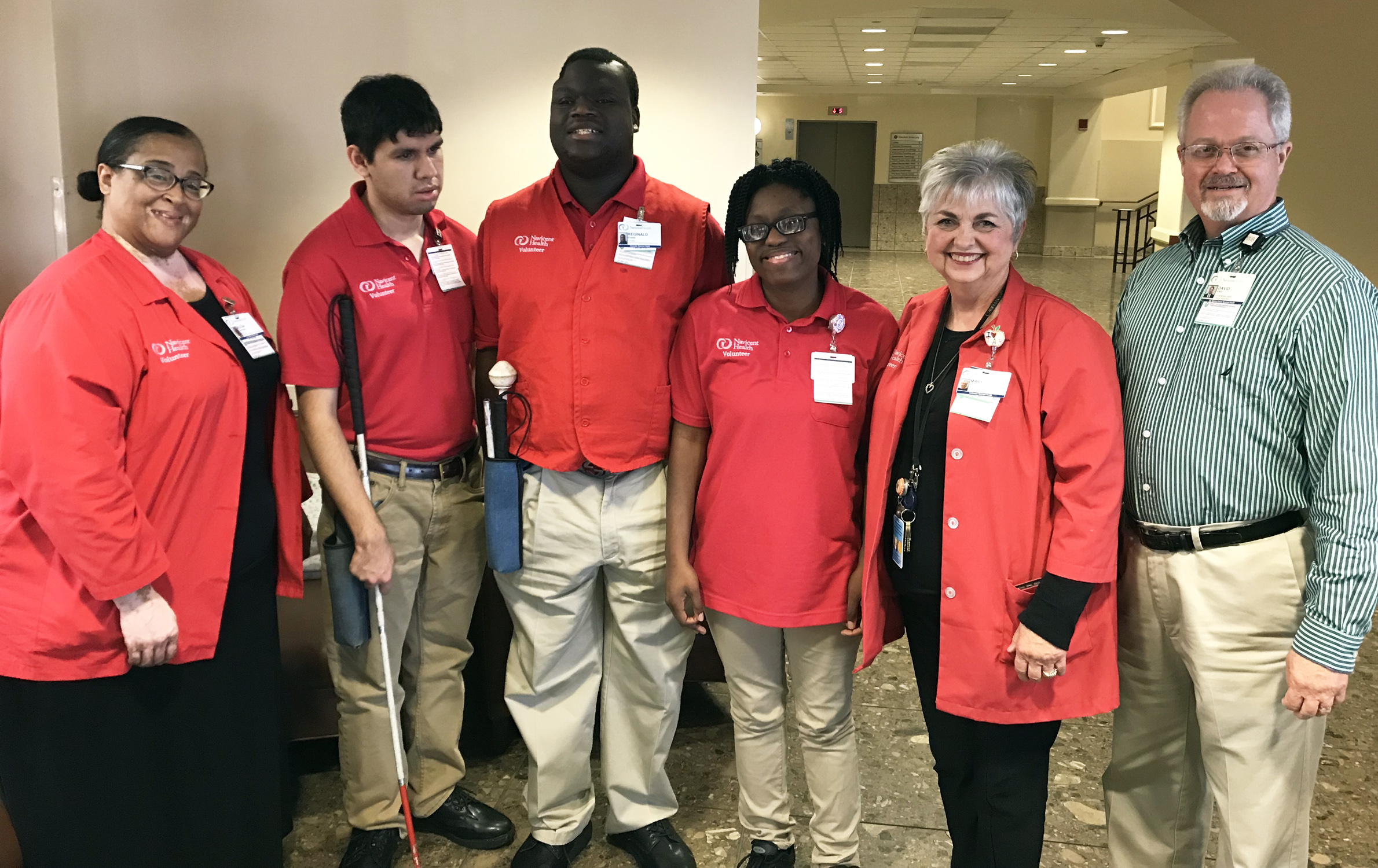 Program Provides Student with Low Vision Employment Opportunities
Atrium Health Navicent has partnered with Georgia Academy for the Blind (GAB) to bring the international Project SEARCH to Macon-Bibb County, creating the world's first Project SEARCH program to assist students with visual impairment. Through this program, three GAB students are able to gain real-world employment experience by volunteering with various departments at The Medical Center, Navicent Health (MCNH).
"Atrium Health Navicent is pleased to work with the Georgia Academy for the Blind to provide this program. Our goal as an organization is to increase health and wellness for individuals throughout the communities we serve. By providing these students with real-world work experience, we are assisting them as they become productive members of society, armed with independence and the skills needed to thrive," said Dr. Ninfa M. Saunders, President and CEO of Atrium Health Navicent.
Three students - Sydney Brooks, Reginald Evans and Angel Lopez - were selected for the initial program cohort. The students selected are high school seniors who plan to enter the workforce following graduation this spring. The program required each student to obtain transportation from GAB to MCNH in order to "interview" for positions within three MCNH departments. The students were then "selected" and received "job offers" for those departments.
Reginald now volunteers within the hospital's Create Café, where he greets customers, stocks shelves and wipes down tables. Sydney obtained a position within the Central Supply department and is responsible for pulling orders, tagging items and making deliveries. Angel works with the Linen Services department and stocks shelves, makes deliveries and manages the stockroom. Although these are volunteer positions, the students are responsible for obtaining transportation and reporting for their assigned shifts in preparation for future employment.
"The goal of this program is to allow these graduating students to gain independence and real world experience. They are responsible for managing their time, obtaining transportation, reporting to work and completing their job duties in a satisfactory manner. This program provides real world experience that will allow them to build their resumes and obtain employment following their graduation this spring. We are so pleased to partner with Atrium Health Navicent to prepare our students as they transfer from our school to society," said Mary Keith, Teaching and Learning Innovative Programs Coordinator with GAB.
The three students have enjoyed the opportunity to work within the hospital. Speaking on behalf of her classmates, Sydney said, "I like what we're doing. We get to be more independent and responsible. This is a good opportunity for all of us. We will be ready and capable when we head into the workforce."
Project SEARCH is an international program founded in 1996 that provides individuals with developmental disabilities the opportunity to work in entry-level positions. Project SEARCH's primary objective is to secure competitive employment for people with disabilities. For more information, please visit http://www.projectsearch.us/.
About Atrium Health Navicent
Atrium Health Navicent was incorporated on November 17, 1994, as a nonprofit corporation whose primary purpose is to coordinate The Medical Center, Navicent Health and other affiliated entities in their mission of providing a comprehensive continuum of high quality, reasonably priced healthcare services to the region. Atrium Health Navicent has 970 beds for medical, surgical, rehabilitation and hospice purposes. The health system includes The Medical Center, Navicent Health, a nationally recognized tertiary teaching hospital; Atrium Health Navicent Beverly Knight Olson Children's Hospital, the region's only dedicated pediatric hospital; Atrium Health Navicent Baldwin and Medical Center of Peach County, Atrium Health Navicent, both rural critical access hospitals; Rehabilitation Hospital, Atrium Health Navicent, the region's oldest and most experienced rehabilitation provider; Pine Pointe, Atrium Health Navicent, which provides palliative and hospice care in homes and in its facility; Carlyle Place, Atrium Health Navicent, the area's first continuing care retirement community; Navicent Health Foundation, the philanthropic arm of Atrium Health Navicent; as well as diagnostic and home care services. For more information, please visit www.navicenthealth.org.
---
---
Top Related News
Atrium Health Navicent Hosts Free Family Fun Day
9/21/23
Read More
Join Atrium Health Navicent in Observing Childhood Cancer Awareness Month
9/20/23
Read More
Join Atrium Health Navicent in Raising Awareness about Gynecological Cancers
9/14/23
Read More