Navicent Health Baldwin Congratulates Samuel M. Goodrich, M.D. Endowed Healthcare Scholarship Recipients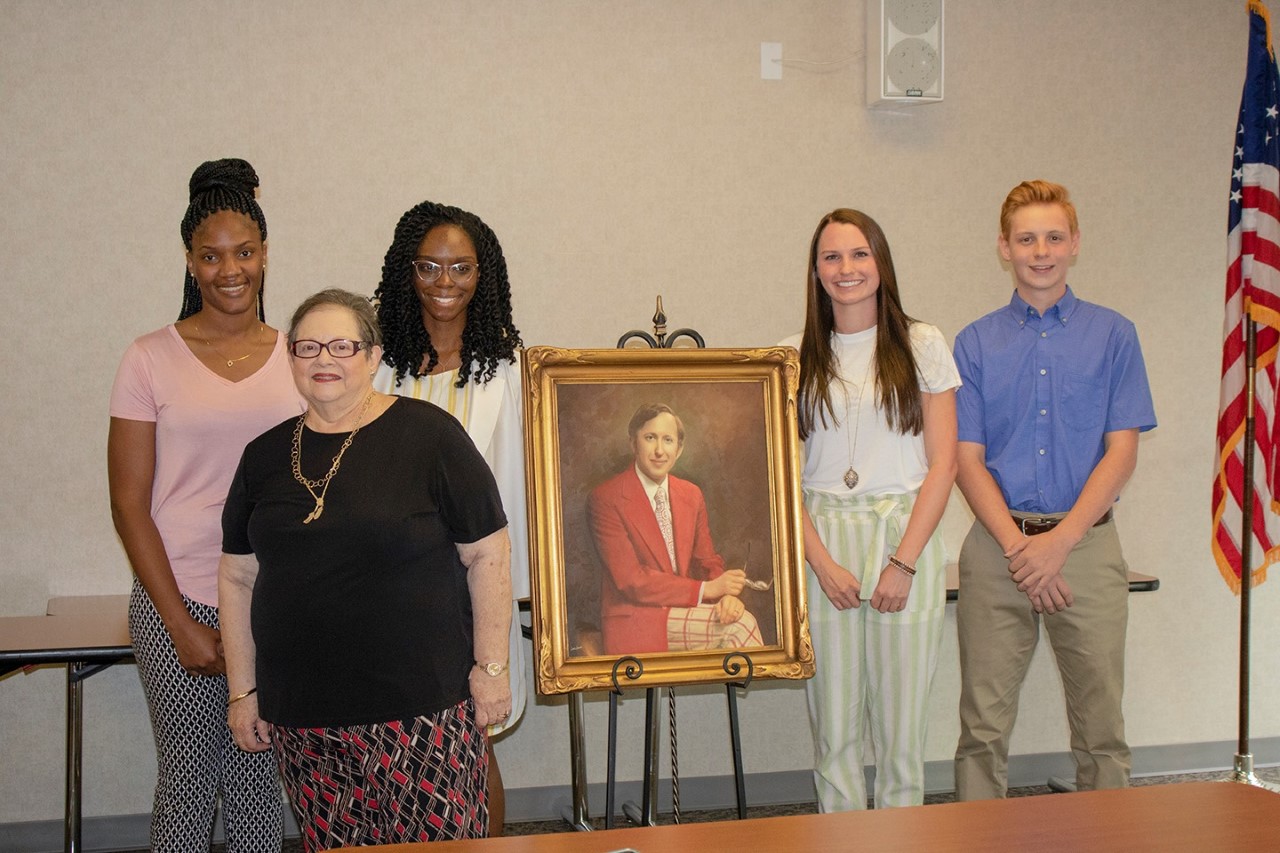 Four Students Selected as 2019 Scholarship Award Winners
On Thursday, July 25, four college students pursuing degrees in healthcare fields were presented the 11th annual Samuel M. Goodrich, M.D. Endowed Healthcare Scholarship. Scholarship recipients were as follows:
Chandler Knight, Georgia Southern University
Leslie "Gabby" Carter, Morehouse School of Medicine
Haley Marks, Meharry Medical College
Kara Kelsey, Mercer University School of Medicine
The scholarship, named in honor of long-time Milledgeville OB/GYN Dr. Sam Goodrich, was established in 2008 to assist students going into the healthcare field. Since its inception, 49 students have received scholarships.
In the above photo, scholarship recipients pose with Ellen Goodrich, widow of Dr. Sam Goodrich, who is pictured in the portrait.
About Atrium Health Navicent
Atrium Health Navicent, the leading provider of healthcare in central and south Georgia, is committed to its mission of elevating health and wellbeing through compassionate care. Providing more than 1,000 beds and offering care in 53 specialties at more than 50 facilities throughout the region, Atrium Health Navicent provides care for healthcare consumers' through an academic medical center; community, pediatric and rehabilitation hospitals; urgent care centers; physician practices; diagnostic centers; home health; hospice and palliative care; and a life plan community. Atrium Health Navicent is dedicated enhancing health and wellness for individuals throughout the region through nationally-recognized quality care, community health initiatives and collaborative partnerships. For more information, please visit www.navicenthealth.org.
---
---
Top Related News
Atrium Health Navicent Continues Program to Help Georgians Start Careers in Health Care
9/28/23
Read More
Atrium Health Navicent to Provide Ambulance Service to Baldwin County
9/27/23
Read More
Atrium Health Navicent Physicians Urge Families to Prioritize Healthy Habits to Fight Childhood Obesity
9/26/23
Read More