Navicent Health and Partners Renew Commitment to Partnering for Health Equity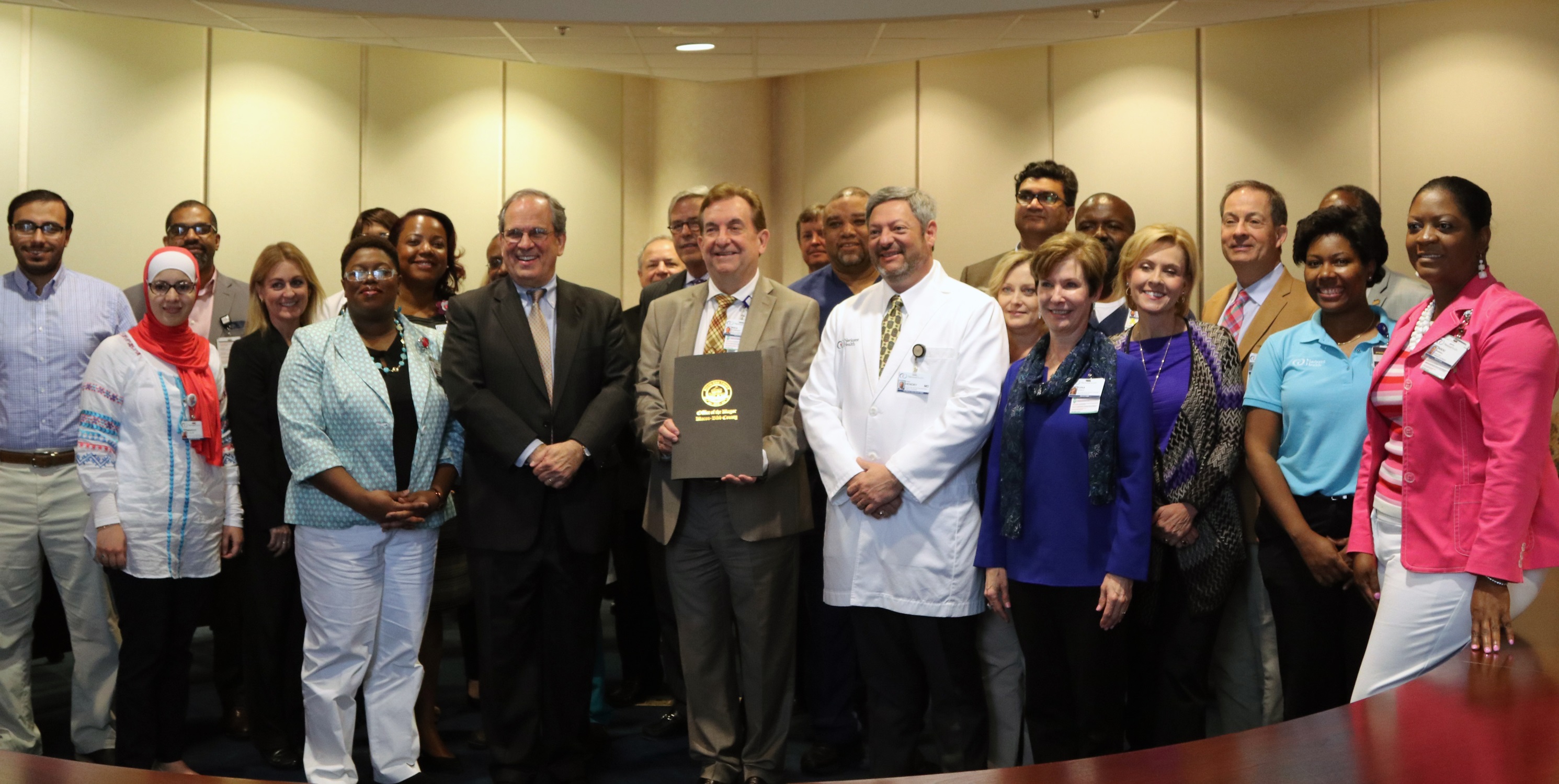 Health System Joins with County, Community Partners to Renew Pledge to Residents
Atrium Health Navicent, in partnership with other community providers including Macon-Bibb County, is raising awareness of healthcare equity during April and celebrating the U.S. Department of Health and Human Services theme of "Partnering for Health Equity."
"Together with our partners, Atrium Health Navicent is raising awareness about efforts in health, education, justice, housing, transportation and employment sectors to address the social determinants that impact health. We will continue to work with our wonderful partners to bridge efforts across our community and region to help eliminate health disparities, accelerate health equity and build stronger, healthier communities," said Dr. Ninfa M. Saunders, President and CEO of Atrium Health Navicent.
Atrium Health Navicent and its partners seek to eliminate healthcare disparities and increase access to care by providing education to area residents as well as healthcare providers, and by providing resources to address disease prevention and management.
In 2017, Atrium Health Navicent founded its Healthy Communities program to address the health status of residents in Bibb County, which ranked 142 out of 159 counties in Georgia in the latest county health rankings from the Robert Wood Johnson Foundation. Over the past year, Healthy Communities, Atrium Health Navicent has worked with community organizations and elected officials to address the social determinants that affect health and wellness. Results of the program include:
Improved readmission rates for patients with chronic conditions including chronic obstructive pulmonary disease (COPD), diabetes and heart failure through the implementation of condition-specific intervention and education programs.
Improved care planning, coordination and patient-family education through the creation of a Serious Advanced Illness Program that pairs care coordinators with individual patients. Improved access to healthcare services for specific neighborhoods through partnerships with primary care providers and community centers within the neighborhoods, and the placement of Health Coaches within these neighborhoods, in order to bring care to individuals in need.
Projects within specific Macon-Bibb County neighborhoods to address barriers to health, including blight, security and walkability.
The creation of MedLaw, a medical legal partnership with Georgia Legal Services Program and Mercer University School of Law, to address legal barriers that hinder care.
Plans to turn blighted properties in south Macon into an Agri-hood and farmer's market for the nutritional benefit of area residents by supporting One South CDC in this important effort.
Along with its partners, Healthy Communities, Atrium Health Navicent has made great strides in these areas, and will continue to seek new means of improving health, expanding to counties outside of Bibb in the coming year.
"Atrium Health Navicent, along with its community partners, has been successful in addressing healthcare disparities in the Macon-Bibb County community and beyond. Eliminating disparities, improving outcomes, decreasing preventable illnesses and premature deaths - most prevalent in minority, underserved and rural populations - is a priority. Atrium Health Navicent is using a focused, evidence-based approach toward achieving the goal of strengthening communities through education, prevention, early detection, access and disease management," said Dr. Reg Gilbreath, Chief Systems of Care Integration Officer.
Throughout the month of April, Atrium Health Navicent will work with community partners and its own staff to increase education and awareness of health equity for all populations.
About Atrium Health Navicent
Atrium Health Navicent was incorporated on November 17, 1994, as a nonprofit corporation whose primary purpose is to coordinate The Medical Center, Navicent Health and other affiliated entities in their mission of providing a comprehensive continuum of high quality, reasonably priced healthcare services to the region. Atrium Health Navicent has 970 beds for medical, surgical, rehabilitation and hospice purposes. The health system includes The Medical Center, Navicent Health, a nationally recognized tertiary teaching hospital; Atrium Health Navicent Beverly Knight Olson Children's Hospital, the region's only dedicated pediatric hospital; Atrium Health Navicent Baldwin and Medical Center of Peach County, Atrium Health Navicent, both rural hospitals; Rehabilitation Hospital, Atrium Health Navicent, the region's oldest and most experienced rehabilitation provider; Pine Pointe, Atrium Health Navicent, which provides palliative and hospice care in homes and in its facility; Carlyle Place, Atrium Health Navicent, the area's first continuing care retirement community; Navicent Health Foundation, the philanthropic arm of Atrium Health Navicent; as well as diagnostic and home care services. For more information, please visit www.navicenthealth.org.
---
---
Top Related News
Atrium Health Navicent Continues Program to Help Georgians Start Careers in Health Care
9/28/23
Read More
Atrium Health Navicent to Provide Ambulance Service to Baldwin County
9/27/23
Read More
Atrium Health Navicent Physicians Urge Families to Prioritize Healthy Habits to Fight Childhood Obesity
9/26/23
Read More