Navicent Health Adopts Wire-Free Radar Localization Technology to Improve the Surgical Experience for Breast Cancer Patients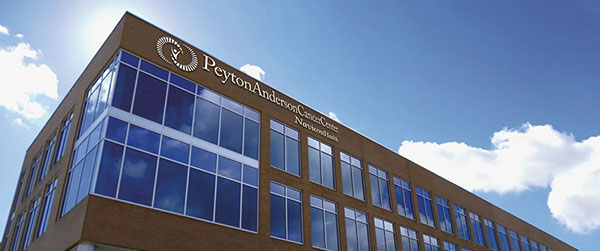 Central Georgian Surgeons and Radiologists among first in Region to use the SCOUT ® System
Peyton Anderson Cancer Center, Atrium Health Navicent (PACC) continues to demonstrate its commitment to offering the most advanced treatment options to patients with breast cancer by becoming the first hospital in the region to adopt the SCOUT® Wire-Free Radar Localization System in order to provide more compassionate care to patients undergoing treatment for breast cancer.
"Having an abnormal mammogram and having to undergo a surgical procedure can be physically and emotionally distressing, and we strive to find ways to create a better experience - and better outcomes - for our patients. SCOUT eliminates the need to place a wire inside breast tissue to locate calcifications, a mass or even a tumor. SCOUT will be used for biopsy, lumpectomy and breast conservation surgery," said Paul Dale, M.D., Medical Director of PACC.
In over 90,000* procedures, the SCOUT system has been proven to decrease patient discomfort and improve patient satisfaction.1 SCOUT uses non-radioactive, radar technology to provide real-time surgical guidance during breast surgery, biopsy and lumpectomy. Rather than placing a wire into breast tissue to locate a tumor before a procedure, a SCOUT reflector is placed in the target tissue prior to the day of the procedure, at the patient's convenience. During the procedure, the SCOUT guide uses real-time distance measurement guidance to accurately detect the location of the SCOUT reflector, and therefore locate the tumor to within 1mm of accuracy.
"The ability to precisely locate tumors may increase the probability of complete cancer removal and reduce the likelihood of needing follow-up surgeries - a huge advantage for early-stage breast cancer patients. In addition, the ability to strategically plan the incision may result in better cosmetic outcomes. We're thrilled to bring this technology to central Georgia for the benefit of those addressing and surviving breast cancer," said Tom Oliver, M.D. Chief Clinical Officer for Atrium Health Navicent.
SCOUT is also used to effectively localize lymph nodes prior to neoadjuvant therapy and can be used with any type of imaging over the course of a patient's care.
"We're proud to be the first in this region to adopt wire-free localization as the standard of care. As research and technology advance, we're committed to adopting the safest and most progressive treatment options for women and men with breast cancer," said Christa Loyd, RN, Nurse Manager for the Breast Care Center at PACC.
For the past five years, PACC has provided local, comprehensive cancer care for patients in central and south Georgia, serving cancer patients and their loved ones through compassionate care, innovative technologies, the latest in clinical trials, and social support. Join PACC this month to "Paint The Town Pink" for breast cancer awareness - for a full list of events, please visit www.navicenthealth.org/pttp.
*as of July 2019
1. Cox C et al. A Prospective Single Arm, Multi-Site Clinical Evaluation of a Nonradioactive Surgical Guidance Technology for the Localization of Non-Palpable Breast Lesions during Excision. Ann Surg Oncol 2016 Oct;23(10):3168-74.
About Atrium Health Navicent
Atrium Health Navicent, the leading provider of healthcare in central and south Georgia, is committed to its mission of elevating health and wellbeing through compassionate care. Providing more than 1,000 beds and offering care in 53 specialties at more than 50 facilities throughout the region, Atrium Health Navicent provides care for healthcare consumers' through an academic medical center; community, pediatric and rehabilitation hospitals; urgent care centers; physician practices; diagnostic centers; home health; hospice and palliative care; and a life plan community. Atrium Health Navicent is dedicated enhancing health and wellness for individuals throughout the region through nationally-recognized quality care, community health initiatives and collaborative partnerships. For more information, please visit www.navicenthealth.org.
---
---
Top Related News
Atrium Health Navicent Continues Program to Help Georgians Start Careers in Health Care
9/28/23
Read More
Atrium Health Navicent to Provide Ambulance Service to Baldwin County
9/27/23
Read More
Atrium Health Navicent Physicians Urge Families to Prioritize Healthy Habits to Fight Childhood Obesity
9/26/23
Read More