Monroe County Hospital Acquires New Ultrasound Technology to Enhance Patient Care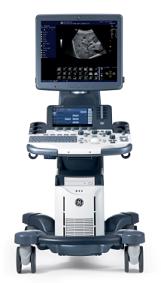 GE's LOGIQ S8 Provides Versatility, High Quality Images at Bedside
Monroe County Hospital is pleased to announce the addition of new ultrasound technology to its diagnostic arsenal. The innovative LOGIQ""¢ S8 premium ultrasound system from GE Healthcare will be used for a variety of diagnostic procedures in order to provide effective and efficient diagnostic services for those who rely on Monroe County Hospital for care.
The LOGIQ S8 is a small, light-weight device capable of providing physicians and clinicians with highly detailed images in order to make informed diagnoses and treatment decisions. This advanced ultrasound system produces high quality images and may reduce the need for additional diagnostic testing. Because the LOGIQ S8 is both compact and portable, it can be rolled into a small exam room or provide imaging at a patient's bedside when needed. The LOGIQ S8 also increases efficiency by allowing the sonographer to customize and automate frequently performed steps. This feature allows the sonographer to spend more time focusing on patient comfort while reducing exam time.
"The LOGIQ S8 is a really versatile system that will be used throughout our facility - taken right to the patient's bedside when necessary. We will be able to achieve clear, detailed scans in a more efficient manner, and the LOGIQ's advanced technology will allow us to provide confident diagnoses and develop targeted treatment plans," said Lorraine Smith, CEO of Monroe County Hospital.
GE Healthcare's innovative ultrasound technology enables the LOGIQ S8 to quickly capture detailed color images of anatomy inside the body. The technology provides clear imaging for all body types, including those who may have had difficulty with ultrasound imaging in the past. The LOGIQ S8 is appropriate for patients with higher body mass indexes (BMI), who previously have been more difficult to scan due to distortion of the diagnostic sound waves when attempting to penetrate large body mass.
Ultrasound, also known as sonography, is a non-invasive diagnostic test that uses high-frequency sound waves to create images of internal body structures and organs, and also show blood flow through vessels. Sound waves are sent and received by a hand-held device called a transducer, which is placed on the patient's body in the area to be scanned. The new LOGIQ S8 will be used to non-invasively analyze soft tissue, organs and blood flow in order to help physicians and clinicians at Monroe County Hospital make informed treatment decisions for many diagnoses, including cardiovascular disease.
About Atrium Health Navicent
Atrium Health Navicent was incorporated on November 17, 1994, as a nonprofit corporation whose primary purpose is to coordinate The Medical Center, Navicent Health and other affiliated entities in their mission of providing a comprehensive continuum of high quality, reasonably priced healthcare services to the region. Atrium Health Navicent has 970 beds for medical, surgical, rehabilitation and hospice purposes. The health system includes The Medical Center, Navicent Health, a nationally recognized tertiary teaching hospital; Atrium Health Navicent Beverly Knight Olson Children's Hospital, the region's only dedicated pediatric hospital; Atrium Health Navicent Baldwin and Medical Center of Peach County, Atrium Health Navicent, both rural hospitals; Rehabilitation Hospital, Atrium Health Navicent, the region's oldest and most experienced rehabilitation provider; Pine Pointe, Atrium Health Navicent, which provides palliative and hospice care in homes and in its facility; Carlyle Place, Atrium Health Navicent, the area's first continuing care retirement community; Navicent Health Foundation, the philanthropic arm of Atrium Health Navicent; as well as diagnostic and home care services. For more information, please visit www.navicenthealth.org.
---
---
Top Related News
Atrium Health Navicent Hosts Free Family Fun Day
9/21/23
Read More
Join Atrium Health Navicent in Observing Childhood Cancer Awareness Month
9/20/23
Read More
Join Atrium Health Navicent in Raising Awareness about Gynecological Cancers
9/14/23
Read More