Jason Aldean Raises $700K for Beverly Knight Olson Children's Hospital, Navicent Health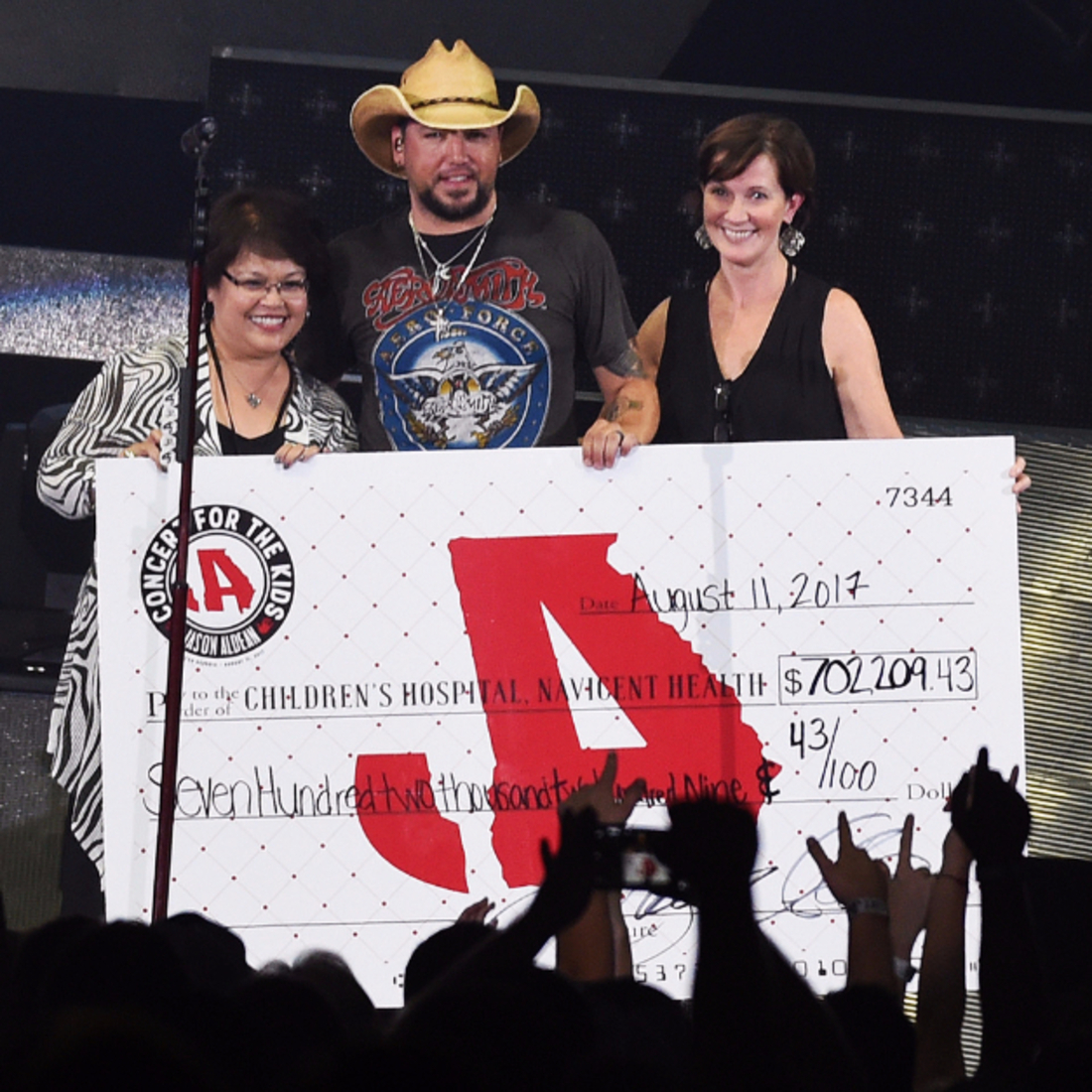 Two-time and reigning ACM "Entertainer of the Year" Jason Aldean returned to his hometown of Macon, GA to a sold out crowd for his second Concert For The Kids on Friday (8/11) with special guest Luke Combs, local emerging talent Maggie Renfroe and radio station WDEN-FM winner Trey Teem, raising $702,209.43 for Atrium Health Navicent Beverly Knight Olson Children's Hospital.
After garnering more than half a million dollars at last year's intimate stripped-down performance, Aldean has now raised over $1.2 million to benefit the development of Macon's new Children's Hospital, the region's only dedicated pediatric facility serving central and south Georgia, that enhances the lives of children through patient care, research and education. Beforehand, the multi-PLATINUM entertainer spent the afternoon with patients and families at the current facility, reviewed plans for the new addition and was honored with the reveal of "Jason Aldean Way," the renaming of a portion of the street that runs alongside the Children's Hospital.
"We are so very appreciative of Jason's continued support for our patients at Atrium Health Navicent Beverly Knight Olson Children's Hospital, " added Ninfa M. Saunders, DHA FACHE, President and CEO of Atrium Health Navicent. "Jason is a hometown hero who is truly giving back to our young patients and their families. We are most appreciative of his commitment to their healing and care."
"Macon will always be my roots," said Aldean. "When I moved away to chase music, all I wanted to do was make my family and hometown proud. But, I'm just a singer. I'm honored to be able to do do what I do to help raise money, but the doctors and staff are the heroes and are changing these kids lives."
"Country music's hard-rocking everyman" is "the mirror image of his fans" (Rolling Stone) as his most recent album THEY DON'T KNOW follows each album release earning PLATINUM certification or better, tallying more than 15 million total album sales and 19 No. One hits. The longevity of his career reached new heights as he debuted at the No. One position on Billboard's all-genre Top 200 Album chart for the third consecutive time. In addition to his THEY DON"T KNOW TOUR, the "reigning Entertainer of the Year shows why he holds the title" (Newsday) as the Country Music Hall of Fame and Museum showcases a special exhibit Jason Aldean: Asphalt Cowboy, commemorating his wide-open sound that has been one of the defining influences on today's Country Music. For more information and for a full list of upcoming tour dates, www.jasonaldean.com.
Since 1987, the nonprofit Atrium Health Navicent Beverly Knight Olson Children's Hospital has been committed to enhancing the lives of children through excellence in patient care, research and education. The only dedicated pediatric facility in central Georgia, and one of the most comprehensive in the state, the hospital has provided care in general pediatrics, pediatric critical care, neonatal intensive care and outpatient services. The hospital also serves as the primary teaching site for the Department of Pediatrics at the Mercer University School of Medicine. Atrium Health Navicent is currently constructing a new Children's Hospital facility to expand services and capabilities to meet the specific needs of the region's children. Atrium Health Navicent plans to begin serving the region's patients in 2019.
Photo Credit: Courtesy of Getty Images' Rick Diamond
Check Presentation (L-R): President and CEO of Atrium Health Navicent, Ninfa M. Saunders, Jason Aldean, Chief Development Officer of Navicent Health Foundation, Ellen J. Terrell
---
---
Top Related News
Atrium Health Navicent Hosts Free Family Fun Day
9/21/23
Read More
Join Atrium Health Navicent in Observing Childhood Cancer Awareness Month
9/20/23
Read More
Join Atrium Health Navicent in Raising Awareness about Gynecological Cancers
9/14/23
Read More