Georgia Governor Brian Kemp Tours Temporary Medical Unit at Navicent Health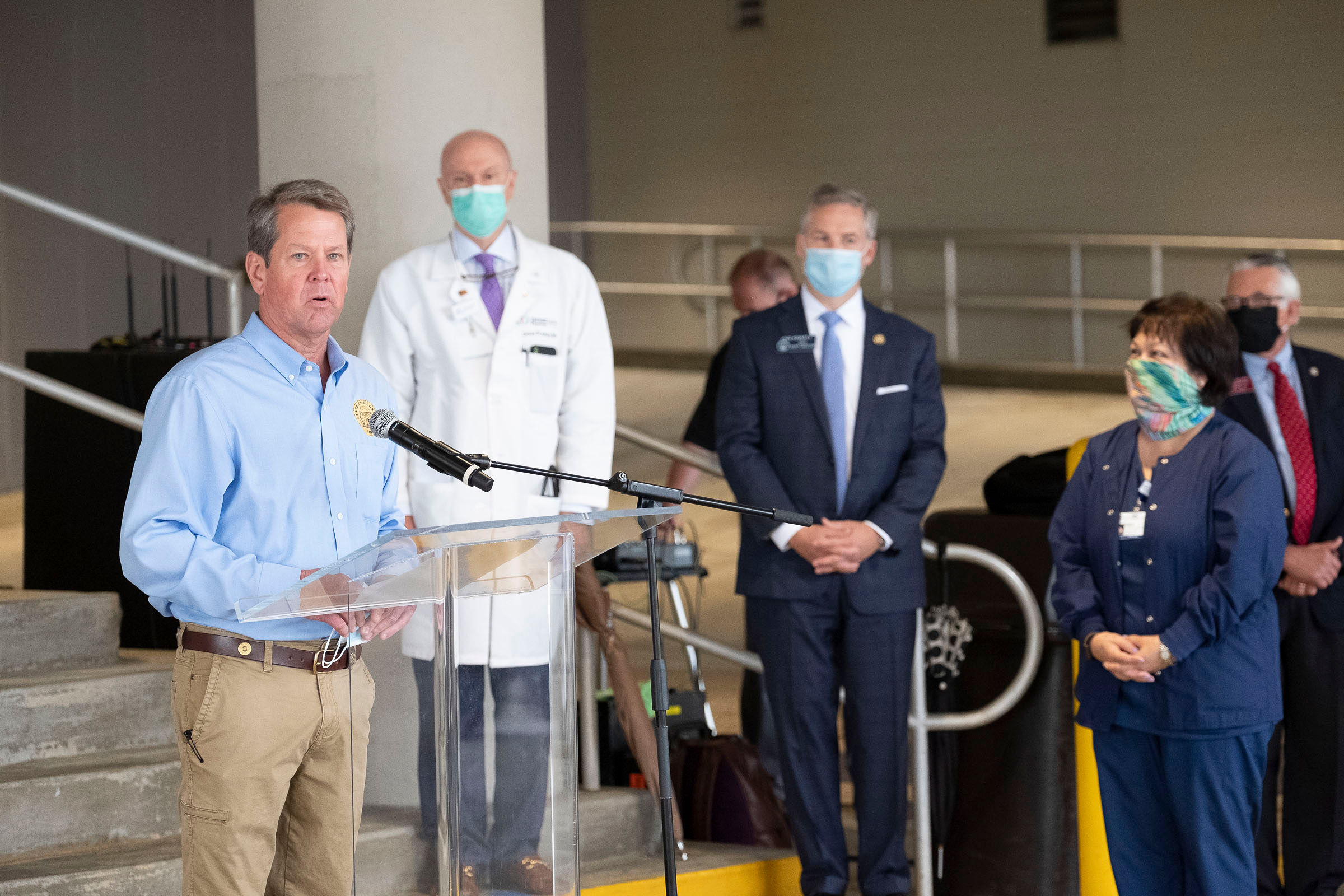 TMU Available to Assist with COVID-19 Needs
On Wednesday, May 27, Gov. Brian Kemp visited Macon-Bibb County to tour the temporary medical unit (TMU) at The Medical Center, Navicent Health. At the request of the Georgia Emergency Management Agency (GEMA), Macon-Bibb County and Atrium Health Navicent worked closely with the state to stand up a temporary medical unit in Macon-Bibb County.
"Constructing the TMU was a precautionary measure in the event that extra capacity is needed due to a patient peak in COVID-19 activity. At this time, The Medical Center has ample capacity to care for all patients, including those with COVID-19, but the TMU provides additional resources if needed. As a regional tertiary teaching hospital, The Medical Center Navicent Health must stand ready to take all patients, regardless of their ability to pay, from over 55 counties in central and south Georgia," said Dr. Ninfa M. Saunders, President and CEO of Atrium Health Navicent.
The 24-bed TMU will provide patients with the same level of care they would expect to find within the hospital. Patients in need of care should report to the hospital, and a triage team will determine which patients are directed to the TMU based on the patient's need and hospital volumes at the time. The TMU, staffed by Jackson Health and supported by Atrium Health Navicent clinicians, will be used solely to care for patients with confirmed or suspected cases of COVID-19.
On his visit, Kemp toured the TMU and praised hospital and county officials for the measures they have taken to protect Georgians from the virus. He also reminded Georgians to continue to take proper precautions as the state begins its limited reopening, encouraging citizens to act responsibly by social distancing, masking, and using proper hand sanitization. To view Gov. Kemp's comments following his tour, please click here click here.
The TMU was constructed in partnership between number of agencies, including GEMA, Macon-Bibb County Emergency Management Agency, BMarko Structures, Salas O'Brien Engineers, DES Engineering, Choate Construction, CertainTeed Ceilings and Atrium Health Navicent.
As the state of Georgia has begun its limited, phased reopening process, Atrium Health Navicent has begun to see a return to pre-COVID patient volumes across its health system. In order to ensure the safety of each person seeking care at Atrium Health Navicent, the health system has taken measures to ensure each of its hospitals, clinics and physician practices are COVID Safe. Click here to learn more about Atrium Health Navicent's COVID Safe initiative.
About Atrium Health Navicent
Atrium Health Navicent, the leading provider of healthcare in central and south Georgia, is committed to its mission of elevating health and wellbeing through compassionate care. Providing more than 1,000 beds and offering care in 53 specialties at more than 50 facilities throughout the region, Atrium Health Navicent provides care for healthcare consumers' through an academic medical center; community, pediatric and rehabilitation hospitals; urgent care centers; physician practices; diagnostic centers; home health; hospice and palliative care; and a life plan community. Atrium Health Navicent is dedicated enhancing health and wellness for individuals throughout the region through nationally-recognized quality care, community health initiatives and collaborative partnerships. For more information, please visit www.navicenthealth.org.
---
---
Top Related News
Atrium Health Navicent Continues Program to Help Georgians Start Careers in Health Care
9/28/23
Read More
Atrium Health Navicent to Provide Ambulance Service to Baldwin County
9/27/23
Read More
Atrium Health Navicent Physicians Urge Families to Prioritize Healthy Habits to Fight Childhood Obesity
9/26/23
Read More