Douglas Brewer, M.D. Named Chief Medical Officer of Navicent Health Baldwin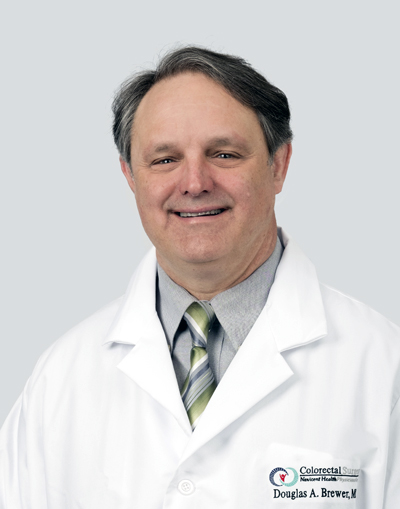 Brewer Brings Over 25 Years of Experience as Local Colorectal Surgeon
Atrium Health Navicent Baldwin is pleased to announce the appointment of Douglas Brewer, M.D. as the hospital's chief medical officer. Dr. Brewer, a fellowship-trained, board-certified colorectal surgeon, has over 25 years of clinical, administrative and health information technology experience. He will continue to practice at Atrium Health Navicent Baldwin and The Medical Center, Navicent Health (MCNH).
Dr. Brewer has served in various leadership roles at Atrium Health Navicent over the years, including as medical informatics officer for MCNH's Department of Surgery. He is a member of the MCNH Medical Executive Committee, the Physician Advisory Council, the Robotic Steering Committee and currently chairs the Culture of Safety Committee. He is the founding chair of Atrium Health Navicent's gastroenterology cancer site team.
"Dr. Brewer has been a wonderful asset to Atrium Health Navicent for many years. He is an excellent physician and a proven leader. We are thrilled that he has accepted the position of Chief Medical Officer for Atrium Health Navicent Baldwin," said Tom Oliver, M.D., Executive Vice President and Chief Clinical Officer for Atrium Health Navicent.
Dr. Brewer graduated from the Medical College of Georgia in 1987 before completing a general surgery residency at the University of Louisville and a colorectal surgery fellowship at Lahey Clinic. He holds a Master of Healthcare Leadership and Management from the University of Texas and is accredited by the American Association of Physician Leadership as a certified physician executive.
About Atrium Health Navicent
Atrium Health Navicent, the leading provider of healthcare in central and south Georgia, is committed to its mission of elevating health and wellbeing through compassionate care. Providing more than 1,000 beds and offering care in 53 specialties at more than 50 facilities throughout the region, Atrium Health Navicent provides care for healthcare consumers' through an academic medical center; community, pediatric and rehabilitation hospitals; urgent care centers; physician practices; diagnostic centers; home health; hospice and palliative care; and a life plan community. Atrium Health Navicent is dedicated enhancing health and wellness for individuals throughout the region through nationally-recognized quality care, community health initiatives and collaborative partnerships. For more information, please visit www.navicenthealth.org.
---
---
Top Related News
Atrium Health Navicent Hosts Free Family Fun Day
9/21/23
Read More
Join Atrium Health Navicent in Observing Childhood Cancer Awareness Month
9/20/23
Read More
Join Atrium Health Navicent in Raising Awareness about Gynecological Cancers
9/14/23
Read More