Atrium Health Brings Virtual Care Delivery System to Georgia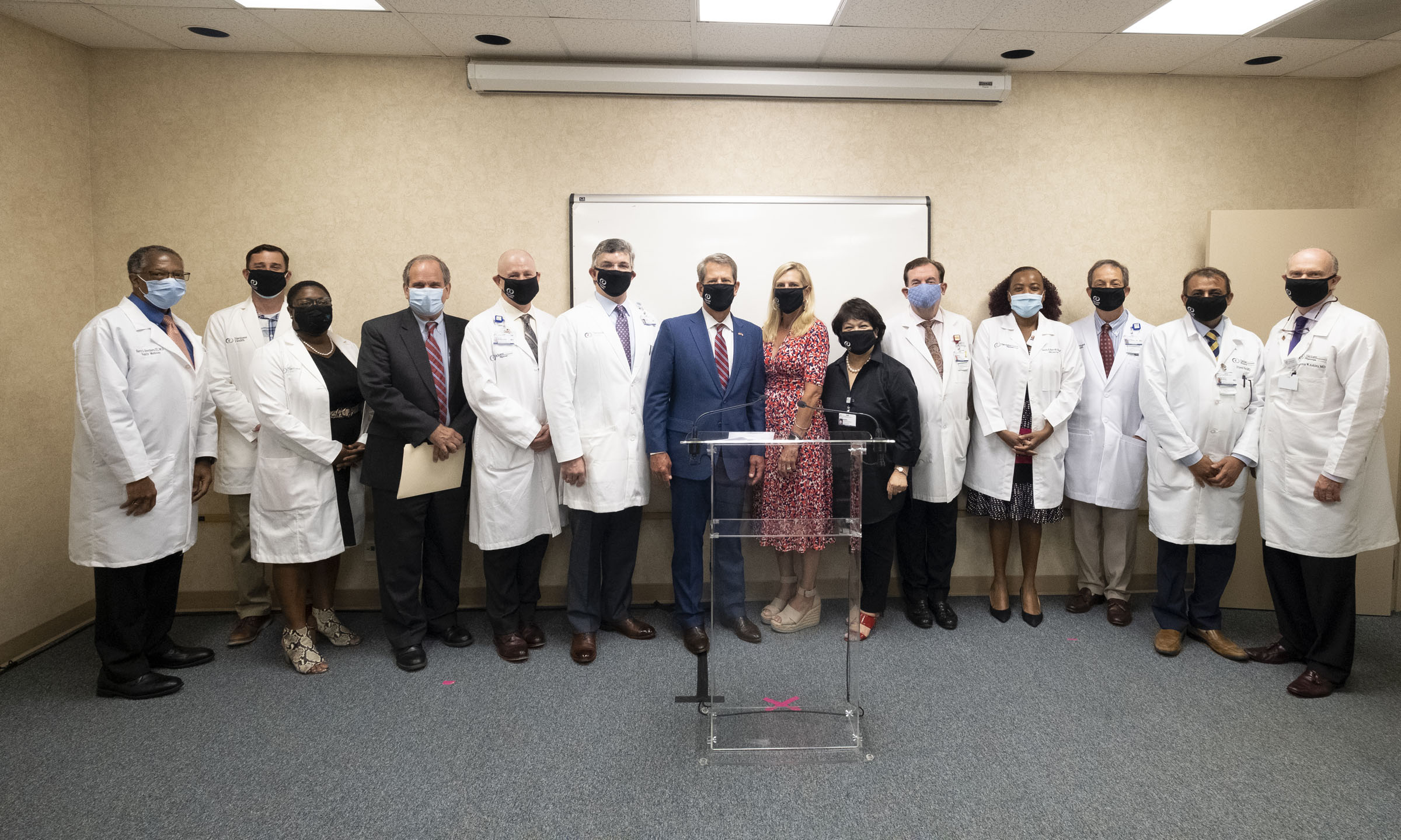 New System First of Its Kind in Georgia, to Alleviate Strain on Area Hospitals
Patients diagnosed with the novel coronavirus (COVID-19) may be able to receive hospital-level treatment in the comfort of their own homes. Today, Atrium Health Navicent - in collaboration with Atrium Health - announced its new and innovative virtual care delivery system, which is designed to protect the patient's health, the health of others and prevent further spread of the virus.
"We are thrilled that this innovation in virtual care technology is now available to Georgians seeking care. Atrium Health Navicent's virtual care system will ensure available hospital capacity for central and south Georgians, while allowing patients who are not acutely ill to recover in their own homes. This innovative asset will serve as another tool in Georgia's tool belt as we continue our fight against COVID-19 and provide quality care to Georgians in need," said Gov. Brian Kemp, in attendance at Monday's announcement in Macon, Ga.
Atrium Health Navicent's virtual care delivery system, an expansion of Atrium Health's COVID-19 Virtual Hospital, will use advanced telemedicine to treat patients who do not require the level of care provided by an intensive care unit (ICU). Through the virtual care delivery system, healthcare providers will offer two levels of care - medical observation and acute care - by remotely monitoring patients 24-hours a day. The care team can monitor blood pressure, oxygen levels and temperature while the patient safely isolates and recovers in their own home. Atrium Health Navicent's collaborative partner Atrium Health launched their COVID-19 Virtual Hospital in March to great success.
"For years, Atrium Heath has been a national leader in telemedicine. And when COVID-19 hit, we explored options to significantly expand bed capacity," said Gene Woods, president and CEO of Atrium Health. "Within only a week's time, our Atrium Health COVID-19 Virtual Hospital became a reality and, now, we've cared for more than 13,000 patients at home to date through this amazing new virtual care platform. So, as we think about the future of telemedicine and, specifically its application in rural markets, it's exciting to think about what an incredible and far-reaching impact this will have on our patients in Georgia as we improve health, elevate hope and advance healing for all."
Patients appropriate for treatment through the virtual care delivery system will receive a COVID-19 Home Monitoring Kit, which includes a blood pressure monitor, pulse oximeter (measures blood oxygen and heart rate), thermometer and detailed instructions for use. The patient will monitor and log their vital signs several times a day and have check-in calls with nurses and a physician, as needed. Patients may also access a 24/7 support line for any questions about their health.
"Atrium Health Navicent's strategic combination with Atrium Health has brought so much value to our state and the communities we serve. Throughout this pandemic, and through our strategic collaboration with Atrium Health, we've been able to bring a number of virtual services to central Georgia. The new virtual care delivery system is the latest of these services. It is the first of its kind in the state, and it is right here at Atrium Health Navicent. It's imperative that we ensure we have capacity in our hospitals for the most critically ill patients. Together with our partners, we're finding innovative ways to safely and effectively treat those COVID-19 patients who are able to recover in the comfort and security of their own homes," said Dr. Ninfa M. Saunders, president and CEO of Atrium Health Navicent.
Through the virtual care delivery system, care providers can spot any trends or worsening symptoms and provide early intervention, if needed, before an emergency occurs. The virtual care delivery system will provide a convenient way for the patient to receive monitoring at home while allowing hospitals and health systems to reserve critical resources for the critically ill.
"We want to thank the many teammates who worked together to make this option possible for our patients This includes our teammates at Atrium Health, as well as those here in central Georgia, including our Virtual Health team, Information Technology, Healthy Communities and Emergency departments, Atrium Health Navicent Physician Group and Atrium Health Navicent EMS. This would not have been possible without their tireless efforts," said Saunders.
Atrium Health Navicent offers a variety of options and resources for those who are concerned that they may have contracted COVID-19, including:
Free online COVID-19 Risk Assessment: Receive recommendations on your risk of having the coronavirus by answering a few quick questions at www.navicenthealth.org. Virtual Visits: Secure, face-to-face video chat with a trusted healthcare provider from the comfort of your home, available at www.navicenthealth.org or by calling 478-633-8730. Primary Care: Schedule an appointment with a primary care provider. Select "Find a Doctor" at www.navicenthealth.org to find a local care provider. Urgent & Emergent Care: Visit one of Atrium Health Navicent's Urgent Care Centers for minor symptoms. If you are having life threatening symptoms, such as difficulty breathing, visit one of Atrium Health Navicent's Emergency Centers or call 911.
Those wishing to view the full news conference with Gov. Brian Kemp may visit Atrium Health Navicent's Facebook page at https://www.facebook.com/navicenthealth/.
About Atrium Health
Atrium Health is a nationally recognized leader in shaping health outcomes through innovative research, education and compassionate patient care. Headquartered in Charlotte, North Carolina, Atrium Health is an integrated not-for-profit healthcare system with over 70,000 teammates at nearly 40 hospitals and 900 care locations. With locations throughout the Carolinas as well as Georgia, Atrium Health is a leading-edge innovator in virtual care and mobile medicine. It provides top-ranked pediatric, cancer and heart care to patients, as well as specialized musculoskeletal programs and organ transplants. Ranked among U.S. News & World Report's Best Hospitals in cancer care as well as eight different pediatric specialties, it has also received the American Hospital Association's Quest for Quality Prize. Its flagship hospital, Atrium Health's Carolinas Medical Center, is the region's only Level I trauma center and is consistently rated among the nation's best. With a commitment to every community it serves, Atrium Health seeks to improve health, elevate hope and advance healing - for all. Last year alone, Atrium Health provided more than $2.07 billion in free and uncompensated care and other community benefits.
About Atrium Health Navicent
Atrium Health Navicent, the leading provider of healthcare in central and south Georgia, is committed to its mission of elevating health and wellbeing through compassionate care. Providing more than 1,000 beds and offering care in 53 specialties at more than 50 facilities throughout the region, Atrium Health Navicent provides care for healthcare consumers' through an academic medical center; community, pediatric and rehabilitation hospitals; urgent care centers; physician practices; diagnostic centers; home health; hospice and palliative care; and a life plan community. Atrium Health Navicent is dedicated to enhancing health and wellness for individuals throughout the region through nationally recognized quality care, community health initiatives and collaborative partnerships. For more information, please visit www.navicenthealth.org.
---
---
Top Related News
Atrium Health Navicent Hosts Free Family Fun Day
9/21/23
Read More
Join Atrium Health Navicent in Observing Childhood Cancer Awareness Month
9/20/23
Read More
Join Atrium Health Navicent in Raising Awareness about Gynecological Cancers
9/14/23
Read More