Announcing the 2019 Navicent Health Physician Award Winners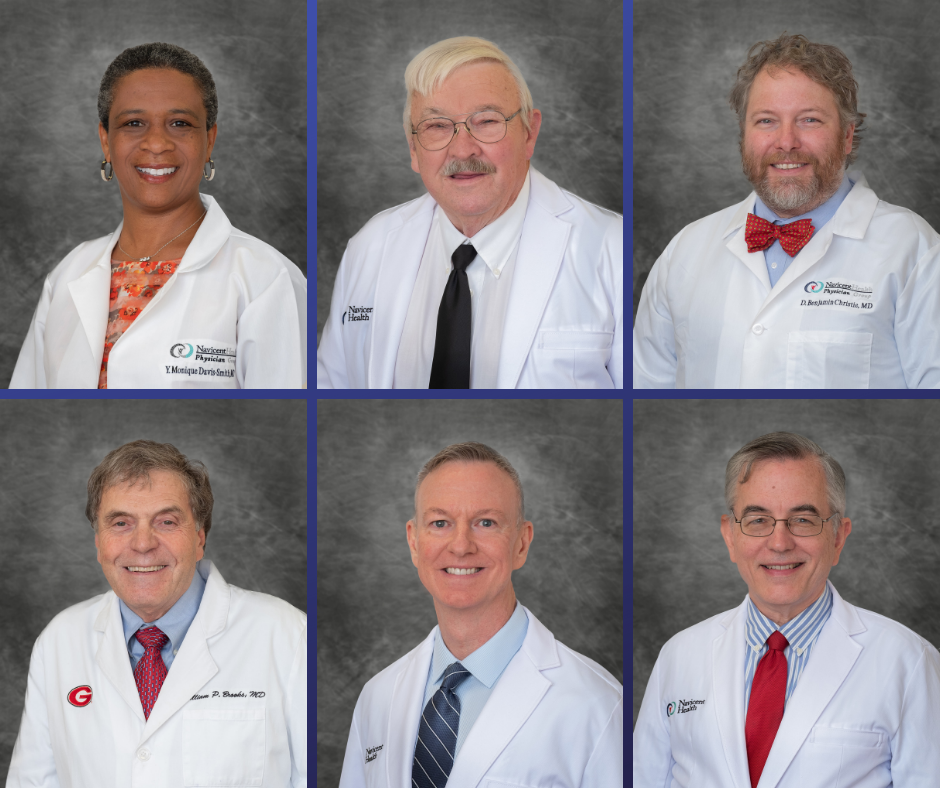 Doctors Recognized By Their Peers for Contributions to Care
Navicent Health Foundation's Olin H. Weaver Society is pleased to present the 2019 Atrium Health Navicent Physician Awards. The biannual awards recognize area physicians for their contributions to healthcare, health education and health equity in central and south Georgia communities.
The 2019 Atrium Health Navicent Physician Award winners are as follows:
Lifetime Achievement Award - Dr. Ellis Evans, General Surgeon
Honors an outstanding physician who has demonstrated career-long service to patients and medicine.
Distinguished Service Award - Dr. Richard Ackermann, Geriatrician
Honors a physician who exemplifies the medical profession's highest commitment to service, community involvement, altruism, leadership and dedication to patient care.
Educator of the Year Award - Dr. Monique Davis-Smith, Family Practitioner
Honors a physician who exemplifies the medical profession's highest standards of excellence in teaching and has made significant, commendable, and long-standing contributions to the academic advancement of students, residents and healthcare professionals.
Olin H. Weaver Philanthropy Award - Dr. Oscar Battles, Pathologist
Honors a physician whose lifetime achievements, are not only reflected in their personal accomplishments but also in their philanthropic support of the Navicent Health Foundation.
Spirit of Health Equity Award - Dr. William Brooks, Family Practitioner
Honors the work of a physician who has demonstrated altruism, compassion, integrity, leadership and personal sacrifice while providing quality health care to a distressed or marginalized population in our community.
Dr. Martin Dalton Excellence in Science Award - Dr. Benjie Christie, General Surgeon / Critical and Trauma Care
Honors a physician who has made exceptional contributions to medical science, especially in health, through basic and /or clinical research, publications and through leadership in the field.
"Our physicians are the backbone of care delivery at Atrium Health Navicent and we recognize their contributions of excellence, across a variety of categories, which have positively impacted the communities we serve. We are pleased to acknowledge the significant impact of all physicians and celebrate those awarded by their peers. Thank you to Navicent Health Foundation and the Olin H. Weaver Society for honoring our physicians for their work," said Tom Oliver, MD, Chief Clinical Officer for Atrium Health Navicent.
Atrium Health Navicent congratulates these outstanding physicians and its entire medical staff for their collective dedication to the medical profession and communities throughout central and south Georgia.
About Atrium Health Navicent
Atrium Health Navicent, the leading provider of healthcare in central and south Georgia, is committed to its mission of elevating health and wellbeing through compassionate care. Providing more than 1,000 beds and offering care in 53 specialties at more than 50 facilities throughout the region, Atrium Health Navicent provides care for healthcare consumers' through an academic medical center; community, pediatric and rehabilitation hospitals; urgent care centers; physician practices; diagnostic centers; home health; hospice and palliative care; and a life plan community. Atrium Health Navicent is dedicated enhancing health and wellness for individuals throughout the region through nationally-recognized quality care, community health initiatives and collaborative partnerships. For more information, please visit www.navicenthealth.org.
---
---
Top Related News
Atrium Health Navicent Hosts Free Family Fun Day
9/21/23
Read More
Join Atrium Health Navicent in Observing Childhood Cancer Awareness Month
9/20/23
Read More
Join Atrium Health Navicent in Raising Awareness about Gynecological Cancers
9/14/23
Read More