3 Teen Volunteers Receive College Scholarships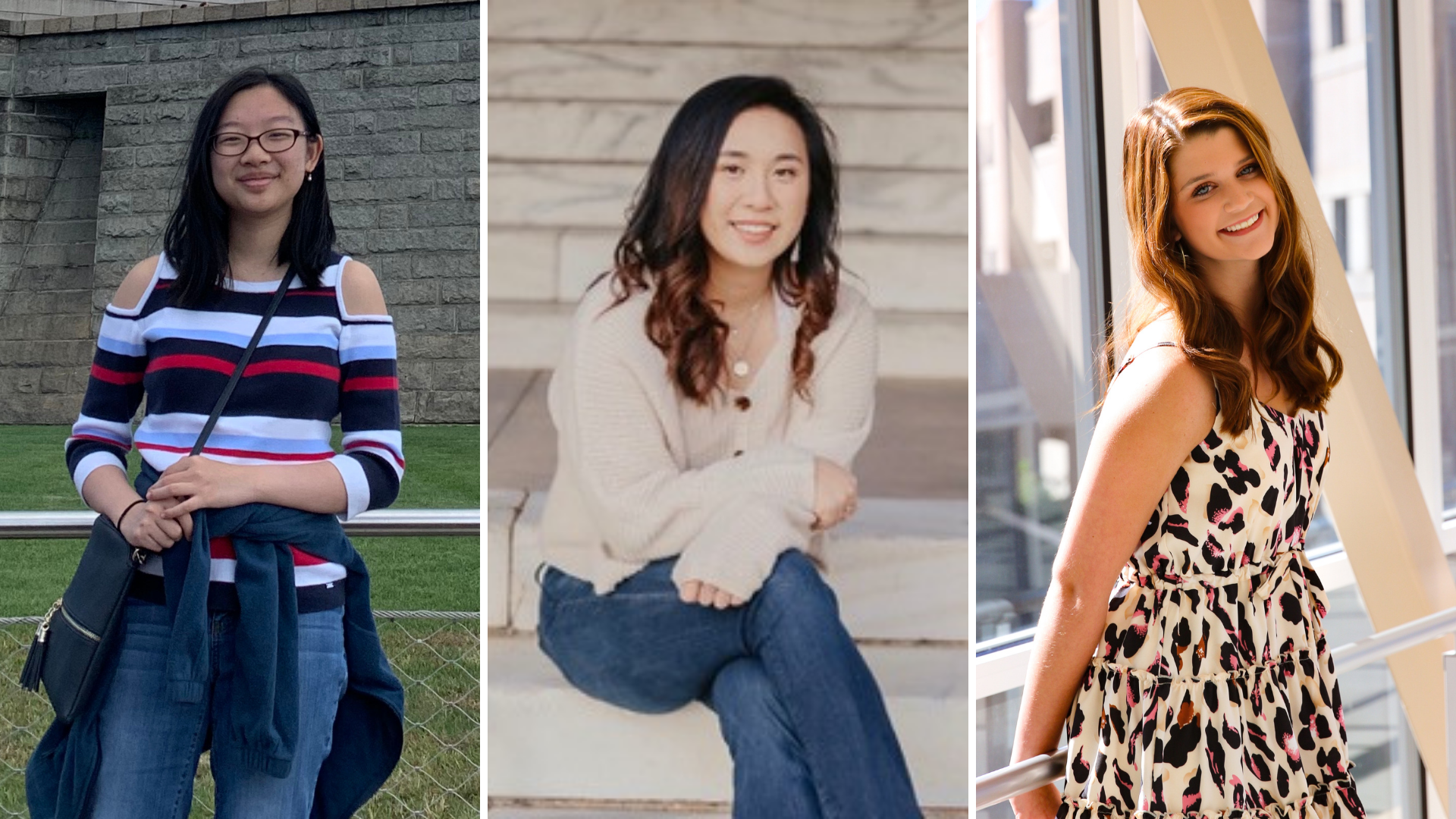 Don Faulk Teen Volunteer Scholarship Presented to Three Local Students
The Medical Center, Navicent Health Auxiliary is pleased to announce the winners of the 2020 Don Faulk Teen Volunteer Scholarship. The scholarship is presented annually to three outstanding teens who have participated in Navicent Health's teen volunteer program.
The following 2020 recipients each received awards:
$1,000 scholarship - Rose Tran
Howard High School graduate (Bibb County), now majoring in Global Health Studies and pre-med at Mercer University
141 hours of service with 9 Main at The Medical Center, Navicent Health
$500 scholarship - Jessica Gu
Academy for Classical Education (Bibb County), planning to study biology at the University of Georgia
108 hours of service with 6 Main at The Medical Center, Navicent Health
$500 scholarship - Madison Snow
Tattnall Square Academy graduate (Bibb County), now majoring in Child and Family Development with a concentration in Child Life at Georgia southern University
69 hours of service with Pediatric Intensive Care at Beverly Knight Olson Children's Hospital, Navicent Health
The scholarships are awarded to students who have volunteered their time at Navicent Health through the health system's Teen Volunteer Program. Scholarships, named in honor of former CEO Don Faulk, are funded through The Medical Center, Navicent Health Auxiliary.
""Teens accepted into the program commit to give no less than 100 hours of total service. However, circumstances beyond the teens control prevented this year's class from completing that commitment. In March, the program was suspended due to COVID-19. Despite the disruption, our Auxilians decided to award this year's scholarship. Our three scholarship recipients were tremendous blessings to the units where they served and exceeded or were on track to exceed their commitment. We are glad to have the opportunity to support their education,"" said Mary Robertson, President of The Medical Center, Navicent Health Auxiliary.
Navicent Health hopes to resume the Teen Volunteer Program in 2021. Students interested in applying may find more information at www.navicenthealth.org/get-involved Teen volunteers must be at least 16 years of age.
About Navicent Health
Navicent Health, the leading provider of healthcare in central and south Georgia, is committed to its mission of elevating health and wellbeing through compassionate care. Providing more than 1,000 beds and offering care in 53 specialties at more than 50 facilities throughout the region, Navicent Health provides care for healthcare consumers' through an academic medical center; community, pediatric and rehabilitation hospitals; urgent care centers; physician practices; diagnostic centers; home health; hospice and palliative care; and a life plan community. Navicent Health is dedicated to enhancing health and wellness for individuals throughout the region through nationally recognized quality care, community health initiatives and collaborative partnerships. For more information, please visit www.navicenthealth.org.
---
---
Top Related News
Atrium Health Navicent Continues Program to Help Georgians Start Careers in Health Care
9/28/23
Read More
Atrium Health Navicent to Provide Ambulance Service to Baldwin County
9/27/23
Read More
Atrium Health Navicent Physicians Urge Families to Prioritize Healthy Habits to Fight Childhood Obesity
9/26/23
Read More