Internal Medicine Residency
FAQ
Why should I train at a hybrid program like Mercer, i.e. Community/University?
To provide the best of both worlds. The individual attention and patient mix found at the good community programs and the academic environment of larger University programs. You will receive individual attention and we will be able to tailor your schedule to best meet your interest.
What type of hospital is the Medical Center Navicent Health?
The Medical Center Navicent Health is Georgia's second largest hospital. It is a major tertiary referral center for all of Central, Georgia with its own ambulance service and helicopter service. It is the only level one trauma center between Atlanta, Georgia and Gainesville, Florida. It is also a major cardiovascular referral center and was recently rated the number one vascular center in the state of Georgia by Georgia Trend Magazine. It was also recently named as a "Top 50" cardiology hospital in the nation by US News and World Report.
Can I obtain a Fellowship if I attend Mercer University School of Medicine, Internal medicine residency program?
We have an excellent record of our resident graduates that obtaining fellowships. Currently we have graduate's doing cardiology at the University of Tennessee, Baylor University, University of Arizona, and East Carolina University school of Medicine. We have graduates currently doing hematomology oncology at the University of Washington and the Georgia Health Sciences University. In the past our graduates have done fellowships with institutions such as Duke University, University of Miami, University of Oklahoma, Wake Forest University, among others.
Though no program can guarantee you a fellowship, we will certainly do everything we can to help you in this quest, if that is your desire. Again because we are a smaller program; the faculty will get to know you on an individual basis and can make phone calls and write letters on your behalf.
What do Mercer Internal Medicine Residents do after graduation?
On average about a third of our graduates go into fellowships, about a third go into hospital medicine, and about a third go into primary care traditional internal medicine practice. We offer ample elective times during the second and third year so that you can tailor your rotation schedule for your long term interest. We also have excellent relationships with many hospitals and hospital recruiting firms that you can meet with during your third year here.
What type of patient's will I take care of at Mercer?
Another one of the strengths of our program is the patient population and mix. You will see a good mixture of both private and un-insured patients. This allows you to see a wide array of diseases and spectrums of illnesses. While taking care of these patients you will have freedom but yet excellent supervision on a graduated level. You will see a lot of bread and butter internal medicine but also just enough "zebra's" to keep you on your toes.
What are the work hours at Mercer?
Mercer strictly abides by the ACGME work hour rules and we have had no violations over the past several years. You will have ample downtime to recharge your batteries and time to properly study for your boards. During the third year, you can actually take a board review block for an intense time of board study.
Will I be able to teach medical students?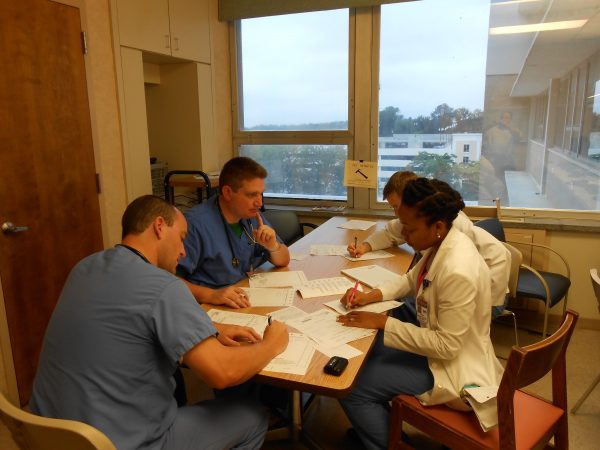 An important part of the resident life at Mercer is the teaching of the Mercer Medical Students. All teams have two to three Mercer Medical Students on them at any given time as well as many of the electives. You will receive workshops and lectures on teaching to help you to become a better teacher. We feel an important part of the profession of medicine is the passing of knowledge to the student. You will also receive feedback from medical students so you can use this to improve your teaching skills.
What types of conferences are held at Mercer?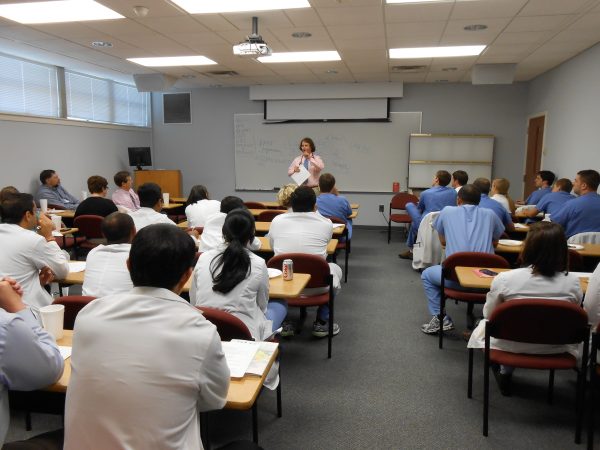 Because we are an academic medical center and University; teaching conferences are taking very seriously. Grand rounds are held weekly and are given by visiting speakers from institutions from all over the United States as well as Mercer Faculty, and by second and third year Mercer residents. We have a daily lunch conference where topics are covered on a revolving basis concerning all areas of both internal medicine and ancillary areas as well. A monthly interdisciplinary tumor board conference is held, as well as morbidity and mortality conference, neurology morning report, and ICU morning report. The morning report is held where a case is presented by the intern and is attended by residents and interns on the wards, medical students and faculty, we also have weekly board review conferences.
Are the patient numbers manageable?
Each team consists of two interns and an upper level resident with two to three medical students. The average daily census for each of these teams ranges from six to sixteen, so the numbers are very manageable giving adequate time to take care of and read about your patient's. The on-call team admits the first four unassigned patients of the day in the emergency room regardless of insurance status, and then after that only takes care of residency continuity patients and full time faculty patients. Again this allows for a good mixture of private and service patients.
What are the opportunities for research and case presentations?
Clinical research is available with support from the department and faculty mentors. We are also very involved in clinical drug trials as well. Every year Mercer Internal Medicine residents present at the Georgia Chapter of the American College of Physicians meeting which is held at various areas in the state. There you get to compete against residents from the other residency programs in Georgia. This is always a fun weekend and allows the opportunity for interaction with residents from other programs, and to display your research and or clinical case presentations. The department funds the expenses of this meeting.
What sort of educational support is available at Mercer/TMCNH?
As part of your new intern orientation, you will have the opportunity to hone your skills in the Medical Center's beautiful new simulation laboratory. Also, during orientation, you will perform OSCES at the Medical School.
The Medical Center is getting ready to fully implement an electronic medical records system and up to date is available on all hospital computers as well as can be accessed from your personal computer as well.The radiologic imaging system is available throughout the hospital as well as electronic EKG's.
Every year you will receive a $1,500 educational support fund that can be used for any item related to your education. You will also receive a $2,000 transition fund when you arrive here as an intern, to help with any moving expenses or other expenses that may incur.
What about outpatient experience?
Each intern and resident will have half a day of continuity clinic throughout their time here at Mercer as well as two blocks each year of outpatient clinics. During these two months you will also rotate in various sub-specialty clinics, thereby obtaining outpatient experience under the supervision of a subspecialist. Many outpatient electives are also available to help meet the required outpatient experience. Many of the consultative electives also will have you spending time in outpatient as well. We also have an elective available in one of our graduate's private offices. In this elective you are working in a real world general internal medicine ambulatory practice and not only seeing common internal medicine ambulatory problems but also learning how a private office operates as well.
What should attract me to Mercer Internal Medicine?
If you like being a name and not a number, if you like being a big fish in a small pond, if you like to be the cream rising to the top, if you like getting individual attention, if you like learning in a non-malignant environment, if you like comradery amongst the residence and faculty, if all the above appeals to you, then you should definitely take a look at Mercer Internal Medicine. It is a great place to train and at the end of the three years you will be a well trained, competent, confident internist toward whatever direction you choose to go.