Atrium Health Navicent Infectious Disease
Infusion Therapy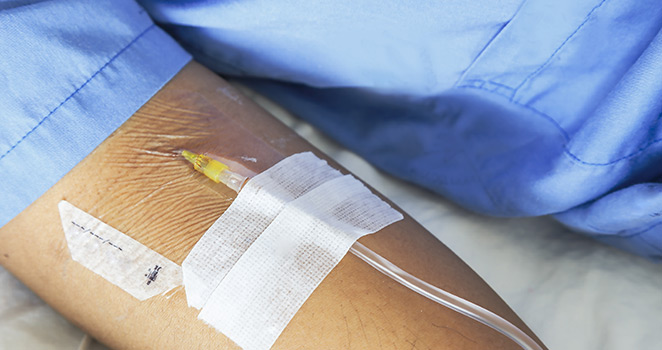 I'm sure at some point you've watched a movie that had patients in a hospital accepting various forms of treatment. No doubt you've seen some take medication intravenously, with an iv. You could have seen a cancer patient being treated in this way. This is known as iv infusion therapy, or just infusion therapy.
This procedure isn't just used on cancer patients, though. This type of therapy can be used for a variety of reasons. You'll be learning about what infusion therapy is, what it treats, where you can receive it, how insurance handles it, the special equipment and supplies needed, and how to find information on the pumps used for this therapy.
What is Infusion Therapy?
Infusion therapy is when medication is administered to a patient intravenously through either a needle or a catheter. Intramuscular injections and epidural route injections (injecting the membranes surrounding the spinal cord) are associated with this therapy as well.
Drugs that are commonly administered through this route include but are not limited to:
Antibiotics
Antifungals
Antivirals
Chemotherapy
Hydration
Pain Medication
Parenteral Nutrition
Infusion therapy is also used in patients who have chronic or rare illnesses that require "specialty" infusion medications. Some examples include but are not limited to:
Blood Factors
Corticosteroids
Inotropic Heart Medications
Growth Hormones
Immunoglobulin
What Atrium Health Navicent Infectious Diseases Are Treated with Infusion Therapy?
Infectious diseases that are unresponsive to oral medications, such as cancer, dehydration, gastrointestinal diseases, and other disorders, are treated with infusion therapy. Other diseases that are treated include:
Chron's Disease
Hemophilia
Immune Deficiencies
Multiple Sclerosis
Rheumatoid Arthritis
A good portion of infusion therapies now take place at home, and usually involve IV antibiotics, which are used to treat cellulitis, sepsis, and osteomyelitis. Other illnesses that can be treated with the therapy include urinary tract infections (UTI), pneumonia, sinusitis, and other conditions.
Where Can This Therapy Be Performed?
Infusion therapy can be performed in either an inpatient or home setting. Until the 1980s, infusion therapy could only be done in an inpatient setting. But due to rising hospital costs and developments in clinical administration for the therapy, doctors and the health care industry have now made at-home treatment an option. It's definitely less costly than inpatient treatment, and it's great for long-term care. If infusion therapy couldn't be done at home, patients would have to constantly come in for treatment, which can get in the way of their daily activities and make things complicated. Home treatment has been proven a safe and effective alternative to inpatient care.
Home and outpatient infusion therapy are preferred to inpatient therapy, as having to stay in the hospital for treatment is costly and gets in the way of living a fulfilling life. A patient would have to be admitted for this therapy only should their condition progress to the point where a hospital stay is necessary. It should also be known that an assessment for the patient and the home is done before allowing therapy to take place in a home setting.
What Types of Equipment and Supplies are Needed?
infusion pump
pole IV sets
syringes
medication therapy solutions
possibly other supplies that your doctor will be sure to inform you about
All supplies and equipment used must come from an infusion pharmacy, which ensures that:
Infusion drugs are created in a sterile environment and maintained at the proper conditions to maintain the stability of the medication
All devices are placed anatomically according to the duration of the treatment, cleaned properly, and monitored for adverse reactions and therapeutic efficacy
Equipment is regularly serviced to make sure that it's always working correctly
Will Insurance Cover Infusion Therapy?
With regard to insurance, all aspects of the treatment are covered by health care plans that approve, which includes the therapy itself, medications needed, doctor visits, and other inpatient services. This is guaranteed through the medical benefit, not the prescription drug benefit.
These programs include Medicaid, TRICARE, and the Federal Employees Health Benefits Program. Sadly, Medicaid has a limited scope in several states regarding how much of the therapy it covers. A prescription drug benefit provided by these plans will cover the actual medication, but it will not cover the supplies needed, equipment, or doctor visits. A more thorough explanation of how Medicaid works with infusion therapy can be found here.
Where Can I Find Information for Infusion Pumps Used in Home Therapy?
The National Home Infusion Association, or NHIA, covers the development and trends of infusion pumps on an annual basis in its technology issue of Infusion. More information on various pumps can also be found through these manufacturers and distributors:
Baxter Healthcare Corporation
B. Braun Medical Inc
Baxa Corporation
CME America
Hospira
Infusystems
Monet Medical
Moog Medical Devices Group
MSD
RMS Medical Products
Smiths Medical
WalkMed Infusion
Infusion therapy is quite useful for chronic and rare illnesses, and sometimes it is the only way for someone to receive treatment. Care can be received easily in an inpatient setting or in the comfort of your very own home. For more information on this treatment, be sure to check the links above, and be sure to know all the facts if you find yourself or a family member in need of infusion therapy. Take good care.