The Medical Center, Navicent Health's Sheryl Adams, RN, Wins Statewide Hospital Hero Award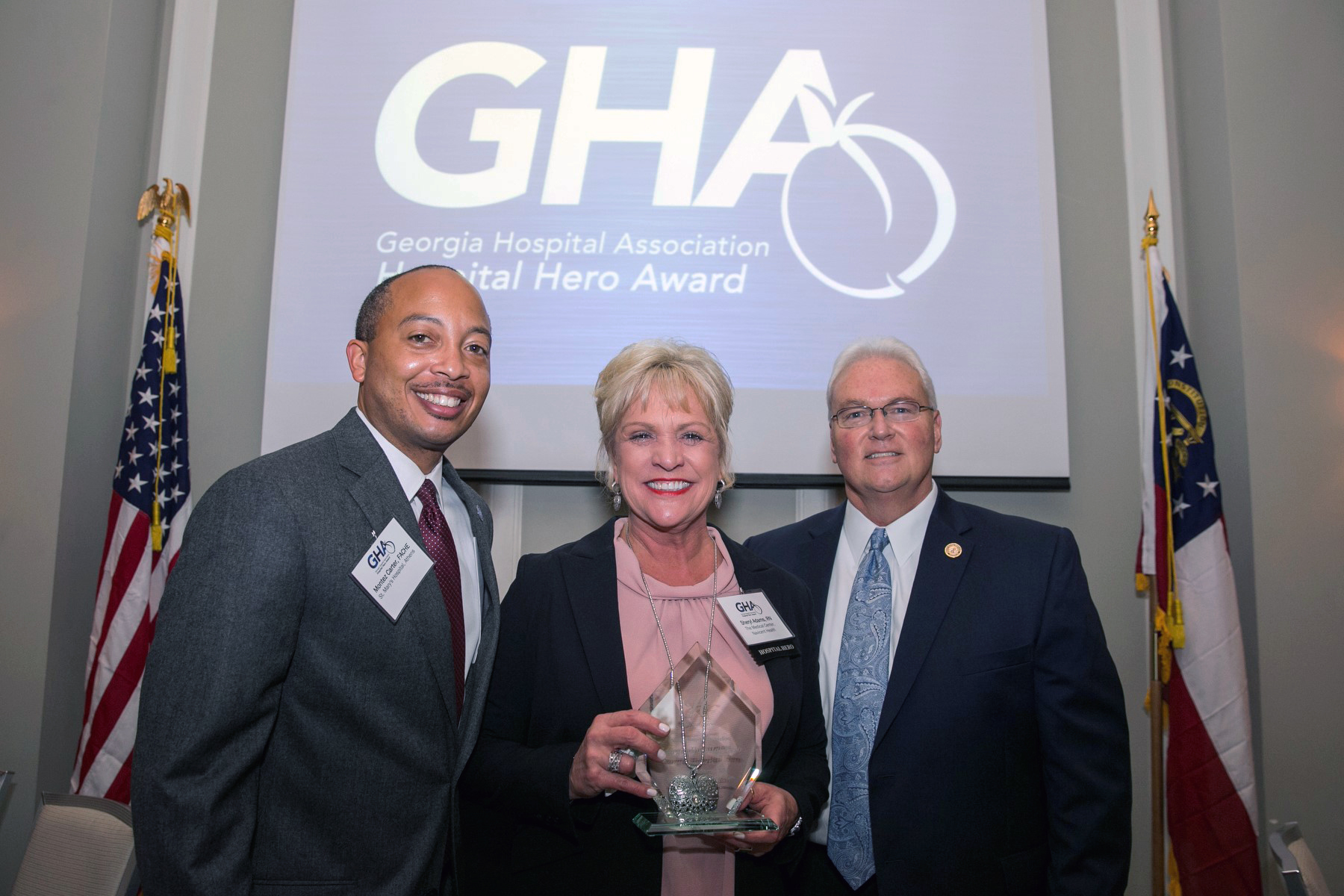 The Medical Center, Navicent Health's Sheryl Adams, RN, was awarded the prestigious Georgia Hospital Heroes Award at the Georgia Hospital Association's (GHA) annual Hospital Hero Awards luncheon Nov. 9 in Atlanta. Adams, who was one of only nine individuals statewide to receive the award, was recognized for her longtime dedication to the hospital and particularly good care of patients.
In her role as a clinical nurse lead for renal unit of the hospital, Adams is an experienced clinician who is known by colleagues for her skills in working with challenging patients and families. She does so with the utmost kindness and respect and is very intuitive, identifying and preventing issues before they occur.
One of those challenging patients was proving to be difficult for many staff members, but Adams stepped in to offer the best care she could. The patient was an elderly man with a developmental disability, who could be very stubborn and trying at times. He would frequently skip his dialysis treatments, which led to frequent hospitalizations on Adams' unit. She dedicated her time to becoming more than a nurse, but also a friend to him. She went out of her way to make him feel special, frequently bringing him small gifts to brighten his day and even coming in on her off days to keep him company. For Adams, caring for this patient was not just about treating his illness; it was also about holistically treating his emotional well-being.
Community residents, not just patients, also frequently benefit from Adams' generosity. One day, when she saw an elderly man walking unsteadily on the side of the road, she pulled over, gently began a conversation, and learned he had no family. Over the next few weeks, she "adopted" this man, grocery shopping with him, driving him to medical appointments, and inviting him to family dinners. Her involvement helped him enjoy many more months in the community before home care was necessary.
"The extra care that Sheryl Adams provides to her patients makes a tremendous difference in patient recovery," said GHA President and CEO Earl Rogers. "Her community and patients have benefited greatly from her generosity and she is a most-deserving recipient of this award."
About GHA
Founded in 1929, GHA serves more than 170 hospitals in Georgia and promotes the health and welfare of the public through the development of better hospital care for all Georgia's citizens. The mission of GHA is to advance the health of individuals and communities by serving as the leading advocate for all Georgia hospitals and health care systems. GHA represents its members before the General Assembly and Congress, as well as state and federal regulatory agencies, and is an allied member of the American Hospital Association. For more information, please call 770-249-4500 or visit gha.org.
About Atrium Health Navicent
Atrium Health Navicent was incorporated on November 17, 1994, as a nonprofit corporation whose primary purpose is to coordinate The Medical Center, Navicent Health and other affiliated entities in their mission of providing a comprehensive continuum of high quality, reasonably priced healthcare services to the region. Atrium Health Navicent has 970 beds for medical, surgical, rehabilitation and hospice purposes. The health system includes The Medical Center, Navicent Health, a nationally recognized tertiary teaching hospital; Atrium Health Navicent Beverly Knight Olson Children's Hospital, the region's only dedicated pediatric hospital; Atrium Health Navicent Baldwin and Medical Center of Peach County, Atrium Health Navicent, both rural critical access hospitals; Rehabilitation Hospital, Atrium Health Navicent, the region's oldest and most experienced rehabilitation provider; Pine Pointe, Atrium Health Navicent, which provides palliative and hospice care in homes and in its facility; Carlyle Place, Atrium Health Navicent, the area's first continuing care retirement community; Navicent Health Foundation, the philanthropic arm of Atrium Health Navicent; as well as diagnostic and home care services. For more information, please visit www.navicenthealth.org.
---
---
Top Related News
Atrium Health Navicent Continues Program to Help Georgians Start Careers in Health Care
9/28/23
Read More
Atrium Health Navicent to Provide Ambulance Service to Baldwin County
9/27/23
Read More
Atrium Health Navicent Physicians Urge Families to Prioritize Healthy Habits to Fight Childhood Obesity
9/26/23
Read More