Partnership with A Hand to Hold Benefits Carlyle Residents, Home Members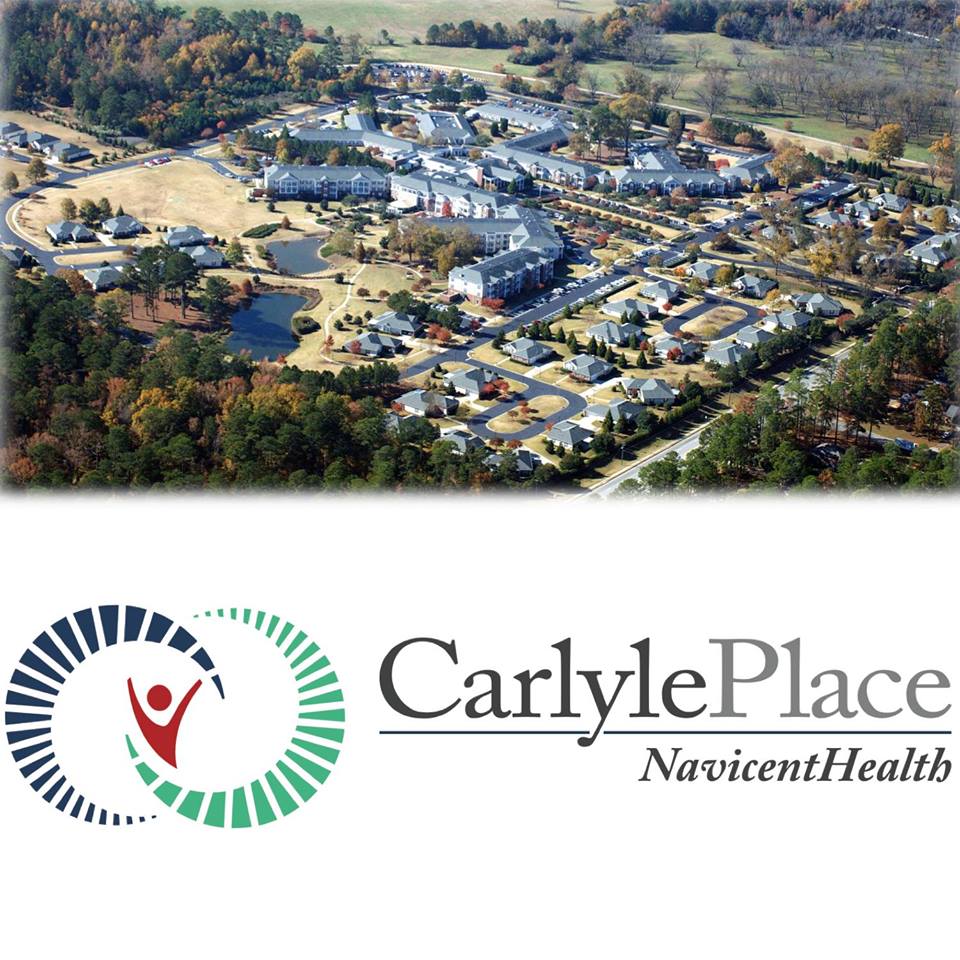 Services Bolster Care Options on Campus, In Home
Carlyle Place, Atrium Health Navicent is pleased to partner with service organization A Hand to Hold to provide additional benefits to Carlyle Place campus residents and Carlyle Place At Home members.
Atlanta-based A Hand to Hold, which recently opened an office in Macon, will provide Carlyle Place's consituents with services on brief or extended basis, as appropriate. Services provided include meal preparation, medication reminders, mobility monitoring, bathing and dressing, companionship and housekeeping as well as skilled nursing, Alzheimer's and dementia care, and respite care. In addition, A Hand to Hold staff will provide support services that Carlyle Place staff members may not have capacity for - caring for pets, running errands or providing transportation for local shopping, for example. Services will be offered seven days a week, from 7:00 a.m. until 11:00 p.m. A Hand to Hold is also able to provide 24 hour care as appropriate.
"As we discussed partnering with A Hand to Hold, we watched how they work with their employees, and it was a very easy cultural fit. If you treat your employees well, they will carry that excellent service to the customers you serve. They are cultivating excellent relationships with our members, and will be very valuable to the Carlyle Place culture and reputation," said Tom Rockenbach, Chief Administrative Officer of Carlyle Place.
A Hand to Hold has provided services throughout the state, from Augusta to metro-Atlanta to Columbus since 2011. A Hand to Hold has five office locations in Georgia, surrounding Macon-Bibb County and central Georgia. The organization opened its Macon office in November 2017.
"We are thrilled to bring our services to the residents of this area. Our partnership with Carlyle Place is but one of the ways we are beginning to serve communities in this region. We are excited to partner with Carlyle Place as we both seek to provide high quality life care for our clients," said Chris Foster, CEO of A Hand to Hold.
A Hand To Hold's Macon office currently serves patients in 11 central Georgia counties with the assistance of 30 caregivers. A Hand to old plans to hire additional certified nursing assistants (CNAs) for their Macon office in the coming months.
"Our services have grown tremendously since we opened in November, and we are thrilled to begin serving those affliated with Carlyle Place. Our staff help people get out of the house, out into the community, doing the things they were able to do before they were affected by a chronic condition. Our goal is to enhance quality of life," said Pam Snow, Executive Director of A Hand To Hold's Macon office.
Altogether, A Hand to Hold employees approximately 600 caregivers statewide. Rockenbach sees this as a tremendous benefit for Carlyle Place At Home members. Carlyle Place introduced its innovative Carlyle Place at Home program in 2016, providing services for residents who prefer to age in their own homes rather than Carlyle Place's campus on Zebulon Road in Macon. The program currently serves members in 14 counties surrounding Macon-Bibb County, and Rockenbach hopes to expand the program to additional areas of the state.
"By partnering with A Hand to Hold, we are able to work with one organization to provide Carlyle Place's excellent services throughout the state, ensuring the consistent delivery of the high quality, compassionate care that Carlyle Place is so well known for. Together, we will ensure the same philosophy and same quality of care are delivered to Carlyle Place At Home members throughout the communities we serve," said Rockenbach.
About Atrium Health Navicent
Atrium Health Navicent was incorporated on November 17, 1994, as a nonprofit corporation whose primary purpose is to coordinate The Medical Center, Navicent Health and other affiliated entities in their mission of providing a comprehensive continuum of high quality, reasonably priced healthcare services to the region. Atrium Health Navicent has 970 beds for medical, surgical, rehabilitation and hospice purposes. The health system includes The Medical Center, Navicent Health, a nationally recognized tertiary teaching hospital; Atrium Health Navicent Beverly Knight Olson Children's Hospital, the region's only dedicated pediatric hospital; Atrium Health Navicent Baldwin and Medical Center of Peach County, Atrium Health Navicent, both rural hospitals; Rehabilitation Hospital, Atrium Health Navicent, the region's oldest and most experienced rehabilitation provider; Pine Pointe, Atrium Health Navicent, which provides palliative and hospice care in homes and in its facility; Carlyle Place, Atrium Health Navicent, the area's first continuing care retirement community; Navicent Health Foundation, the philanthropic arm of Atrium Health Navicent; as well as diagnostic and home care services. For more information, please visit www.navicenthealth.org.
---
---
Top Related News
Atrium Health Navicent Continues Program to Help Georgians Start Careers in Health Care
9/28/23
Read More
Atrium Health Navicent to Provide Ambulance Service to Baldwin County
9/27/23
Read More
Atrium Health Navicent Physicians Urge Families to Prioritize Healthy Habits to Fight Childhood Obesity
9/26/23
Read More