Navicent Health Volunteer Program Among 19 Nationally Recognized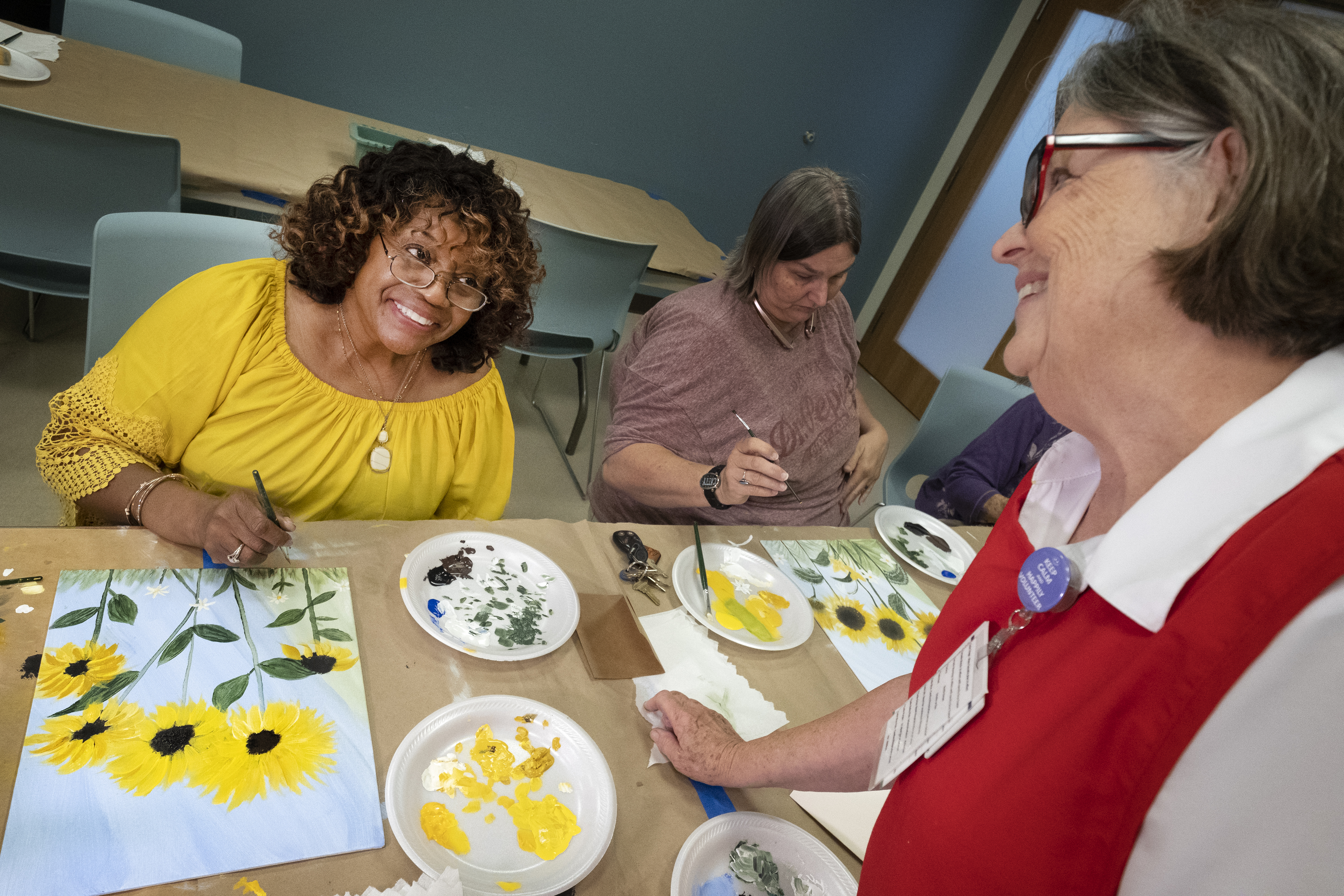 American Hospital Association Honors Volunteer-Led Art Therapy Program
The American Hospital Association (AHA) has honored 19 hospital volunteer programs with its 2018 Hospital Awards for Volunteer Excellence (HAVE). Atrium Health Navicent's volunteer-led art therapy program for cancer patients is among those recognized nationally for positively impacting the lives of patients and communities through volunteer service.
Atrium Health Navicent's art therapy program is a 2018 finalist in the "In-Service" award category, along with Mayo Clinic's "OR Suite Volunteer Program" (Jacksonville, Fla.) and The Valley Hospital's "Reiki for Staff Volunteer Program" (Ridgewood, N.J.). Other award categories include "Community Service," " Community Outreach," and "Fundraising."
"Our volunteers play an integral role at Atrium Health Navicent, assisting patients, staff and visitors in a variety of ways and also raising funds for patient-centered causes. Our art therapy volunteers are shining examples of what it means to give of your time, your talent and yourself for the benefit of others. We are honored that the American Hospital Association has called national attention to their efforts," said Dr. Ninfa M. Saunders, President and CEO of Atrium Health Navicent.
Established in 2012, the art therapy program has a goal of helping cancer patients cope with the stress of diagnosis, treatment and recovery through artistic expression. Volunteer Mary Parks implemented and manages this program, recruiting and training a team of volunteers to provide art therapy for cancer patients. Although the program began as a service for patients receiving chemotherapy at Atrium Health Navicent's Infusion Center, it has since expanded to include classes for cancer patients at Wellness Center, Atrium Health Navicent and a support group for patients and their loved ones at Peyton Anderson Cancer Center, Atrium Health Navicent. Parks and her team have also provided therapy sessions at community events and fundraisers.
"Art therapy takes the participants to a wonderful place, and gets their mind off their cancer. We are often able to introduce something new to their lives - many have not picked up a paint brush since elementary school, but will take the skills they learn in art therapy home and continue to paint as they cope with cancer diagnosis and treatment. In their classes, they also mention how wonderful it is to fellowship with others walking the same journey. There are just so many benefits to this wonderful program," said Parks.
Art therapy provides each cancer patient opportunities for catharsis and comradery, as patients and survivors cope with the stresses caused by cancer. Data obtained at Atrium Health Navicent's Infusion Center has shown patients' blood pressure drops significantly as they begin working with an art therapist, allowing treatment to be more effective.
"The program has been a tremendous success and a benefit for patients, Atrium Health Navicent, and the community at large. We have phenomenal volunteers who are dedicated to teaching and leading our patients and their loved ones in multiple settings. This program would not be possible without their efforts," said Ron Lazar, Director of Oncology Services at Atrium Health Navicent.
Those interested in joining Atrium Health Navicent's volunteer team may visit www.navicenthealth.org/get-involved for information and an application.
The AHA HAVE Awards Program is in its thirty-fifth year and highlights the extraordinary efforts of volunteers and volunteer programs, as well as the value and positive impact their contributions have on the patients, hospitals, health systems, staff and communities they serve. In addition to acknowledging the value of volunteerism to individual lives and institutions, the awards program is designed to:
Highlight volunteers services that are engaged in improving healthcare.
Encourage service that exceeds expectations as a result of innovation, creativity and leadership.
Promote visibility and goodwill toward the hospital or health care system.
Promote collaboration among provider organizations and community service entities to improve the quality of life of local citizens.
Nominations are open to organizations that are institutional members of AHA. The awards honor specific volunteer service areas or programs - not volunteer departments as a whole. To learn more about the awards, please visit https://www.aha.org/press-releases/2018-10-08-aha-honors-nineteen-hospital-volunteer-driven-programs
About the American Hospital Association
The AHA is a not-for-profit association of health care provider organizations and individuals that are committed to the improvement of health in their communities. The AHA is the national advocate for its members, which include nearly 5,000 hospitals, health care systems, networks and other providers of care. Founded in 1898, the AHA provides education for health care leaders and is a source of information on health care issues and trends. For more information, visit the AHA website at www.aha.org.
About the Association for Health Care Volunteer Resource Professionals
Founded in 1968, the Association for Health Care Volunteer Resource Professionals (AHVRP), a professional membership group of the American Hospital Association (AHA), is the premier membership society for health care volunteer services, retail operations and related support services disciplines. AHVRP provides timely and critical support through thought leadership, learning and knowledge sharing, professional development, certification, recognition for personal and professional achievements, networking, collaboration and advocacy resources for leaders in health care volunteer management as well as auxiliary leaders, volunteers, students, faculty and retirees who are interested in issues relate to healthcare volunteer resources, retail operations and advocacy.
About Atrium Health Navicent Atrium Health Navicent was incorporated on November 17, 1994, as a nonprofit corporation whose primary purpose is to coordinate The Medical Center, Navicent Health and other affiliated entities in their mission of providing a comprehensive continuum of high quality, reasonably priced healthcare services to the region. Atrium Health Navicent has 970 beds for medical, surgical, rehabilitation and hospice purposes. The health system includes The Medical Center, Navicent Health, a nationally recognized tertiary teaching hospital; Atrium Health Navicent Beverly Knight Olson Children's Hospital, the region's only dedicated pediatric hospital; Atrium Health Navicent Baldwin and Medical Center of Peach County, Atrium Health Navicent, both rural hospitals; Rehabilitation Hospital, Atrium Health Navicent, the region's oldest and most experienced rehabilitation provider; Pine Pointe, Atrium Health Navicent, which provides palliative and hospice care in homes and in its facility; Carlyle Place, Atrium Health Navicent, the area's first continuing care retirement community; Navicent Health Foundation, the philanthropic arm of Atrium Health Navicent; as well as diagnostic and home care services. For more information, please visit www.navicenthealth.org.
---
---
Top Related News
Atrium Health Navicent Continues Program to Help Georgians Start Careers in Health Care
9/28/23
Read More
Atrium Health Navicent to Provide Ambulance Service to Baldwin County
9/27/23
Read More
Atrium Health Navicent Physicians Urge Families to Prioritize Healthy Habits to Fight Childhood Obesity
9/26/23
Read More