Navicent Health Recognizes EMS for Lives Saved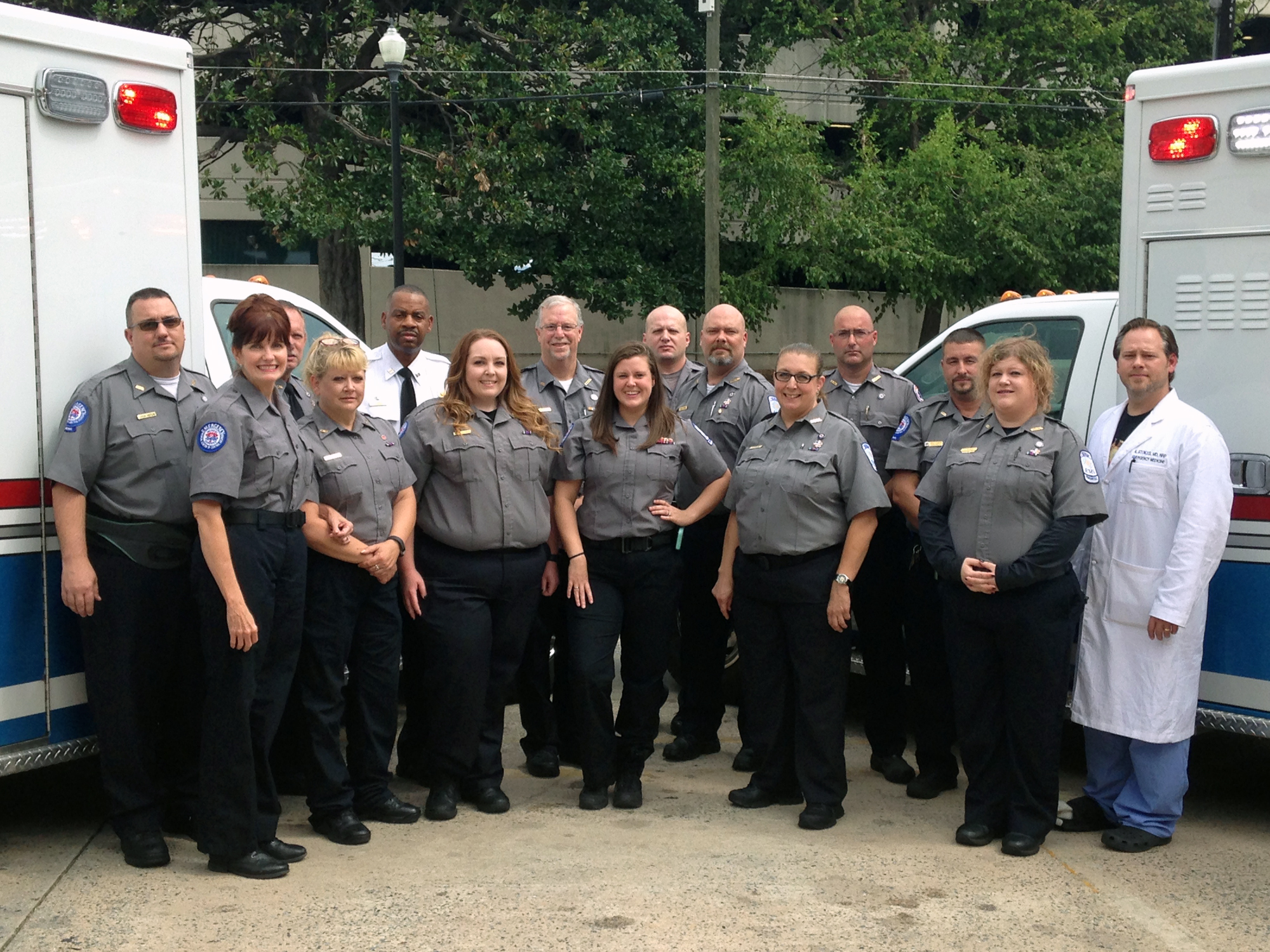 ""Save Award"" Presented to 35 Paramedics, Emergency Medical Technicians
Navicent Health has recognized 35 members of Navicent Health Emergency Medical Services (EMS) for actions in the field that have led to saved lives. Administrators recently presented the 35 first responders with Save Awards to recognize the high quality care provided in the field that made critical differences in the lives of 61 people.
""Whenever a call comes, whether minor or life-threatening, our personnel spring into action and provide immediate care in the field. Once patient care is transferred to an emergency center, the call ends for the crew and they return to service to answer the next call. They rarely know the patient's outcome. The Save Awards not only recognize the exceptional life-saving care these employees have provided to so many patients, but also remind them that they are making a difference,"" said Tony Brown, interim Director for Navicent Health EMS.
""The immediate care emergency responders provide in the field makes a critical difference in the lives of many patients. Our trauma team depends on first responders to begin care and sustain life. We are so proud of the exemplary work taking place at Navicent Health EMS,"" said Dennis W. Ashley, MD, Director of Trauma Services and Critical Care for The Medical Center, Navicent Health.
Employees were recognized for care rendered May 2016 - July 2017 in one of three categories - Medical Saves (56 lives saved), Pediatric Saves (2 lives saved) and ST Segment Myocardial Infraction (STEMI) Saves (3 lives saved).
""Our employees are very dedicated to the citizens we serve and this is our way of not only letting them know that their work is appreciated, but it also gives them an update on the individual patient's outcome,"" said Kevin Milton, EMS Training Coordinator for Navicent Health
About Navicent Health
Navicent Health was incorporated on November 17, 1994, as a nonprofit corporation whose primary purpose is to coordinate the Medical Center, Navicent Health and other affiliated entities in their mission of providing a comprehensive continuum of high quality, reasonably priced healthcare services to the region. Navicent Health has 830 beds for medical, surgical, rehabilitation and hospice purposes. The health system includes The Medical Center, Navicent Health, a nationally recognized tertiary teaching hospital; Children's Hospital, Navicent Health, the region's only dedicated pediatric hospital; Medical Center of Peach County, Navicent Health, a rural critical access hospital; Rehabilitation Hospital, Navicent Health, the region's oldest and most experienced rehabilitation provider; Pine Pointe, Navicent Health, which provides palliative and hospice care in homes and in its facility; Carlyle Place, Navicent Health, the area's first continuing care retirement community; Navicent Health Foundation, the philanthropic arm of Navicent Health; as well as diagnostic and home care services. For more information, please visit www.navicenthealth.org.
---
---
Top Related News
Atrium Health Navicent Continues Program to Help Georgians Start Careers in Health Care
9/28/23
Read More
Atrium Health Navicent to Provide Ambulance Service to Baldwin County
9/27/23
Read More
Atrium Health Navicent Physicians Urge Families to Prioritize Healthy Habits to Fight Childhood Obesity
9/26/23
Read More