Macon-Bibb County Welcomes Kurobe City Hospital Delegation for 15th Year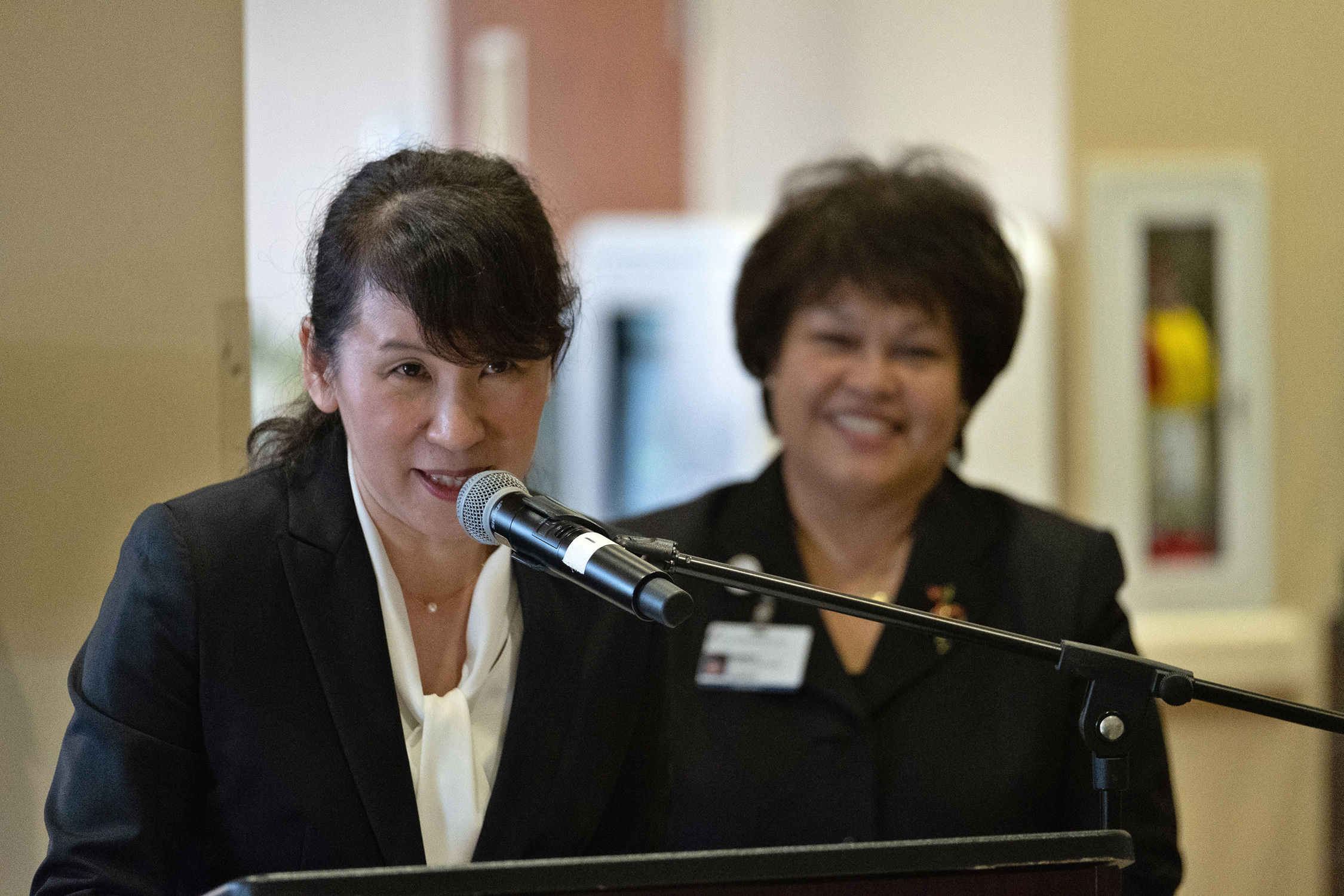 Unique Medical Exchange Fosters Partnership, Idea Exchange Between Sister Cities
On October 15, Atrium Health Navicent and Mercer University School of Medicine welcomed six physicians, two nurse, and one medical tech from Kurobe City Hospital for the fifteenth year of a unique medical exchange between Macon-Bibb County and its sister city of Kurobe, Japan.
Each summer, between May and September, three physicians and two nurses from Atrium Health Navicent visit Kurobe City Hospital for two weeks each to share their knowledge and experience of the American healthcare system with young physicians and nurses at Kurobe City Hospital and to learn about the Japanese healthcare system. Then, between September and January, six resident physicians and one nurse from Kurobe City Hospital visit Atrium Health Navicent and Mercer University for four weeks to observe American physicians in action and experience American healthcare firsthand.
To date, 68 residents, 13 nurses and four healthcare providers from Kurobe have visited Macon-Bibb County, and 45 doctors and 18 nurses from Macon-Bibb County have visited Kurobe.
"This has been a long-time partnership and exchange built on knowledge transfer for the mutual benefit of all partners. Beyond the formal goals of this partnership is a special bond which connects us with each other, a profound and meaningful cultural exchange," said Dr. Ninfa M. Saunders, President and CEO of Atrium Health Navicent.
"Our residents, nurses and faculty were greatly inspired by your visit. When we started this program in 2003, the major purpose was to give assistance to our residents. That was the start of this exchange. Later, we expanded this program to the nurses and also the doctors. Now we are expanding this program to other providers such as pharmacists, medical engineers and therapists. We appreciate both Atrium Health Navicent and Mercer University," said Dr. Hiroshi Tsuji of Kurobe Municipal Hospital, who accompanies the delegations on each visit as they commence their training and continue their education.
The medical exchange began in March 2003, when a delegation from Kurobe City Hospital visited Mercer University and The Medical Center, Navicent Health to discuss the possibility of setting up a medical exchange between the two cities. Plans were formalized on November 5, 2003 with a signing of the agreement between Dr. W. Douglas Skelton, Senior Vice President for Health Affairs, Mercer University; Dr. Ann C. Jobe, Dean, Mercer University School of Medicine; Dr. Louis Goolsby, Senior Vice President for Medical Affairs, Medical Center of Central Georgia; Mr. Yukikazu Ogino, Mayor of the City of Kurobe; and Dr. Eisuke Takazakura, Director-General, Kurobe City Hospital. Dr. T.J. Lin, Assistant Dean of the Mercer University School of Medicine, played a key role in facilitating the partnership.
The sister city relationship between Macon and Kurobe was established in 1977 with the support of YKK, whose manufacturing headquarters is located in Kurobe. YKK's Atlanta office opened in 1970, making it one of the first Japanese companies to set up operations in Georgia. YKK's Macon plant opened in 1974. YKK remains an active supporter of this sister city relationship, including the medical exchange.
About Kurobe City Hospital
Since its opening in 1949, Kurobe City Hospital, the main hospital in the Niikawa Medical Care Center and in collaboration with other medical, health and welfare institutions, has aimed to strengthen its capabilities to treat five diseases (cancer, stroke, acute myocardial infarction, diabetes, and mental illness) and has sought to strengthen five departments (emergency medical care, disaster medical care, medical care in remote rural areas, perinatal medical care, pediatric medical care). The motto of the hospital is "Daily Contemplation," defined as thoughtful medical care for patients backed up by medical research and ingenuity.
About Atrium Health Navicent
Atrium Health Navicent was incorporated on November 17, 1994, as a nonprofit corporation whose primary purpose is to coordinate The Medical Center, Navicent Health and other affiliated entities in their mission of providing a comprehensive continuum of high quality, reasonably priced healthcare services to the region. Atrium Health Navicent has 970 beds for medical, surgical, rehabilitation and hospice purposes. The health system includes The Medical Center, Navicent Health, a nationally recognized tertiary teaching hospital; Atrium Health Navicent Beverly Knight Olson Children's Hospital, the region's only dedicated pediatric hospital; Atrium Health Navicent Baldwin and Medical Center of Peach County, Atrium Health Navicent, both rural hospitals; Rehabilitation Hospital, Atrium Health Navicent, the region's oldest and most experienced rehabilitation provider; Pine Pointe, Atrium Health Navicent, which provides palliative and hospice care in homes and in its facility; Carlyle Place, Atrium Health Navicent, the area's first continuing care retirement community; Navicent Health Foundation, the philanthropic arm of Atrium Health Navicent; as well as diagnostic and home care services. For more information, please visit www.navicenthealth.org.
About Mercer University School of Medicine
Mercer University School of Medicine educates physicians and health professionals to meet the primary care and health care needs of rural and medically underserved areas of Georgia. The school's rigorous, engaging and collaborative academic environment fosters the development of community responsive health care leaders.Mercer Medicine is a multi-specialty, multi-physician practice and a subsidiary of the Mercer University School of Medicine and the Mercer Health Sciences Center. Mercer Medicine physicians strive to provide advanced primary and specialized care to patients throughout Central Georgia using the latest health care innovations, treatments and procedures.
About YKK
YKK Group consists of a network of 114 companies operating in 73 countries/regions around the world operating under two brands: YKK® brand fastening products, which manufactures zippers, hook & loop fasteners, plastic buckles and notions, webbing, and snaps & buttons, and YKK AP® brand architectural products, which manufactures storefronts, curtain walls, entrances, sun controls, windows and doors. YKK entered the U.S. market in 1960 as Yoshida International, a zipper distributor. In 1972, YKK Corporation purchased 54 acres in Ocmulgee Park in Macon, GA to build its National Manufacturing Center, which opened in 1974. Today, YKK (U.S.A.) Inc. occupies 300 acres in Macon and offers more than 1,500 styles of plastic and metal zippers, the automated equipment to install them, plus hook and loop fastening tape systems, plastic buckles and notions, and snaps and buttons. YKK AP entered the U.S. architectural products market with imported YKK AP products in 1984, and opened its first manufacturing facility in Dublin, GA in 1992. Today, YKK AP America Inc. consists of commercial products manufacturing facilities in Dublin, GA and Coppell, TX as well as a residential products manufacturing facility located in Macon, Georgia.
---
---
Top Related News
Atrium Health Navicent Continues Program to Help Georgians Start Careers in Health Care
9/28/23
Read More
Atrium Health Navicent to Provide Ambulance Service to Baldwin County
9/27/23
Read More
Atrium Health Navicent Physicians Urge Families to Prioritize Healthy Habits to Fight Childhood Obesity
9/26/23
Read More