Atrium Health Navicent Urgent Care
About Urgent Care Services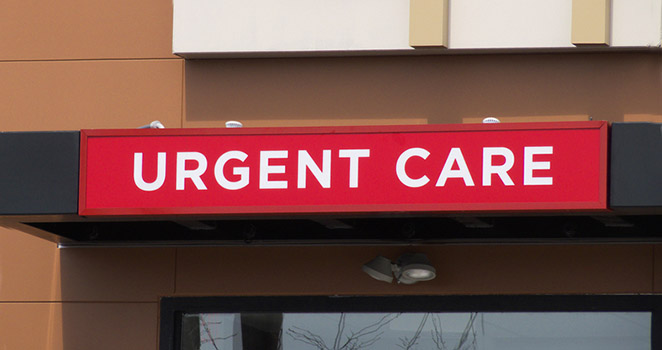 Given the number of choices in modern health care, picking the right service at the right time can be challenging. Deciding that you need urgent medical services may be easy. It is not so easy to decide whether you should wait another day to see your own doctor or head to the nearest emergency room.
Services That Fill a Gap
Urgent care services offer treatment that is somewhere in between. They exist for patients who need to be seen right away but whose illnesses or injuries do not appear life threatening.
Urgent care services are designed to be convenient. Clinics are plentiful around most towns and are open on evenings and weekends. Even on holidays. In short, they are open for business when your regular physician is not. That is a valuable service if you sprain your wrist over the weekend or your baby wakes up with a fever on Christmas morning.
Wait times are shorter than in the ER. Centers are fully staffed, as the goal is to get patients in and out quickly. Our Urgent Care Centers accept walkins and appointment through InQuicker Check-In.
The cost of care is significantly lower than what an ER charges, and insurance is widely accepted.
What Is the Quality of Care?
Physicians who provide urgent care services, unlike specialists, must have comprehensive knowledge in all areas of medicine. Their training must be as thorough as any doctor's must. They must be prepared to care for both males and females of any age. They must be ready for complaints, illnesses, and injuries that cover the spectrum. Acute care requires expertise and years of experience.
Urgent caregivers sometimes have to make quick, critical decisions. You may be advised to go immediately to the ER. Other times, you may be treated, stabilized, and referred to a specialist for follow-up. The doctor in urgent care services may even consult with your regular provider since he will not be able to observe you for an extended period of time.
What Services are Offered?
Urgent care services are set up to treat serious medical needs that are not quite emergencies. Urgent care clinics are usually not equipped for involved lab tests, ultrasound exams or advanced imaging like CT or MRI. They do offer basic lab tests and X-rays.
These are just some of the health problems covered by urgent care services:
Persistent fever
Nausea, vomiting or diarrhea
Earache
Conjunctivitis or other eye irritations
Rashes
Animal or insect bites
Infected wounds
Minor to moderate back and neck injuries
Injuries from falling or minor car accidents
Asthma attacks that are not severe
Minor to moderate breathing difficulties
Minor broken bones
Urinary tract infections
When Is Emergency Care Necessary?
If a health problem is life threatening or could cause permanent impairment, call 9-1-1 immediately. Good reasons to go to the ER include those listed below:
Severe or prolonged chest pain
Symptoms of stroke like weakness, difficulty speaking, numbness or disorientation
Serious breathing difficulties
Unexplained blurred vision
Chemical or food poisoning
Drug overdose or suspected alcohol poisoning
Any fracture in which the bone breaks the skin
Severe burns
Loss of consciousness
Seizures or convulsions
Heavy bleeding
Stab wounds or gunshot wounds
Electrocution
Heatstroke
Severe frostbite
High, sustained fever or fever in infants younger than 3 months
Head trauma
Serious neck or back injuries
Serious or unexpected problems related to pregnancy
Abdominal pain beyond ordinary indigestion
Violent, homicidal or suicidal thoughts or actions
Rape
Snake bites
Urgent care services should not take the place of a regular doctor who oversees your health concerns long-term. They should not substitute for emergency care when it is called for.
For everything in between, though, urgent care services may be just what the doctor ordered.