PET/CT Imaging Service
The PET/CT Center at Atrium Health Navicent, located on the first floor of the Peyton Anderson Cancer Center at the corner of First and Hemlock Streets, is the only fixed-site PET/CT center in the region. A joint venture between Atrium Health Navicent and Radiology Associates of Macon, the PET/CT Center is staffed by a team of highly trained board-certified radiologists.
Same day physician to physician consultations, as well as results reporting, are available.
Whether initial staging, treatment restaging or evaluating a recurrence, The PET/CT Navicent Health provides accurate and timely results.
(Michael Zinsmeister, MD) Welcome to the PETCT Center Atrium Health Navicent. Thank you for trusting us in your care. We specialize in PETCT imaging, which allows us to help your doctors to best find the answers to your treatment. PETCT is a unique imaging modality that allows us, not just to look at the structures of your body, but also how the body works inside on a molecular and cellular level. We offer the best possible PETCT imaging in the industry, from the beginning of our office staff, our technologist, our scanner and our interpreting radiologist to provide the best evaluation we can. Our whole purpose is to navigate you back to health.

(voice over) Our offices are conveniently located in the Peyton Anderson Cancer Center, on the corner of First and Hemlock streets. We have two convenient parking areas, one in the front and one behind the building. And we'll validate your ticket for free parking. Here are a couple of things to remember before you get here. Nothing to eat 6 hours prior. Drink plenty of water. You may take all of your medicines as usual. But, if you're a diabetic patient, please call the center for special instruction. If you're a claustrophobic, please contact your doctor for a prescription before your appointment. Wear warm, comfortable clothes with as little jewelry or metal as possible. And plan to be here for two hours.

(PETCT scan patient) My first PETCT scan I was very nervous because I wasn't sure what to expect. But from the moment I walked in here, the staff was very friendly. They were very professional. Umm, very caring and sweet. Their demeanor really helped to alleviate a lot of the anxiety I had connected with getting a PETCT scan.

(voice over) When you come in, you are greeted at the office check-in. Then you are taken back to a quiet room to meet your technologist who will review your clinical information, and explain exactly how you'll be cared for during your exam. After your questions are answered, the technologist will check your blood sugar level, and then insert a simple IV in your arm where they will give you the tracer that enables the scanner to see how your body is metabolizing glucose. You will then be wrapped in soft blankets, so you can relax in a comfortable chair for an hour or more to allow the tracer to circulate in your body. Many patients fall asleep during this time. Next the technologist will take you to the restroom to empty your bladder. This clears any radio tracer that has filtered to your urine. The technologist will then escort you to the scanning room and get you comfortable situated on the padded table, wrapping you in a free forming cushion for support during the scan. The PETCT scan takes 10 to 25 minutes, during which time you will be asked to hold still within the counion support. The scanner acquires information in two parts. First it gets the CT portion by sliding the table through the scanner, taking about 60 seconds. Then it acquires the PET portion by stopping through the scanner every two to three minutes per stop. Close to 1,000 diagnostic images are taken to pinpoint an accurate diagnosis. The technologists are always watching, coaching and talking with you to ensure everything is ok. Once the PETCT scan is complete, the technologist will assist you off the table and escort you to the reception area where you will meet your family and friends. Your test results will be sent to your doctor in a timely manner. Our doctor will then share the results with you.

(PETCT scan patient) If I had to say anything to patients that are considering coming to the center, I would say don't be afraid, you have nothing to worry about. Don't even hesitate. This place is just wonderful. It is inviting, and the staff are warm and friendly and you will definitely be taken care of really well.

(voice over) Thank you. We look forward to serving you at PETCT Center, Atrium Health Navicent.
What is a Positron Emission Tomography (PET) SCAN?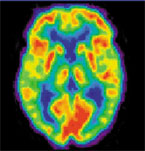 The PET-CT Center Navicent Health has the only fixed-site PET-CT scanner in the region. PET, or Positron Emission Tomography, can often detect the presence of disease more accurately than conventional forms of imaging, including X-rays, MRIs, CT scans and sonography. Rather than just taking a picture of a tumor or mass, the PET-CT scan measures the living chemistry of the growth and tells your doctor with some degree of certainty, if a malignancy exists.
We Are Proud Sponsors of

Your doctor's office will schedule your appointment. Questions? Call 478.633.4PET
Or Visit Us at 800 First Street, Suite #170, Macon, GA 31201
Hours: 8:00am - 5:00pm